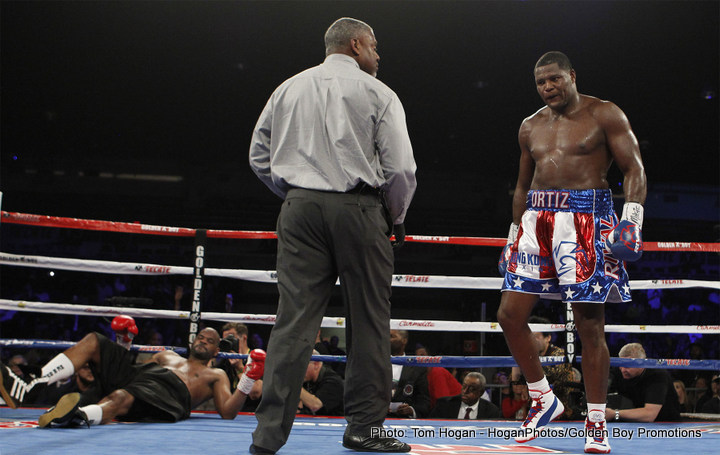 The DC Armory was alive with action as Luis Ortiz continued his charge on the heavyweight division against rugged veteran Tony Thompson.
Early action saw local favorite Damon Allen (9-0, 4 KOs) dominate a game Angel Aispuro. He landed to the body and head at will, but Aispuro was defiant. At times, he gave Allen a right or left to the head to think about. However, Aispuro took a heap of punishment that culminated with a serious cut to his right ear. Referee Billy Johnson called it 2:17 into the sixth round.
"The guy was tough, he kept coming and wouldn't give," said Allen after the fight. "I like fights like that. They challenge me to be better and think on how to overcome a tough opponent."
Also notable in the undercard, D'Mitrius Ballard (12-0, 8 KOs) repeatedly dropped Liosvy Mayedo to the canvas on the way to second round TKO. Lamont Roach proved why he's considered a fast riser in the lightweight division, dropping journeyman Jesus Lule hard in the first round on the way to a near-shutout decision win. And just before the HBO portion of the card began, Oscar Escandon (25-2, 17 KOs) pulverized the right side of Robinson Castellanos's face on the way to a seventh round knockout.
Of course, it was that HBO card kept that brought the fight fans in this night, and the action they got was worth the price of admission. First up, former Olympian Sadam Ali took on Jessie Vargas. Vargas, who was coming off a rough night against Timothy Bradley, looked uneven at first. However, as the rounds wore on, one would have thought it was Ali coming off a loss. Vargas's strafing shots to Ali's head seemed to find the mark every time as Ali's eye swelled up. Ali continually looked more bewildered as the cries of his fans chanting "Ali bomaye" died away.
After a couple of questionable slips that may have really been knockdowns, Vargas finally scored one for real in the eighth. However, even then it seemed Referee Kenny Chavalier bought Ali time as he focused too much time telling Vargas to stay back than dealing with the count. This robbed Vargas the chance to finish it then and there as the bell rung shortly after Ali finally got up. Fortunately, Vargas didn't let the momentum fade, dropping Ali again before Chavalier has seen enough and called it at 2:09 into the ninth.
Finally, we came to the moment of truth: the main event between Cuban KO artist Luis "King Kong" Ortiz against the long-in-the-tooth upset artist Tony "The Tiger" Thompson. This wasn't the best match up for Ortiz (25-0, 22 KOs), but it was the best available to him given how Alexander Dimitrenko had pulled out the month before. As expected, Ortiz blasted Thompson with overhand rights, putting him down the first time midway into a otherwise uneventful first round.
Though Thompson occasionally landed a hard shot to Ortiz's chin through this fight, Ortiz took those shots well enough to show Thompson he wasn't going to get a David Price-type upset this night. Round after round, Thompson was pushed back and flailing about thanks to Ortiz's damaging blows. It all came to an end in the sixth, when a counter left from Ortiz slammed into Thompson's head, sending him back into the canvas for the third and final time of the night.
Overall, it was a solid fight night, but more a sign of things to come for the featured fighters. If Ortiz, and more so Vargas, can really parlay their wins tonight into bigger matches in the months to come, they very much bound to become the stars of their respective divisions.