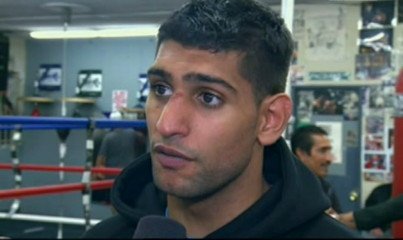 The more and more former two division world boxing champion Paulie Malignaggi thinks Floyd Mayweather Jr could be in for a really tough time against Amir Khan if he selects him as one of his opponents in 2015. Malignggi says Khan's hand speed, height, reach and overall fighting style would give Mayweather fits at this point in his career.
Malignaggi feels that Maywether can move around the ring like he used to, and unless he's able to move a great deal, he'll struggle against the younger 28-year-old Khan if that fight gets made.
Malignaggi lost to Khan by an 11th round knockout four years ago in 2010.
"I just feel like at this point, Floyd maybe not having the legs he used to have and Amir having that range he has and the speed that he has and the ability to maintain that outside distance, and of course he holds really good on the inside as well, you know, I feel like it's very difficult to win rounds against Amir," Malignaggi said to Fighthype.com.
If Khan's only focus is on winning rounds by boxing instead of slugging then it'll be very difficult for Mayweather to win this fight.
Khan's holding shouldn't be an issue because Mayweather doesn't fight on the inside. What would be a potential problem for Mayweather is the hand speed, movement and the pushing off that Khan likes to do. Those factors would make it tough for Mayweather to get a stationary target for him to land his shots against.
If Khan uses the punch and grab technique that he employed in his last fight against Luis Collazo last May then it'll be doubly tough for Mayweather to get his shots off, and I'm not sure that he'll be able to win rounds unless the referee chooses to take points off from Khan once he's crossed a certain threshold of clinches per round.
Mayweather has the hand speed and counter punching ability to give Khan problems, but Mayweather's lack of power might result in Khan taking a lot more chances than he would against bigger punchers.