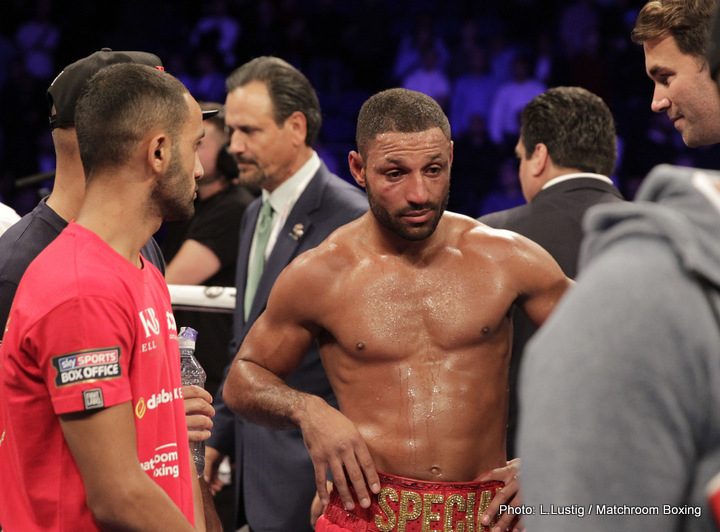 After bulking up to middleweight for his unsuccessful challenge of the feared Gennady Golovkin, many people felt Kell Brook's welterweight days were well and truly behind him. Maybe, had the Sheffield man beaten GGG last September, he would indeed have vacated his IBF 147 pound crown. But things didn't work out that way and Brook, deciding he had "worked far too hard to give up the belt," is now getting ready to defend against mandatory challenger, the classy and unbeaten Errol Spence Jr.
But Brook is not looking at the May fight as his last at welterweight; far from it. In speaking with ESPN.com, Brook, 36-1(25) said it his aim to beat Spence and then look to unify the 147 pound division. Despite the hard work it takes for him to make the welterweight limit – and Brook really is huge for the weight – the once-beaten champ is taking aim at both Spence and newly crowned WBC/WBA champ Keith Thurman, and ultimately domination of the entire weight class.
"I would definitely like to fight Thurman because I want to unify the division before I move up," Brook said from his training camp out in Fuerteventura. "I think that would be a very explosive fight me and Keith Thurman. I spoke to him backstage before I fought Shawn Porter and he said, 'You're the boy from England, I'm looking forward to seeing you fight.' And I said the same to him because he stands out from all the rest of the welterweights for me."
Brook said he felt Thurman, the natural welterweight, would beat Danny Garcia this past Saturday. Brook is also convinced that he will take care of his own business and beat Spence in May.
"I don't believe he's fought anyone on my level yet and I'm looking forward to taking care of him in my own backyard," Brook said.
Brook explained how many people advised him to step up in weight, but he admits he is a "stubborn man," and wants to prove himself as the very best in his division first. But Brook faces two very tough fights in Spence and Thurman, and how much longer can the 30 year-old effectively make 147? If he's weakened after having done so, either Spence or Thurman will surely give Brook real problems. Then of course we don't know how the Golovkin beating affected Brook; how his fractured eye socket will hold up in future fights.
But one thing we can all agree on about Brook is the fact that he never, ever shirks a challenge. The welterweight division is red-hot right now, and fights between Brook and Spence, and the winner of that one against Thurman will only make it hotter.
Today's top ten at 147:
1: Manny Pacquiao
2: Keith Thurman
3: Kell Brook
4: Danny Garcia
5: Shawn Porter
6: Tim Bradley
7: Amir Khan
8: Errol Spence Jr.
9: Lamont Peterson
10: Adrien Broner