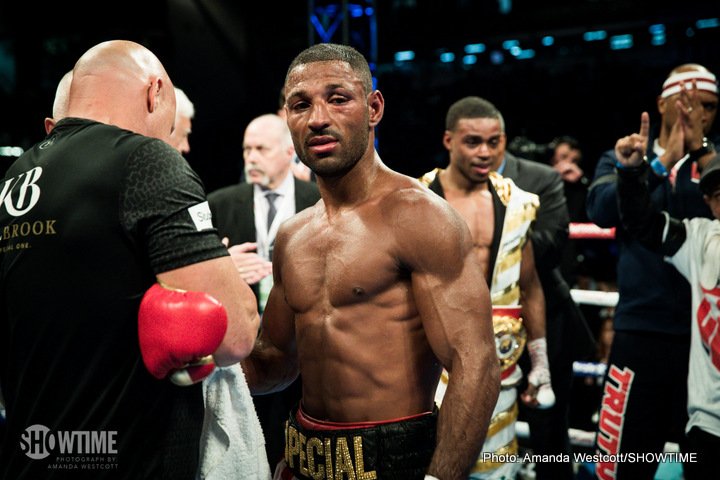 There are growing whispers, becoming shouts, that say Kell Brook has injured his ankle and will not be fighting on the Eddie Hearn Sky Box Office card set for The O2 in London on July 28. A number of people have tweeted how Brook will not be facing scheduled July 28 foe Brandon Cook.
World Boxing News first broke the story, reporting how Hearn is now searching, somewhat desperately, for a replacement contest to take the place of Brook-Cook on the pay-per-view show. It's not official yet – and we all know rumours pop up in the boxing world all too often, often with no real substance to the gossip – but if Brook is injured it will be a pretty big blow to his career.
Brook, the former IBF welterweight champ, will turn 33 this September and he has already endured long inactive periods. In fact, Brook, 37-2(26) has boxed just three times since his easy and quick March 2016 stoppage win over Kevin Bizier in what was Brook's last win as a welterweight. After that, the Sheffield man was stopped by middleweight king Gennady Golovkin, then by Errol Spence in losing his IBF belt, before he moved up to 154 to stop Siarhei Rabchanka in March of this year.
If Brook doesn't face Cook, 20-1(13) on July 28, it will be interesting to see if the fight is arranged for a later date. Also, if Brook does not fight as scheduled, his still talked of domestic showdown with Amir Khan will also have to wait. Has Brook's career peaked and would another inactive spell prove disastrous for "The Special One?"
It also remains to be seen, if Brook does not feature on the July card, how this may or may not affect TV buys. Brook has quite a fan following and without his fight on the £19.99 card – topped of course by the heavyweight elimination bout between Dillian Whyte and former WBO champ Joseph Parker – a good number of would-be buyers might take a pass.
If Brook is injured, let's hope it's not too serious and that he can get back in the ring sooner rather than later.