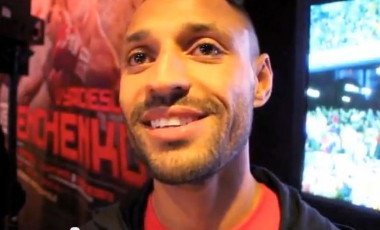 #1 IBF Kell Brook (31-0, 21 KO's) will be stepping inside the ring this month to face Mexican welterweight champion Alvaro Robles (17-2, 15 KO's) on March 15th in a stay busy fight for Brook at the Echo Arena in Liverpool, England. Brook needs a fight to stay sharp while he's waiting for a Summer clash against IBF welterweight champion Shawn Porter, and Robles is the perfect opponent for Brook to fight.
Brook can't take the risk of fighting anyone good enough to potentially beat him because he'd miss out on his title shot against Porter, As it is Brook already lost out on a title shot last year against former IBF welterweight champion Devon Alexander after Brook suffered two separate injuries that messed things up for him.
Robles has good power, and he's knocked out his last four opponents in destroying Miguel Angel Lopez, Pablo Munguia, Cristian Solano and Juan Carlos Marquez. Robles has struggled when he's stepped it up a level in losses to Antonio Pitalua and Jorge Silva. Those are good fighters and there's no shame in Robles getting beaten by them.
Brook's promoter Eddie Hearn is interested in matching him against Amir Khan before he gets a title shot against Porter, and he's got an offer out there for Khan if he's interested in taking the fight.
"The only fight Kell would sidestep that for is Khan," Eddie Hearn said to the Daily Mail.
Getting Khan to accept a fight against Brook has been fruitless thus far, as Khan says he only wants to fight guys that will help him accomplish his goal of getting a fight against Floyd Mayweather Jr. Khan doesn't see a fight against Brook as being a big enough event to get him the fight that he cherishes. Some fans think Khan is afraid of Brook, and is using excuses to not fight him. Whatever the reasons are for Khan not fighting him, we'll eventually see these two fighters in the ring in the future at some point.