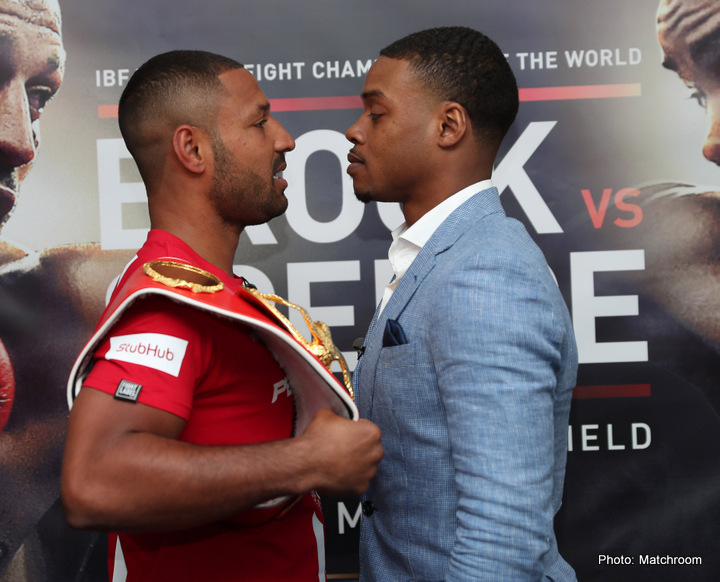 ESPN commentator Teddy Atlas is picking unbeaten Errol "The Truth" Spence Jr. to deal IBF welterweight champion Kell "Special K" Brook (36-1, 25 KOs) his second defeat of his career on May 27 at Bramall Lane in Sheffield, England. Atlas gives the 27-year-old Spence a lot of credit in traveling over from the U.S to fight Brook in the "lion's den" in the UK in front of his own British boxing fans, which could number as many as 32,000 by fight time.
Unfortunately for the 30-year-old Brook, Atlas sees Spence as having too much talent for him, and he feels that he'll knockout the British fighter. This would obviously be a huge setback for Brook, as one of things he's liked to repeat to the boxing media is that he's never been beaten at welterweight. Brook was recently stopped by middleweight champion Gennady "GGG" Golovkin last September, but that fight took place in the 160lb division and not at 147.
Besides that, Brook partially blames his defeat to GGG on him suffering a broken eye right eye socket during the fight. The injury eventually led to the contest being stopped in round 5 when brook stopped throwing punches entirely, and just took punishment until his corner threw in the towel. Some say Brook mentally quit against Golovkin. The real question is will Brook quit against Spence when the going gets tough and then complain about an injury or will he go out on his shield? Brook didn't go out on his shield against Triple G. Brook stopped throwing punches when the going got tough.
"I love Spence. I think it's going to be a nice test," said Atlas to Dontae's Boxing Nation about Spence's fight against Brook on May 27. "I think he's going to stop Brook. Give him credit. He's going into the lion's den. You've got to travel all the way across the pond. That makes it more difficult. That adds to the difficulty factor, and you've got to go all the way over there, and not to mention the judges you have to worry about. We won't even go into that. He's got to go over there with the travel, time zone and everything else. I'm sure he's going over there 2 weeks ahead of time to acclimate himself. I love Spence. I think he's the full package," said Atlas.
Spence might need a knockout to get the victory against Brook. The crowd will be firmly on Brook's side during the fight, which means everything that Brook does inside the ring on the night will be cheered by his fans. The good news for Spence is he won't need the judges, because he's a good enough knockout puncher to take Brook out in short order. Spence has had weeks of sparring with the bigger WBC junior middleweight champion Jermell Charlo to help him prepare for the Brook fight.
This should help Spence deal with Brook's junior middleweight-sized frame. Brook was bigger than Golovkin in terms of weight when they fought last September. You can expect Brook to have a similar weight advantage over Spence. However, Brook is likely to be weight drained by fight time. You probably won't see Brook wear down right away, but by the second half of the fight, we could see him gas out and take a beating from Spence.
Brook will have a lot of pressure on him to fight until the very last. He's got to prove to the boxing fans that he can go down with the ship this time rather than jumping overboard when the going gets tough by letting his corner throw in the towel once again. Quitting is never a good thing in boxing, and it sure looked like Brook quit against GGG. You now the old saying, 'Once a quitter always a quitter.' I hope Brook doesn't revert to form and then start with the injury excuses afterwards.