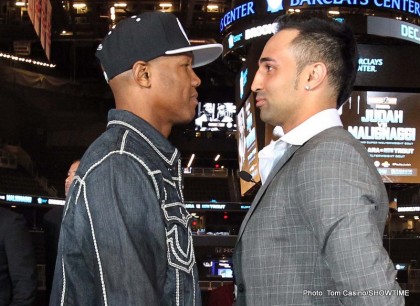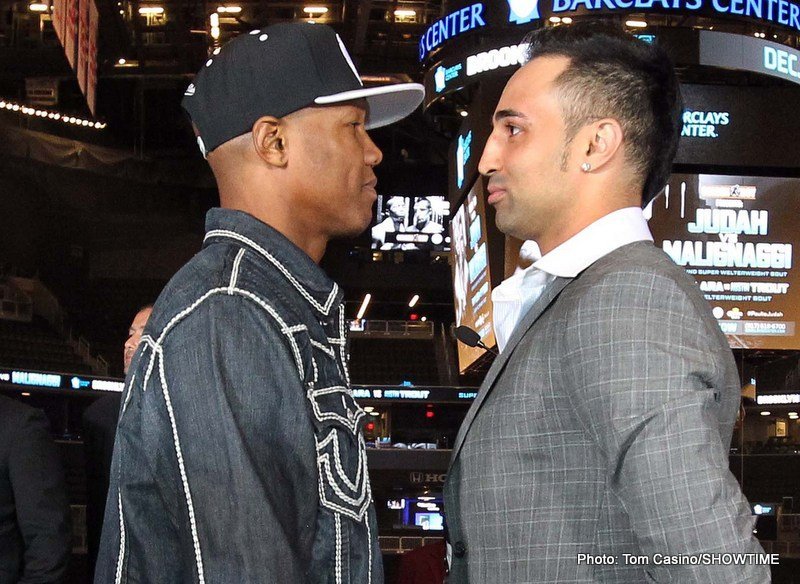 (Photo credit: Tom Casino/Showtime) BROOKLYN, N.Y. (Oct. 15, 2013) – Golden Boy Promotions formally announced at a press conference today a major fight card for Saturday, Dec. 7, at Barclays Center live on SHOWTIME® highlighted by a 12-round match between two of the most talented fighters in Brooklyn's boxing history, Five-Time, Two-Division World Champion Zab "Super" Judah (42-8, 29 KO's) and Two-Time, Two-Division World Champion Paulie "The Magic Man" Malignaggi (32-5, 7 KO's). The SHOWTIME CHAMPIONSHIP BOXING® telecast will air live at 9 p.m. ET/6 p.m. PT.
In the 12-round co-main event WBA Interim Super Welterweight titleholder Erislandy Lara (18-1-2, 12 KO's), of Miami by way of Cuba, battles former WBA world champion Austin "No Doubt" Trout (26-1, 14 KO's), of Las Cruces, N.M,by way of El Paso, Texas for the interim WBA 154-pound world title.
Staten Island's undefeated "Sir" Marcus Browne (7-0, 6 KO's), a 2012 U.S. Olympian, will box an opponent to be determined in the opening bout of the telecast that also will be available in Spanish via secondary audio programming (SAP). Preliminary fights will air on SHOWTIME EXTREME at 7 p.m. ET/PT (delayed on the West Coast).
Tickets priced at $250, $125, $75, $50 and $25, plus applicable taxes and service charges go on sale this Friday, Oct. 18 at 10 a.m. ET and are available for purchase at www.barclayscenter.com, www.ticketmaster.com, all Ticketmaster locations, by calling 800-745-3000 and at the American Express Box Office. For group tickets, please call 800-GROUP-BK.
Below please find what Judah, Malignaggi and executives Eric Gomez, Brett Yormark and Stephen Espinoza said today at Barclays Center:
ZAB JUDAH, Five-Time, Two-Division World Champion
"Once again we are here. This is truly one fight that I never thought that we [looking at Malignaggi] would be on the other side of the coin. There is so much history here.
"I lost my last fight here at Barclays and Paulie lost his last fight at Barclays Center and it didn't mean anything. We are still two dynamite fighters. Our skills speak for themselves.
"A lot of people wanted this fight to happen. On Dec. 7, we are coming to bring fireworks.
"I have known Paulie for a long time. I watched him grow throughout the years. I was always very proud of him because he represented the 'BK'. I always stood by his side. On Dec. 7, you are going to see a great fight. You're going to see some of the fastest hands in the world.
"We might break a jab count because I throw a lot of jabs and Paulie throws a lot of jabs. I think we are going to give a good, classy act of boxing that night. Get ready.
"My main edge over Paulie will be hand speed and power. Paulie has quick hands too. He throws a lot of punches, but he has nothing to hold me off..
"It's been proven in the past that you have to know how to hold me back. He can punch; we're going to see.
"I've been waking up and going to the gym, sparring young guys and training. I am already putting in work at the gym."
PAULIE MALIGNAGGI, Two-Time, Two-Divison World Champion
"I've been around Zab a long time and never expected to be across the ring from him, but, you know, we have to give Brooklyn what Brooklyn wants. So, it starts there.
"Zab and I go back a long way. I can remember when Zab worked my corner for a fight [1999 Empire State Games at Hofstra University]. Zab was an honorary coach and working the corner for all the amateurs. He actually trained us that week.
"So we go back even before I was a pro, seeing Zab in the gym, seeing Zab sparring even before I had my first amateur fight.
"I kind of got a late start in boxing. I was 16 when I started and had my first amateur fight when I was 17. So I had always heard about Zab through the years.
"It's been a long road. It's had its ups and downs. Speaking of the last fight, some things irk me. That result definitely irked me. I don't mind losing a decision; it's close and can go both ways. Things happen. There hasn't been a day since June 22 that I don't get at least one or two people, no matter what city I'm in, come up to me and say, 'Paul, you got screwed in that Broner fight.'
"On Dec. 7, Zab and I are going to put on a great show. It's going to be the best main event we've had yet and that the fans will look forward to because we have the perfect venue for it. When they made Barclays Center, it was made for fights like this.
"This is going to be a civil war. Whenever you have a fight at a high level, you are always representing your city, the city you come from. It's usually Brooklyn against another city. But being it's Brooklyn against Brooklyn, it becomes a borough divided and you end up breaking it into neighborhoods and who is going to support what neighborhood. So it's pretty cool.
"It's old school. It's the way old school fighters came up, winning their regions first and then moving on to the world stage. We've been on the world stage and now we're bringing it back to the grassroots again.
"I've fought friends in the amateurs, but never in the pros. Once the bell rings, we both have a goal. We're both competitors and we both want to win. Once somebody lands that first punch, then the other guy hits you a little harder, before you know it you're mad and in the mood for a fight.
"Zab's a crafty guy, a veteran, very versatile and still has those fast hands and southpaw stance. He's been around for a long time because of his ability and craftiness and his ring intelligence. So there's some stuff to deal with. But that's why you go to training camp, devise a game plan and then you put it all on the line, you put it all together.
"I expect a tough fight. There's a lot on the line. I don't think anybody wants to lose in their home city to another guy from his home city. There's a lot of bragging rights on the line. I expect both of us to fight hard and to leave nothing in the ring. I expect it to be entertaining for everybody."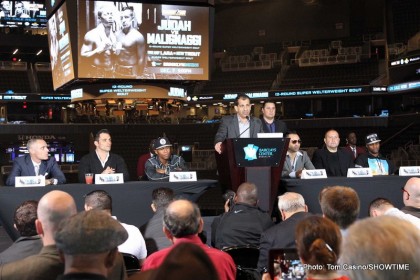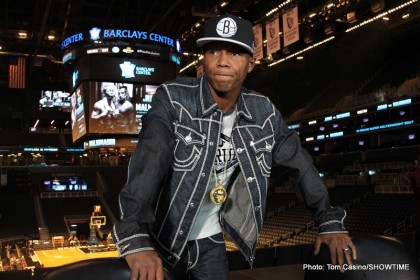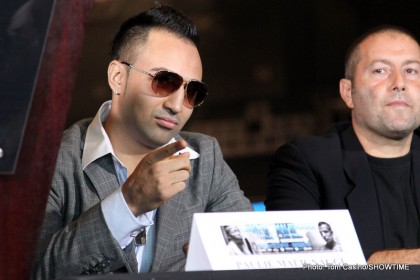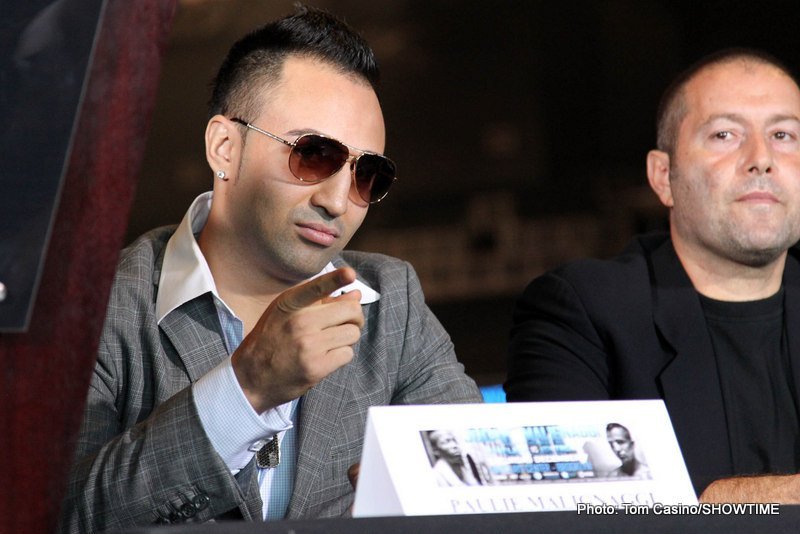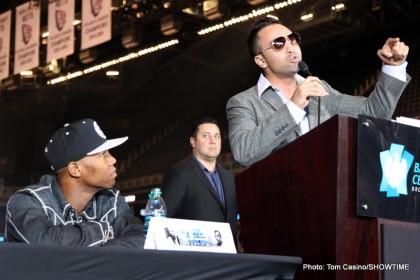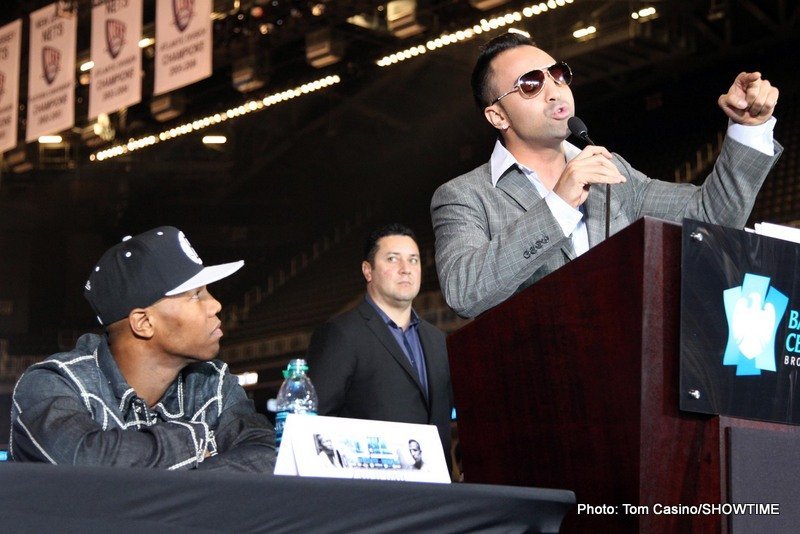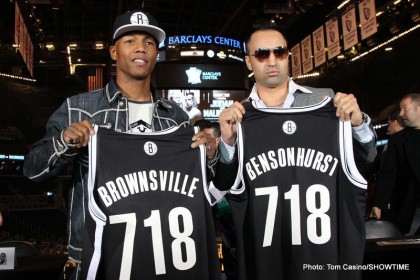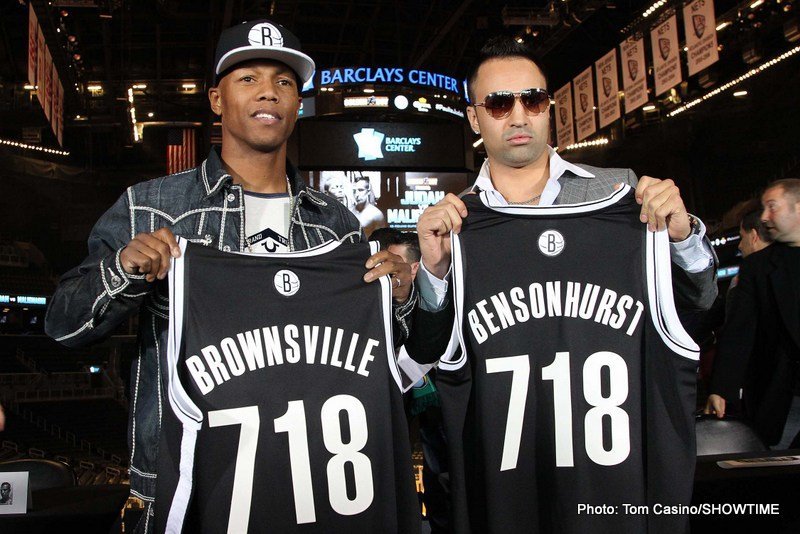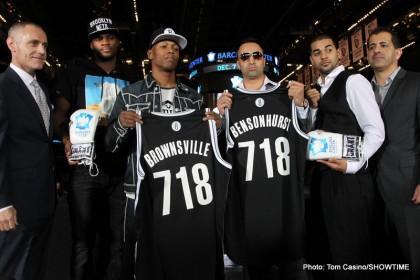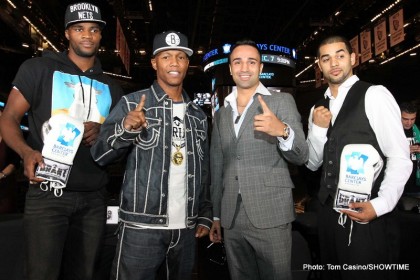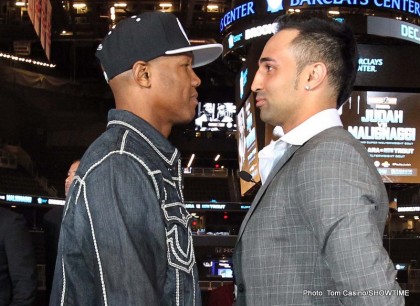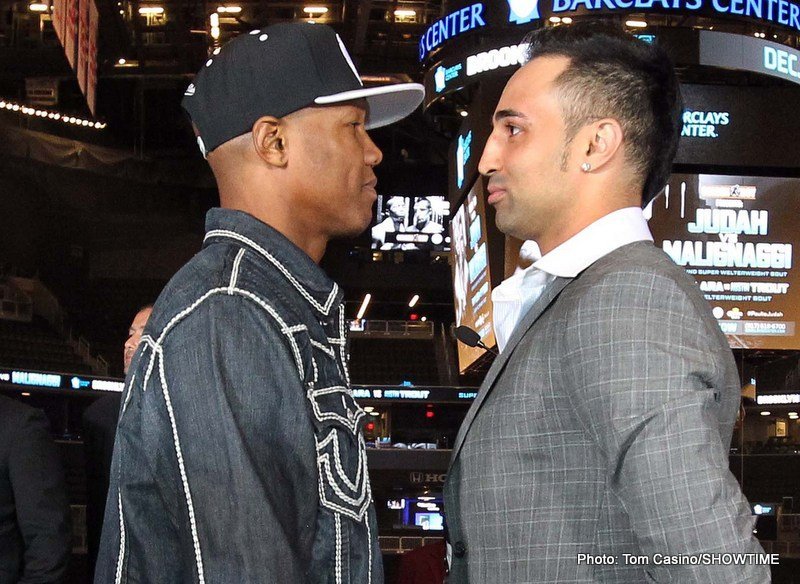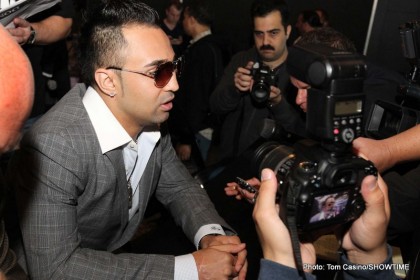 MARCUS BROWNE, 2012 U.S. Olympian and Undefeated Pro
"We're back again; this is my fifth time [fighting at Barclays Center] and it's kind of feeling routine now. I'm going to put on a good show and do what I have to do. I hope you all come out on Dec. 7 and enjoy the show."
ERIC GOMEZ, Vice President and Matchmaker of Golden Boy Promotions
"This is a great fight for Brooklyn. It's what Barclays Center wants; it's what Stephen Espinoza wants at SHOWTIME. I'm just so happy that we got it done.
"What can I say about Zab Judah? It seem just like yesterday he was fighting for his first world title. He's had 50 fights now in his illustrious career and he's always very, very exciting. You can always say when there's a Zab Judah fight, there's going to be excitement, there's going to be speed, there's going to be power, something's going to happen. And that's what he's done throughout his career.
"When we first went to Team Malignaggi about this fight, they said the same thing. We know Zab, its an interesting fight, we'll fight anybody. That is Paulie's career; he's fought everyone. That's all he knows how to do. He's been doing it since he was a little kid.
"Paulie himself is a former champion, he went all the way to Ukraine, to face Senchenko in a fight that nobody gave him a chance, and he came back with the belt.
"It's a very important fight for both fighters, a very important fight to Paulie, he recognized that. I'm very happy for him and he's going to put a show on for everybody."
BRETT YORMARK, CEO of Barclays Center
"The featured bout, The Battle of Brooklyn, is particularly meaningful to me because both Paulie and Zab are proud Brooklynites and I'm proud to call them friends.
"This is the culmination of our first year of boxing in Brooklyn so it's fitting to have Paulie and Zab, two of the top fighters to come out of this borough, taking the ring in this building.
"Brooklyn is known for its great champions. Besides the two great boxers here today, this borough is home to legends Tyson, Bowe, and Breland. But you can't be more Brooklyn than the Paulie and Zab, and we are proud to be hosting their fight.
"Paulie, Zab and the other major fighters who have fought here have made Barclays Center the heart of boxing on the east coast. And I promise you, the best is yet to come.
"I'm also proud to welcome Staten Island's own Marcus Browne here today. Marcus has fought four times at Barclays Center and he has won them all. He is the perfect example of what Barclays Center is all about, a local place for boxers to be inspired to become future champions. "
STEPHEN ESPINOZA, Executive Vice President & General Manager of SHOWTIME Sports
"The hallmark of SHOWTIME boxing this year has been exciting, evenly matched, entertaining fights. That's our calling card. It doesn't matter whether you're a superstar or an up-and-comer, everyone knows that if you fight on SHOWTIME you've got to fight a real fight, a meaningful fight. If you're looking for mismatches or appearance fights, you have to look elsewhere because week after week, month after month, SHOWTIME has been bringing you the most exciting, most entertaining, most meaningful fights in boxing.
"That's the reason why we have such a great working relationship with Barclays Center — because our interests and goals are exactly the same. Brett Yormark and his staff are committed to bringing the most iconic, entertaining high-profile events to this great venue. Really, iconic is the word that first comes to mind when we talk about Barclays Center.
"When you talk boxing and you mention the words iconic and Brooklyn in the same sentence, you have to mention Zab Judah and Paulie Malignaggi. These two boxers wear Brooklyn as a badge of honor. They have each fought a who's who list of champions and Hall of Famers; Mayweather, Cotto, Hatton, the list goes on and on. They each held multiple world titles but on Dec. 7 there is something at stake that is actually more important than world titles.
"The co-featued bout features two of the most skilled boxers in the sport today, Erislandy Lara and Austin Trout. As usual when we're here at Barclays Center, we are featuring several local fighters, including Marcus Browne and Salam Ali who for my money are two of the most exciting young fighters in boxing."