This Saturday night at the American Airlines Center in Dallas, Texas, the anticipated rematch will take place. Juan Francisco Estrada and Roman "Chocolatito" Gonzalez will collide once again. Their first encounter was in 2012 and eight years later they will settle the score. Here's a look at their first encounter, the history of both fighters and what to expect in the rematch.
Top pound-for-pound fighter Juan Francisco "El Gallo" Estrada (41-3, 28 KO's), of Sonora, Mexico, is the current WBC World Super Flyweight and Lineal/Ring Magazine Champion.
The 30-year-old was once an overlooked fighter but now he is considered one of the best fighters today. Estrada is a twelve-year pro and has been a world champion for seven years. He has been compared to a smaller version of Juan Manuel Marquez due to his counter-punching skills.
Roman "Chocolatito" Gonzalez (50-2, 41 KO's) of Managua, Nicaragua, is the current WBA World Super Flyweight Champion. The 33-year-old was once the pound-for-pound king in boxing. The seasoned 15-year-old pro is now a champion once again. Gonzalez is an aggressive fighter that throws good combinations.
Their story started eight years ago when they first met in 2012 at the Sports Arena, in Los Angeles, California. Gonzalez was undefeated at the time with a record of 33-0, with 28 KO's and he was an established world champion entering his peak. Gonzalez first made his mark at Strawweight and was a world champion in that weight class.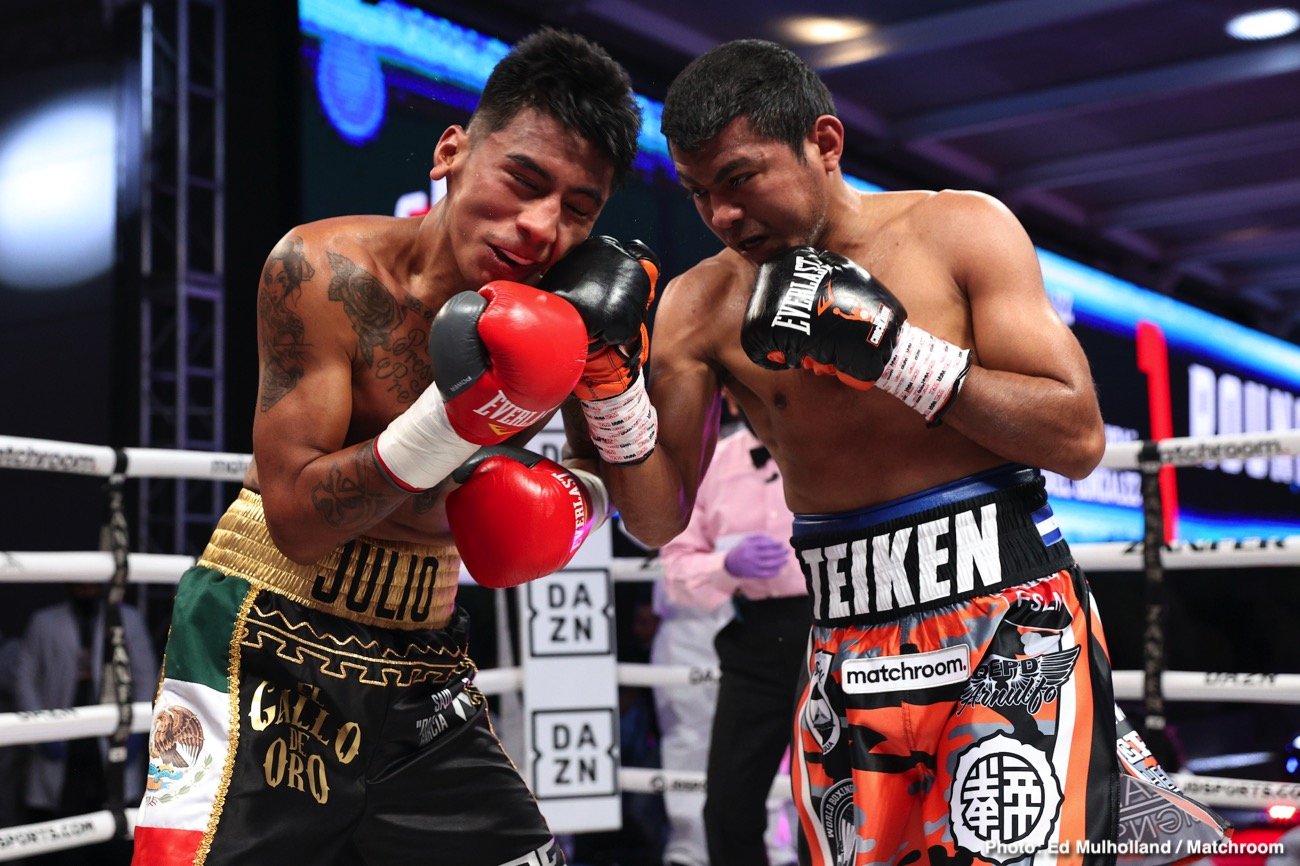 He moved up to the light flyweight division and won the WBA title. He was making the fifth defense of the title. Estrada was an unknown fighter at the time with a good record of 26-1, with 20 KO's.
His lone defeat was against Juan Carlos Sanchez Jr. Estrada would eventually avenge his defeat in a rematch with Sanchez. Going into the fight, Gonzalez was the favorite and expected to beat Estrada. Estrada was ranked number 15 by the WBA.
The fight turned into a shootout, mixed with technique and skill. Gonzalez was the aggressor and Estrada was the counter puncher. Both fighters exchanged many punches and both fighters had their moments in the fight.
The fight went the full distance and it was close. The difference was Gonzalez was a little busier than Estrada and that gave him the edge in the scorecards. Gonzalez won the fight by unanimous decision.
The fight showed two important things. First, Gonzalez was not only a skilled punching machine but he also had the heart and determination to grind out a tough fight. Second, it was an introduction to Estrada who also showed he was a great fighter himself.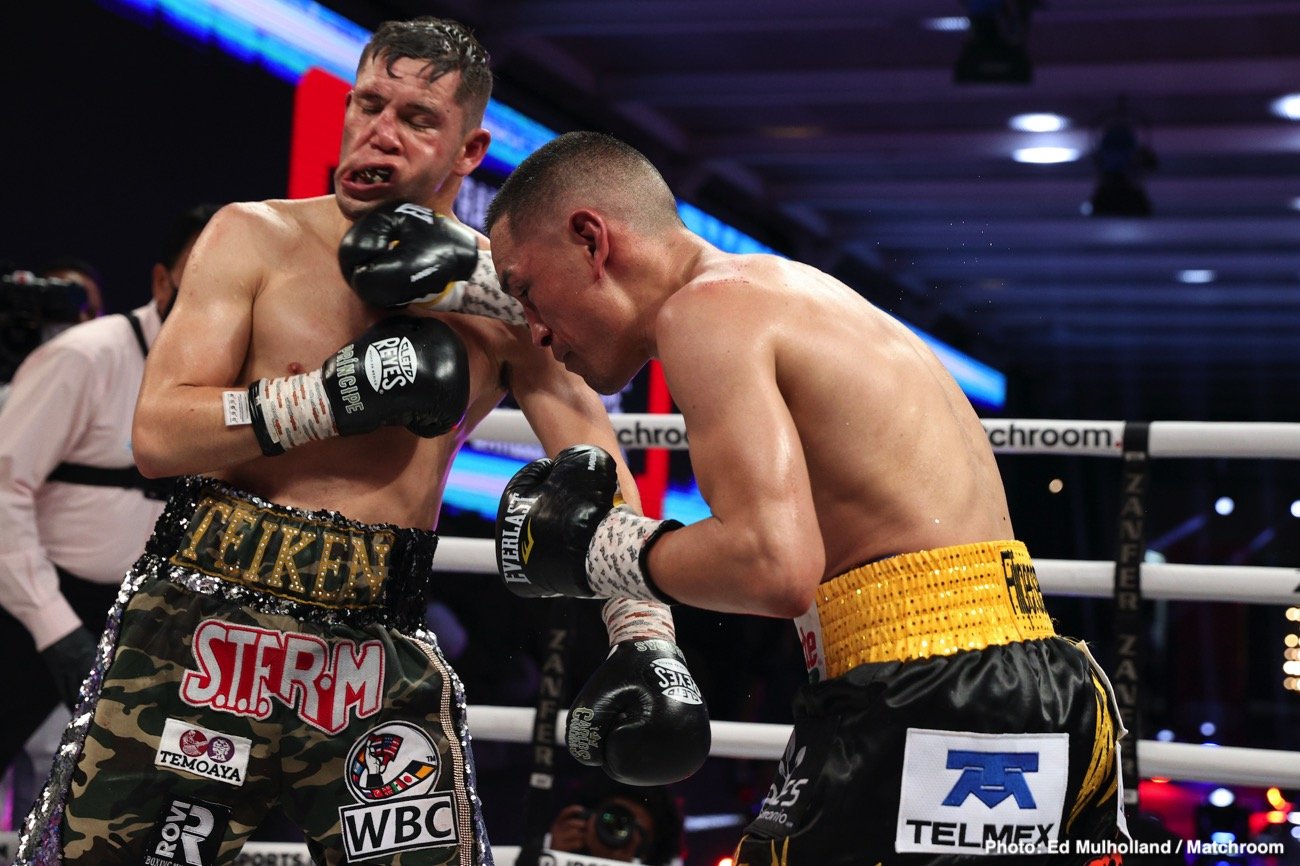 Both fighters would go different paths after their 2012 fight.
Gonzalez would add to his legendary status. He moved up to the Flyweight division in 2014 and defeated Akira Yaegashi for the WBC World Flyweight title. He also became the Ring Magazine/Lineal Champion and became a three-weight division champion.
He made four defenses of the title against solid competition. In 2015, Gonzalez was announced the number one fighter pound for pound by Ring Magazine. He then moved up to the super flyweight division and defeated Carlos Cuadras for the WBC World Super Flyweight title.
This made him a four-weight division champion. With all these accomplishments, Gonzalez stamped himself a ticket into the International Boxing Hall of Fame for the future. In 2017, Gonzalez hit a roadblock and lost to Srisaket Sor Rungvisai (twice).
Their second encounter resulted in Gonzalez being knocked out in the fourth round. It was a devastating loss to Gonzalez and a kind of loss that most fighters cannot recover from.
Only the great fighters can come back from something like this. Gonzalez is one of those great fighters and he did come back.
Last year, he defeated Khalid Yafai for the WBA World Super Flyweight title and he put himself back into the top three of the super flyweight division. Gonzalez followed this up with a unanimous decision over Israel Gonzalez in October. It was an incredible comeback for Gonzalez.
For Estrada, he would make a name for himself. He moved up to the flyweight division in 2013 and defeated Brian Viloria by a split decision to earn the WBO and WBA titles.
He would make five defenses of the title against solid opposition. In 2017, Estrada moved up to the super flyweight division and defeated Carlos Cuadras by unanimous decision in a WBC Super Flyweight Title Eliminator.
The win got Estrada a title shot against WBC World Super Flyweight Champion Srisaket Sor Rungvisai in 2018. Estrada lost a close competitive fight against the hard-punching Thai fighter. A fight that could have gone either way.
Estrada got a second chance against Rungvisai in 2019. This time the result was different. Estrada put on a masterful performance and out-boxed Rungvisai to win the WBC World Super Flyweight title.
The win also made Estrada the Lineal/Ring Magazine Champion at super flyweight and also vaulted him as one of the best fighters in the world pound for pound. Since then, Estrada has made two successful title defenses.
Now that eight years have passed, both fighters are finally going to meet again in their anticipated rematch.
What's at stake for both fighters?
For the rematch, the tables have turned a little. Estrada will be the favorite this time around, but Gonzalez will be a live underdog. Estrada is the WBC/Lineal/Ring Magazine Champion and is currently ranked number eight in the pound for pound list by Ring Magazine. Gonzalez is the WBA Champion and ranked the number three super flyweight by Ring Magazine. Should Estrada win the fight, he will avenge his loss to Gonzalez. He can also say that he has beaten every opponent he's faced. He's already avenged his two prior losses on his career. Most importantly, the win can push Estrada in the top five as the best fighter in the world pound for pound. For Gonzalez, a win will make him the Lineal champion of the division and put him back in the top ten pound-for-pound list.
Who wins?
This is almost a 50/50 fight and a very tough one to call. We expect another action-packed fight with a lot of punches being thrown similar to the first fight. It's tough to predict a winner as both fighters are likable and you just want to see a great fight. I see Gonzalez starting the fight well with his nonstop pressure with Estrada looking to counter. I would not be surprised to see Estrada go down in the fight at some point. As the fight goes on, I see Estrada getting into his rhythm and picking up the pace. I think Gonzalez will slow down in the late rounds and Estrada will keep a good pace still. I say this because I think Estrada is in the prime of his career and Gonzalez has slowed down a little in his career. My initial thought was this fight will go to distance, but I think it will be a war where a stoppage will happen. I predict Estrada will win in a 10th round TKO.
Come Saturday night, will Estrada get his revenge or will Gonzalez repeat? Who will be Lord of the Super Fly's? We cannot wait!