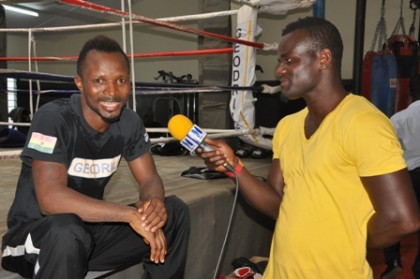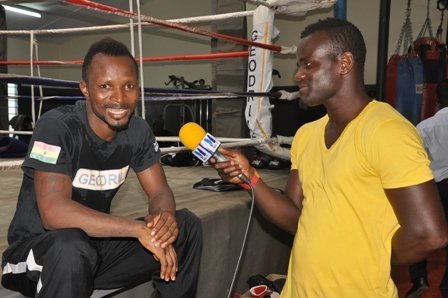 By Prince Dornu-Leiku — Former IBF Welterweight champion, Joshua Clottey is confident compatriot Joseph King Kong Agbeko will overcome eColombia's Luis Mendelez to win the IBO Bantamweight title when they clash in Accra on March 24.
Clottey was present at the Bridge Boxing Gym in the Ghanaian capital on Thursday when Agbeko held an open training session beamed live to the world by Ghana's leading sports television station, Metro TV. And Clottey who was even made to mockingly interview Agbeko live on TV, believes King Kong is primed for victory.
"At this stage with just a week to the fight, he doesn't need to train so hard but just focus on his speed. I think with what I've seen here today, Agbeko is in good shape and will go for the win. I'm sure he will win by a knockout, even if he doesn't knock him out then he will win by a wide margin," Joshua Clottey said at the event.
It will be Agbeko's first ring action since losing a bid to unify the Bantamweight belts against Abner Mares back in December 2011 but most memorably a first bout in Ghana since beating Baba Nsor at the Azumah Nelson Sports Complex exactly six years to the day March 23, 2007.
Clottey tells his friend of the massive importance of fighting and winning on the homeland on Friday night at the Accra Sports Stadium.
"He is my friend so we normally talk and I always advise him on the need for him to win," Clottey told the Ghana based website www.sportsinghana.com exclusively.
The former world champion cautioned: "It's great to fight in front of your people and he has got the opportunity so he must make sure he wins well. Not just the win, but he must win convincingly. That way, he can make the fans to forget about the past and celebrate the future."