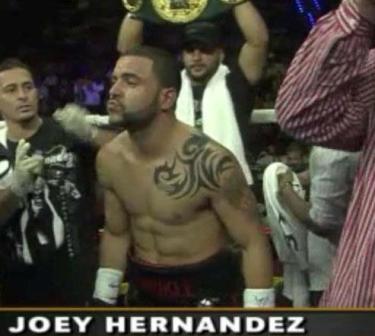 By Prince Dornu-Leiku – Joey Hernandez claimed a unanimous victory over Jamie Winchester last Friday and immediately declared the big ambition of stepping up for a match-up against WBC 154-pound champion Saul "Canelo" Alvarez.
Southpaw Hernandez, claimed a 97-91, 97-91, 96-92 verdict on the judges' scorecards to improve his record to 23-1-1 (13 KOs) but the man nicknamed Twinkle Fingers, is calling for bigger names and bigger fights on bigger promotions to showcase his world title credentials.
"I felt I won 9 rounds strong and decisive, and landed a lot of power shots. After reviewing the tapes, I feel I could have thrown the jab a little more and couple more combinations but I showed the type of fighter that I am," Hernandez told East Side Boxing post fight.
He continued: "I'm happy I got the rounds, I felt great in condition and it really paid to have an 8 week camp with Evangelista Cotto. I landed 176 power shots to the head and body, I take my hat off to him (Winchester) in the balls department. I plan not to balloon up and get back quickly. I know my name is in the mix for top fights, I'm just too charismatic and too exciting to stay off national television."
That is why Joey Hernandez has vowed not to rest but immediately begin the campaign for a match-up against the very best Junior Middleweight boxers in the world. Fighting in the camp of the legendary Don King certainly offers him a big platform to get his wish soon.
He told us: "I'm ready for a real notable fight, a fighter who can bring the best out of me. I mean one of the guys in the TOP #15 that I'm ranked, let's make this happen. Don (King) was saying he was going to put me on the undercard of the Arreola-Sterviene fight (January 26th at the Galen Center in Los Angeles, California) that he is promoting. I just want to stay active, I'm improving every fight and that's what counts. I'm progressing, I'm not in my prime yet but I'm real close."
Having already revealed his intentions of facing WBC champ Canelo Alvarez even before last Friday's fight, questions have emerged about the authenticity of that bid and whether it wouldn't be too huge a step for the 28 year Hernandez? But Hernandez is dead serious.
"I will face Canelo, he doesn't do it for me. He has only fought Lightweights and Jr Middleweights, and guys like Ricky Hatton's brother who hit like my sister. He hasn't fought a young, exciting, hungry kid. I can box, I can sit there and mix it up, I'm not one dimensional, I do a little of it all and I'm my biggest critic," Joey Hernandez said.
Hernandez, still the WBC USNBC Light Middleweight champion, added: "I would also love a fight with King Carlos Molina, he's avoided me for too long and I'm here still ready for him. He can bring out the best Joey, he comes to fight, that would be a great fight but I'm sure he wouldn't take it."