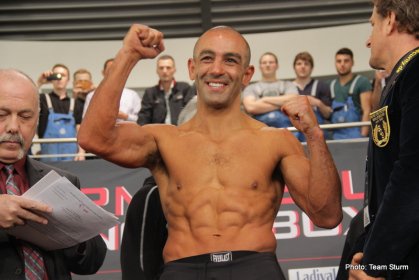 The upcoming fight between IBF middleweight champion Sam Soliman (44-11, 18 KOs) and former IBF/WBA/WBC/WBO middleweight champ Jermain Taylor (32-4-1, 20 KOs), which had been scheduled for October 4th, could be moved to October 8th and be televised by ESPN on a Wednesday night special, according to Dan Rafael.
It's unclear if HBO or Showtime made an attempt to televise the fight. Taylor, 36, has been out of the loop for five years since his knockout losses to Carl Froch and Arthur Abraham, so it wouldn't be all that surprising if HBO and Showtime opted to pass up on the idea of televising the fight.
The newer boxing fans are likely not that familiar with Taylor, as he's not done anything special since 2006. He lost Kelly Pavlik twice starting in 2007, and then suffered the back to back defeats in 2009 to Froch and Abraham.
Recently, Soliman had been in negotiations for a unification fight against WBA middleweight champion Gennady Golovkin, but they then got a significantly better offer for a fight against #15 IBF Taylor and they wisely took it.
"This offer came in and it blew the (offer for the) Golovkin fight out of the water," Soliman's co-manager Kurt Emhoff said to Dan Rafael of ESPN.com. "It took Sam (17) years to win a title…but he's going to be 41 and he was looking for the best possible financial package that was offered and that's what we took. We got a very generous offer for this fight."
K2 Promotions obviously should have come back with an offer to top the offer made by Taylor's promoter, but perhaps they might not have seen it as making sense to overbid for a fight that likely wouldn't have registered as a huge event in the United States.
Soliman is one of 6 middleweight champions in the division at the moment, and he's perceived by a lot of boxing fans as being the weak link among the 6. Soliman isn't well known in the U.S, and at best it would be a fight that would likely do no better in the ratings than Golovkin's previous fights against the likes of Matthew Macklin and Curtis Stevens.
Taylor is technically a contender, but he's not beaten a top tier fighter in ages and it's hard to picture him doing well in this fight unless he can get to Soliman with his power. Taylor has never been known for having great stamina, and that could very well be his undoing in this fight unless he scores a stoppage.
Taylor will win early rounds based on his speed and power advantage over Soliman, but the pace that Soliman sets is likely going to wear Taylor down by the 6th. It'll be downhill for him from there.