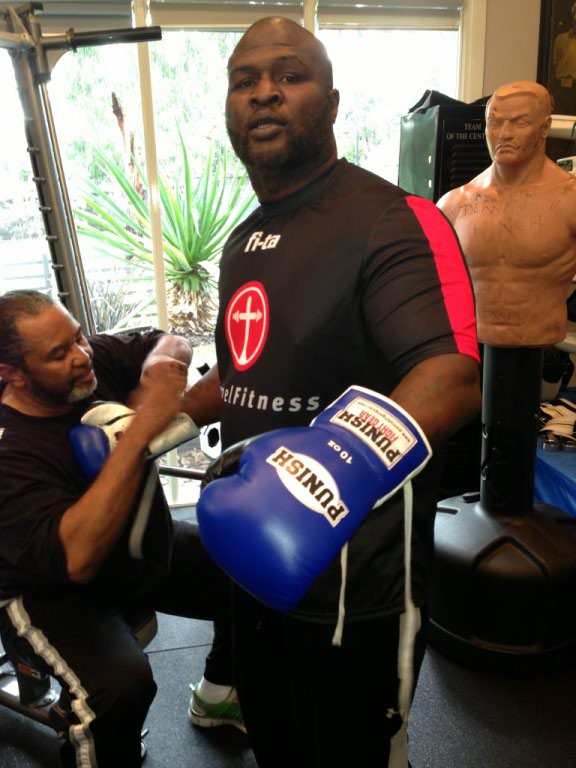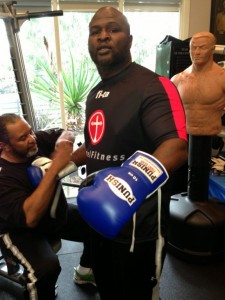 Current IBU heavyweight champion and future hall of famer James Toney (74-7-3, 45 KOs) and his father, trainer and manager John Arthur took time out to exclusively speak to ESB today ahead of Toney's heavyweight showdown with unbeaten Australian Lucas 'Big Daddy' Browne (15-0, 14 KOs) in Melbourne, Australia this Sunday.
Toney and Arthur discussed all subjects, including his time in Melbourne and fight preparation, recent ring inactivity, managing of weight, time in the UFC and future plans.
Arthur explains the bout with Browne came after the proposed bout with Tomasz Adamek fell through, that was scheduled for last September. "We were supposed to fight Adamek in September" where after that "I started to reach out to everybody and it seemed like every door that got called in the United States was closed. I reached out to some people and they put me in touch with some promoters in Australia and they said they wanted to make this happen and this is where we have ended up at… This kid (Browne) has wanted to fight James and James has never ducked and dodged anybody his whole career so I said let's take it."
Arthur looks forward to the challenge of Browne "I think it's going to be a good fight, when I say good fight, we're going to beat Lucas Browne, he's never been with a fighter like James. James beat the brakes off Sam Peter the first time… This is a good fight for him." Toney's regard for Browne is minimal, if that, "I don't care nothing about him."
Browne possesses an excellent 15-0 record with 14 knockouts, showing a great ability to put away whoever has come in front of him. Asked on Browne's imposing record, Toney summarises "the only one person he's beat is Jason Gavern and he was my former sparring partner." Arthur adds "what can you compare Lucas Browne's power with? Who has he been in the ring with? He hasn't been with guys of the calibre of Hasim Rahman, Sam Peter and John Ruiz. These are guys James has been in the ring and been hit by before."
Toney has ventured to Australia previously, back in 1993 when he came with Don King to witness the Jeff Fenech – Azumah Nelson rematch in Melbourne. Toney states "I was with Don King, I was meant to get a fight but it never happened." Toney has found a real fondness for the land down under, comparing it with the states saying "I live in LA, but I don't like it…It's where the money is..So I have to be there."
"Australia, it's my second home, I love it here." Arthur adds, "We love Melbourne. Melbourne is great. The people are much much friendlier than in New York. They're treating us well and they are treating him (James) like a champion."
"Chapel Fitness has been great and we've discovered a secret weapon here, and that's in Melbourne. We've got a chiropractor, who has loosened James up, loosened his muscles up, he's fine tuning him for the fight." "Dr Azim (Alpha Chiropractic) is our secret weapon and he's the secret we have got, he's (James) doing some things that we haven't been doing in a long time, so James is feeling good about it."
Toney's presence is a significant coup for boxing in Australia and one of the biggest names in boxing to fight down under, with Toney a former middleweight, super middleweight and cruiserweight champion and Ring Magazine fighter of the year in both 1991 and 2003, the longest gap between reigns for this accolade. His presence in the heavyweight division now spans a decade and he once held the WBA title in 2005 after defeating John Ruiz via unanimous decision before being stripped due to a positive drugs test. In addition to that, he fought Hasim Rahman to a majority draw in contesting the IBF heavyweight title in 2006 and has picked up the lesser known IBA and IBU heavyweight titles along the way.
Arthur and Toney are both keen to return back to Australia, with Arthur outlining "we're going to look at fighting in Australia again" and outlining to return down under to take on New Zealander Shane Cameron or another heavyweight as a likely possibility in the near future.
One recent connection with Australia that Toney has encountered was his now legendary sparring session with Danny Green in the US at the Wild Card Boxing Gym in 2004, which saw heavy trash talking mixed with an all out war in the ring that was PPV worthy material. Asked on Danny Green, Toney states "I love Danny Green… but when you come into my house, you have gotta pay the price."
He adds "I have got mad respect for Danny. I was happy for him when he beat Roy Jones, I was happy for him. I knew he would but I didn't think it would be that fast…. Danny Green, I've got mad respect for him, if he wants to fight and wanted to do it for real, we could do it here in Australia, it would be great." With the question on fighting Green posed to Arthur, Arthur specifies "we would fight Danny Green anywhere anytime as long as it is over 200 pounds."
With Toney's boxing career taking a slip the past few years, some of that can be perceived to be partly due to his unsuccessful foray into the UFC in 2010. Asked on whether his time in the UFC has affected his reputation, Arthur states "it has to a certain extent a little bit. He'll fight anytime, anywhere and he couldn't get a fight in boxing and so he went into mixed martial arts (MMA)." "If James would have got in with Randy and moved side to side a bit more, things might have been different." "He thought Randy was going to box him", Arthur adds, which appeared to alter James' approach. "He didn't perform the way we wanted him to perform and the way he wanted to perform."
As for his move to Cruiserweight to fight Denis Lebedev in 2011, Arthur says "I think we made a mistake by going down to Cruiserweight. He had to lose 58 pounds to make weight and he did it in six months." Apart from the extensive weight loss, the biggest factor in the defeat was that "he sustained a hairline fracture on his left knee in the first or second round." Toney adds "I couldn't bounce and that's the only reason he got away." In relation to travelling overseas for the first time in the bout with Lebedev, Arthur notes "that was our first chance to fight overseas and James does not like travelling, he does not like flying. In fact he hates it."
In relation to criticism James has received since these events, Arthur states "A lot of people criticise him, saying he's old he can't move, his technique is off, we'll see Sunday." "Everybody will see Sunday."
Arthur predicts at his preferred division of heavyweight, at the weigh-in, "I think we'll see James come in between 230 and 239. We've been out of range a few times like 248 and 258 or something like that." Arthur has been happy with Toney's weight management stating "He's steadied off, he's levelled his weight off." Going forward, "we're going to chip a little bit of weight off him each time."
Asked on his future plans, James plans to go back to his roots of fighting regularly who at one stage of his time a middleweight and super middleweight fought 23 times within 24 months, stating "I want to fight six times this year… All title defences." He draws back to his frustrations of his recent inactivity, "The last three years, I've fought only three times, it's ridiculous…but it hasn't been me," referring to fights such as the bout with Adamek falling through.
Asked on campaigning for a major sanctioning body title, James states "I'm not worried about titles, I already have one heavyweight title… a title don't make me, I've won the IBF, I've won the WBC, I've won the WBA."
Toney's approach to selecting opponents is like his fighting style, a throwback, "it's boxing, it should be about putting the best fights together. My game is this, I wanna fight David Haye, the Bitschko sisters or even Tyson Fury, it would be a big name fight, people would want to buy it and it would bring interest back into boxing."
As for fighting the Klitschko brothers in Germany, "if you want to be a big time heavyweight champion, you've got to fight in the States."
Assessing his status as a fighter, James states "I'm the real champion in the game, I'm the only real fighter in boxing, I fight any style, I wrestle any style, whether it's a big man, small man, I'm willing."
Sunday's fight between Toney and Browne will be live streamed through epicentre.tv from 9PM Pacific Daylight Time (Los Angeles, USA) which can be bought at $14.95.
For those in Melbourne on the weekend, the fight will be taking place at the Melbourne Convention & Exhibition Centre with tickets still available for the fight at www.ticketmaster.com.au with tickets at $99.95. Promoter of the event is Mick Gatto in conjunction with Brian Armatruda and Barry Michael Sports.