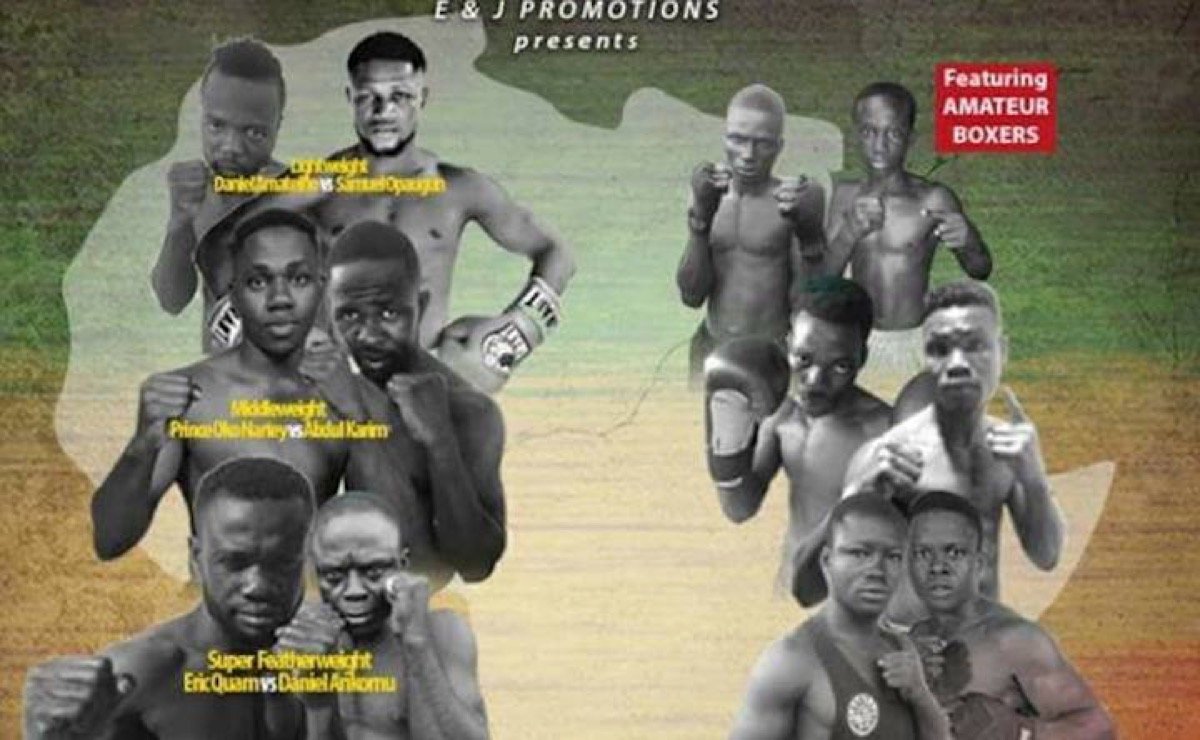 Ghana's potential fight of the year candidate takes centre stage at the Bukom Boxing Arena in Accra this Saturday, October 13 when undefeated Isaac 'Golden Eagle' Sackey (22-0-1, 19 KOs) puts his WBO Africa junior featherweight title on the line against highly rated and also undefeated compatriot, Wasiru 'Gyata Bi' Mohammed (11-0, 9 KOs).
Sackey, currently rated number 12 in the latest WBO rankings to the world title held by another Ghanaian, Isaac Dogboe won the regional belt in April by defeating experienced countryman, Raymond 'Chorkor Banku' Commey, also a former WBA Pan-Africa champion and stages a first defence against Mohammed who holds the Ghana super bantamweight title he knocked out Kamarudeen Boyefio in May to annex and who has already served notice of his credentials with a devastating round 2 knockout of the same aforementioned Raymond Commey for a first successful defence in July.
Now the two meet in a super fight on the E&J Promotions bill christened 'Ultimate Expose 2' on Saturday where somebody's 'O' definitely has to go. Both boxers are however primed for the occasion and have continued the verbal and social media war that led to the making of the fight in the first place.
"I'm coming in with a lot of strategies to outwit Wasiru, it's not about power, this is just boxng and I believe I have the skills to beat him. I will surprise him because I'm training very hard, I'm more than hungry and very ready to punish him," Sackey told this writer on a visit to his training grounds at the Attoh Quashie Gym in Accra.
"For me I thank God every day for everything because it's by his strength and will that I won this title and anything I ask him, he always does for me. I also want to thank my fans for their continued support, they know how I do it and I expect them to come in their numbers to cheer me to victory," added Sackey.
But equally confident of maintaining the perfect start to his professional career and winning a second title is the highly rated Wasiru Mohammed who goes by the nickname 'Gyata Bi' to wit, 'humble lion' and has sworn to outlast Isaac Sackey.
"I am more than ready, first of all I want to thank Allah almighty, my coaches and my team, we are more than ready because my coach and my team work really hard. Even if I get like the fight is right now, lion doesn't talk too much so I don't want to talk. The ring will decide the champion, when we get into the ring then we will see who is the champion," Mohammed said on Monday.
"I agree that he is undefeated but I'm equally also undefeated so I'm under no pressure at all. we already knew it will be a tough fight so we have prepared very well so we will just go out there to work hard for victory. I'm just appealing to my fans to come early otherwise they will miss the action," he stated confidently.
In the event, other fights on the undercard of the E&J Promotions event which has Fatai Issifu as matchmaker include undefeated Prince Oko Nartey versus (5-0, 4 KOs) against Abdul Karim who will be making his debut in a super middleweight contest, Charles Amarteifio (9-0, 9 KOs) clashes with Samuel Opaugun (2-1, 1 KO) at lightweight whilst Pride of Takoradi, Eric Quarm (1-0, 0 KO) seeks for a first knockout win against Daniel Akornu (3-1, 3 KOs).