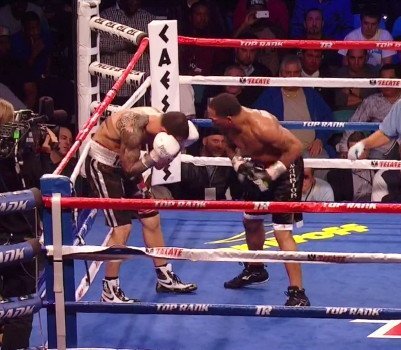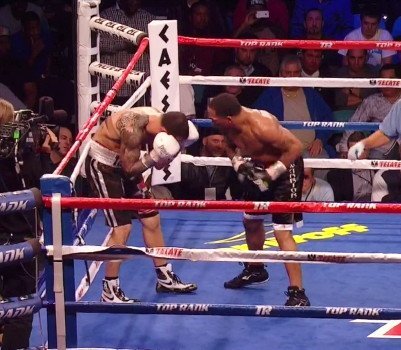 James Kirkland entered the ring on Saturday against undefeated Glen Tapia after a 20-month layoff full of injuries, drama, musical trainers, and another visit to jail. Nevertheless, it was business as usual as Kirkland didn't seem to miss a beat. Kirkland, now 32-1 (28 KOs) stopped Glen Tapia (20-1, 12 KOs) in the sixth round of a brutal slugfest that saw both guys exchange shots that drew oohs and ahhs from the crowd.
Both fighters went to the body and head in the early parts of the fight. However, it was Kirkland that continued to mix the attack up while Tapia began to headhunt. The sweat-equity that Kirkland put into the body-assault began to pay off and Tapia began to slow down. Kirkland's punches took their toll and Tapia seemed to lose his legs at least two rounds before the stoppage.
Sitting ringside, I thought the fight should have been stopped maybe after the fourth round. The fifth round was brutal enough to watch. The sixth round was worse and could've subtracted a few years from Tapia's career. The Tapia family (at least 30 people) sat behind press row imploring Glen to "do something" as Kirkland kept applying pressure. Eventually Steve Smoger stepped in to stop the fight, but didn't completely protect Tapia from taking possibly the hardest shot of the fight. Kirkland was able to get a final punch in that left Tapia out on his feet and with eyes rolled back into his head. Contrary to most, this wasn't a fight of the year candidate. It was a beat down with only a round-and-a-half being close.
The fight was a very emotional experience for Tapia's family. Those emotions almost carried over into a fight in the stands behind press row. There was an entire section of Tapia fans with one Kirkland fan close by. The Kirkland supporter wouldn't stop yelling insults and had to be restrained (maybe to his benefit) by security officers. This writer noticed there was equal emotion on behalf of Ann Wolfe and members of Kirkland's team after the stoppage. I take my hat off to both warriors for an unforgettable fight.
Many have speculated about fights with Saul Alvarez, Miguel Cotto, Erislandy Lara, Gennady Golovkin, and Peter Quillin for Kirkland. Everyone is talking about how Kirkland is back. But is he? Let's look at a few facts.
First of all, Glen Tapia was an undefeated prospect coming into the fight with Kirkland. True, but Tapia was also a somewhat "green" 23 year old (he turned 24 a day ago) who hadn't been in with anyone close to the level of Kirkland. I mean arguably, the best name on Tapia's resume prior to the Kirkland fight was the world- recognized Ayi Bruce. You know who he is, right? Exactly.
Secondly, I have to question Tapia's corner in this fight. There didn't seem to be Plan A, let alone a second or third option. Everyone talks about the instructions, or lack thereof, Tapia received when he was in trouble. My question is what kind of instructions did he receive while training for the fight?
Also, once Tapia decided he was going to brawl with James, it kind of played right into Ann Wolfe's game plan. In other words, Glen's strategy made life much easier for James. Glen didn't smother James or do much holding to offset the assault. Surely a veteran (let's say a Carlos Molina for example) would have used these tactics to slow Cap 'n Kirk down. Agreed?
All credit goes to Ann Wolfe and her training methods that had James Kirkland fighting like a machine. That's the only word I could think of when I spoke to Ann shortly after the fight. It seemed as if James was getting stronger at the point of stoppage and I'm happy this contest didn't last longer than it did.
James Kirkland is on the right track. However, I'll stop short of saying he's back, as many boxing experts have expressed online. Let's see how the next few fights play out, especially against seasoned professionals with conflicting styles. One thing is for sure; James will not stop coming forward like the machine Ann Wolfe and Pops Billingsley built. Pops trained Ann that way and Ann trains James that way. How that style will play against the cream of the crop is where the excitement remains for everyone. Stay on the right track James. We need to see where this ride takes us!