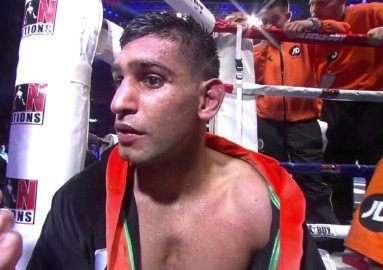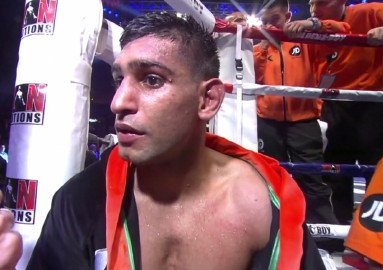 By Jack Scales: Amir Khan's most recent performance against Julio Diaz, was in some respects typical of the Amir we have grown to know and appreciate over the years. As usual he displayed tremendous valor and the fans were treated to an engaging contest that provided terrific value for money.
Complimenting this was a new found maturity that revered trainer Virgil Hunter has instilled in Khan. This was evident in his uncharacteristic reaction to the knockdown he suffered in round four. Instead of his usual response, which has typically been to bounce back up immediately and engage in a costly brawl, on this occasion he maintained his composure and boxed sensibly.
Conversely, I believe that i speak for a vast proportion of spectators when i say that he appeared to be missing something on the 30th of April. In my eyes, his work lacked conviction and his punches seemed to be devoid of any meaningful power. Also, his blisteringly fast combination punching was absent for the majority of the fight. Are these signs that the British-Pakistani is on the slide?
Although it may initially sound somewhat ridiculous to suggest a 26 year old fighter is shot, fight fans have to consider the tough match-ups that khan has been involved in from a relatively young age. As an amateur he reached the sport's pinnacle as a mere teen, boxing in the Olympic finals against Cuban legend Mario Kindelan. Unfortunately, Amir lost this bout and had to settle for a silver medal, but he managed to avenge this loss by defeating the slick Cuban 19-13 at the Reebok Stadium in what was to be his amateur swan song.
Once he turned professional, he rapidly rose through the ranks before suffering a brutal knock out loss to the crude but heavy handed Colombian, Breidis Prescott. This prompted khan to jump ship and fight under the tutelage of Freddie Roach, a move that may prove to be ruinous. Now, I'm aware that this statement may raise a few eyebrows, as it is undeniable that Roach helped to nurture Khan's intrinsic ability to fight in a captivating and aggressive manner. Be that as it may, despite all the progress made to his offensive arsenal it appears that the biggest flaw in Khan's game, his defense, has been neglected. In light of this, it must be remembered that as a fighter Roach was never praised for his defensive abilities. Therefore, it stands to reason that he lacked the nous required to appropriately aid Khan in this department.
Chinks in Amir's defensive armory have been present since his career's offset, but the most noteworthy incidents could be seen in his shaky win against Marcos Maidana and in his brutal defeat to Danny Garcia. These type of bouts are known to cause irreversible damage in boxers and perhaps this has happened to the young fighter from Bolton?
Additionally, Khan himself has proudly spoken of the 'gym wars' between himself and Manny Pacquiao. Why roach would allow a developing talent to engage in this kind of sparring with a seasoned pro well is beyond me, but if he did permit this to happen then it was nothing short of negligent and most likely physically draining for both men.
However, are the recent lackluster performances from Amir enough to suggest that he is gradually becoming a shadow of his former self? I'm of the opinion that his next fight – which should ideally see Khan step up the calibre of his opposition – will serve as a better answer to this question.
Whilst baring this in mind, It would be unfair of me to dismiss the genuine possibility that Khan may just be a fighter in transition between two contrasting styles. Virgil typically expects his fighters to box in an intelligent manner and to do this successfully Khan will have to abandon habits he has been developing since a boy. Has Khan simply not had enough time to eradicate his old methods and adopt a defensively minded approach to his boxing? The answer to this question will again become clearer after his next fight which will probably take place towards the tail end of 2013.
Finally, it's also worth mentioning that Khan lives in Bolton for the majority of the time and only collaborates with Hunter during his pre-fight training camps. If Amir was to train in the US all year round with Virgil, as does Andre Ward, then it's very probable that he would have made changes of greater significance, but ultimately, the jury is still out on the valiant Boltonian.