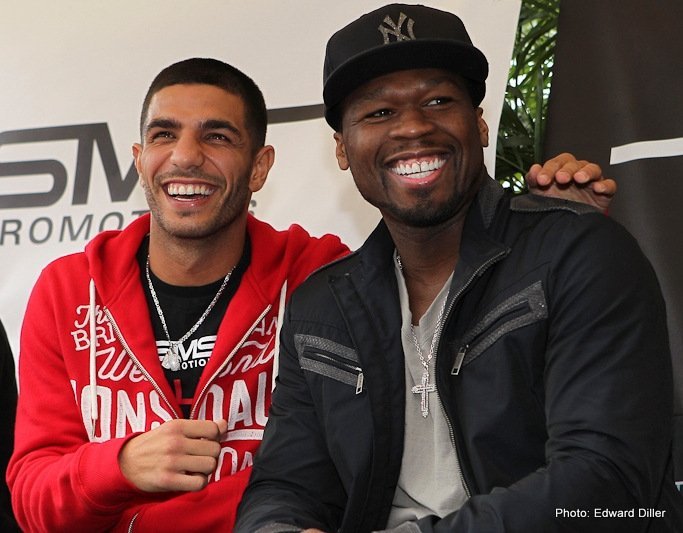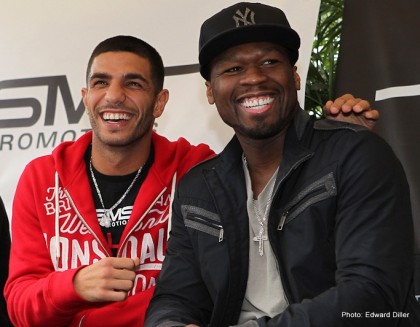 Exclusive interview by Adam Santarossa: Billy Dib returned to Australia days ago light on luggage after losing his world title and a pint or two short of blood following the ten staples that were needed for a cut to the back of his head and the fourteen stitches that were needed to seal the wound above his right eye.
I spoke with the former IBF Featherweight World Champion in an exclusive interview just days after his defeat and Dib says it's only physical wounds he carries after his split decision point's defeat to Evgeny Gradovich.
"The wounds that are healing are the actual wounds that I suffered in the fight. I suffered a few cuts on the eye and two cuts on the head that I'm recovering from. But other than that everything is good. My health is good and in due time I'll be back in the ring getting ready for the next one.
"It's obviously disappointing to lose a fight and especially to lose in that fight. That was heartbreaking because as you know from the scorecards if the referee doesn't take a point away from me, I keep my title. But in saying that it was a cracking fight, it did a lot for my credibility in the sport because people didn't expect to see that type of fight from me. To go out and put that type of a fight on sort of changed people's perception of me.
"50 cent has an agreement with Top Rank that provided that we gave the guy an opportunity that they will sign an agreement to do the re-match, so there is a re-match clause in place".
Were you surprised at all with what Gradovich showed?
"No surprises at all, I expected that sort of a fight and when people say Gradovich took the fight on short notice they have to understand that we both took the fight the same notice. At the end of the day I had to prepare for him and he had to prepare for me, and we both had the same time to prepare.
"When people say he took the fight on short notice that's not true because I was preparing for one style and then the fight fell through. Let's be completely honest here, I went from preparing for Munoz to preparing for Luis Franco to preparing for Gradovich, so it wasn't a smooth sailing sort of a camp. I mean I was working hard but with the chopping and changing of styles it made it very difficult.
"I had the same amount of time as Gradovich had to prepare for the fight so I thought it was on an even playing field. He didn't show me anything that I didn't think he was going to show me. I knew he was going to show a heart of a lion, which he did. I knew he was going to fight hard, which he did and I knew he was going to come forward, which he did. So he gave me everything that I thought he was going to give me."
I know you've been keen to get back to the United States and entertain and really show people what you can do. Did you go in with a pre-conceived style of fight or did it just evolve during the fight?
"I think the past has sort of haunted me you know. I went from being a guy that couldn't get on TV in America to getting on TV as the main event and now basically with the fight that I've put in we've got guys like Ken Hershman and that giving 50 cent a call saying "we're interested in putting Billy back on HBO". So I've managed to turn it around, in doing so despite that I went out and fought I did leave the states with an "L", but I think I left with my career in tact in terms of getting myself back on the big stage. So in the words of 50 cent – "Value wise, my value has gone up not down."
"His exact words were the title means more to me than to him. Because if I can go out and put performances just like that on then I can definitely bring the money in."
I know following the Luevano fight there were a lot of people critical of you. I know you did lose the title and there are not that many positive out of a defeat, but you can take away an increased fan base and maybe you've even answered a few critics?
"The fight was a catapult, but in saying that I did lose the title. But you have to remember something, the title is only ever one fight away because I'm still rated highly and I have a rematch clause in place. If I want the rematch to be my next fight well then it's possible that it could be my next fight.
"I went out and I made people who weren't believers into believers and if you can make Dan Rafael a believer then you're doing well. I spoke to Dan Rafael and he told me "You impressed me" and "You showed me things that I didn't think you had.
"So, not that I'm proud that I've lost my title, but I'm proud that I've been in a fight of that magnitude as the main event on ESPN and put on the best performance for the ESPN audience."
What did 50cent say to you following the fight?
"His exact words when he got in the ring were – "You did more for your career in this fight then you've ever done". He said you've done nothing to hurt yourself. He said keep your chin up and you've got a rematch in place so we're just going to go back to the drawing board and work hard.
"Adam, with a guy like 50 cent behind me and the team members that we have in Gamboa and co anything is possible, titles could open up anywhere. You might even see me moving up in weight and challenging for another title who knows. The IBF has been good to me and I'm aligned with them at the moment but I'm just looking forward to getting back in the ring and evening up the score with Gradovich."
What about your trainer Billy Hussein? What did he have to say after the fight?
"He's proud of me that I put it on the line, but we had a game plan and I kind of went away from the game plan. What people don't understand is that certain things happened in that fight and I wasn't able to respond to Billy Hussein. I wasn't really responsive because I was dealing with certain things that were happening to me during the fight. But I'm not one for making excuses; everything that happens to me in the fight is god's will anyway. Nothing is possible in life without god's will.
"Everything in life happens for a reason. After I suffered the elbow to the back of the head and the back of my head split open, I really don't remember much of the fight since. I was sort of fighting a little bit on instinct. I suffered a ruptured left eardrum that I fought through, so I was trying to fight through adversity.
"So to come away from the fight with a split decision loss and considering I could have kept the title had the referee not taken that point away shows me that even at my worst I was so close. "
But we both left a great fight and I congratulate Gradovich on a wicked fight. But it takes two to tango and we were both able to put on a fantastic show for ESPN and from what we're hearing and from what 50cent has told me it's an early candidate for fight of the year.
I know it's only early days but is there any indication when the rematch with Gradovich may happen?
"Like 50cent said we can make it happen in the next fight if we want, it's totally up to us. But I think what 50 wants to do is get Gradovich and I back on the same card together, obviously with him defending his title and me fighting in a 10 round bout, just to juice up the fight a little bit more and build it up and then go at it again."
"I've got the hunger, I've always been hungry particularly going into this fight, I certainly didn't underestimate Gradovich or anything I badly wanted to win and now in losing the fight the master plan kicks into gear to go and get the title back, so that's what it's all about now.
If you had the fight over again, how would you fight it? Would you fight it the same way?
If I had the fight over again I'd fight him the same way I fought him over the first four rounds. But after suffering that elbow to the back of the head, basically I thought I was fighting on instinct from that point. Basically I think I'd box a bit more smarter."
Dib travelled a rocky road in his attempt to return to the bright lights of the USA following the defeat to Luevano, amid the criticism that came his way following the fight.
The fight with Gradovich was meant to be his coming out party, with new promoter 50cent in his corner.
However with defeat, Dib now finds himself on a familiar path attempting to travel the road back to World Title glory.
But once again, Dib has a message for the people who choose to write him off like they did last time.
"Jeff Harding is the only Australian to lose a World Title and win it back, and I look forward to following in the footsteps of the great Jeff Harding."
Follow Adam Santarossa on Twitter – @adamsantarossa