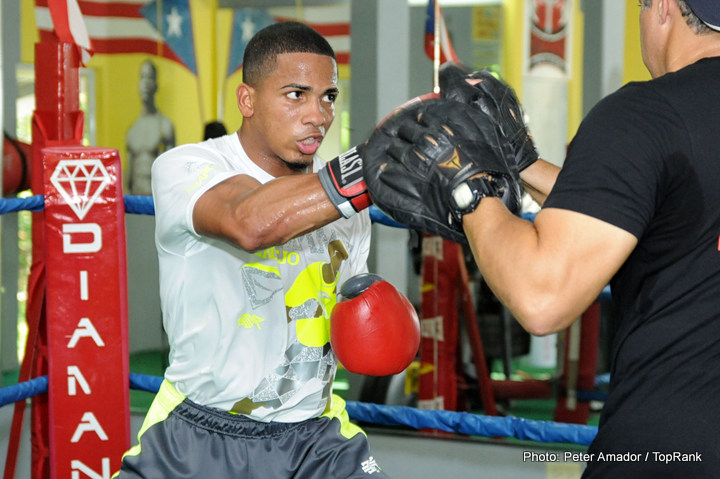 No lesser great fighter than the currently seemingly untouchable Vasyl Lomacehnko once said how Puerto Rican star and prospect Felix Verdejo gave him one of his toughest fights (back at amateur level, with "Hi-Tech" winning) and it was this, amongst other things, that had many convinced that Verdejo, a 2012 Olympian, would go on to great things at pro level.
But, due to inactivity caused by a motorbike accident, various other injuries and due to what his promoter Bob Arum calls "a lack of discipline," Verdejo is now a former "sure thing" who has a career in tatters. Last night, the formerly unbeaten 135 pound contender was beaten, stopped, by largely unheralded Antonio Lozada Junior, who scored a bloody 10th-round TKO over the 24 year old.
Verdejo, battling ring-rust, fought well enough in the first half of the entertaining fight, but Lozado used his strength and will to turn the fight his way in the second half. Bloodying Verdejo's mouth and bullying him, the underdog foe then dropped Verdejo hard in the tenth; ultimately forcing the ringside doctor to stop the fight at the 2:37 mark of round-ten.
Verdejo, now 23-1(15) faces a long and hard re-build. Lozado, who improved to 39-2(33) may have earned himself some big fights/decent paydays.
Arum, who had such high hopes for Verdejo, calls the whole thing "nuts."
"Verdejo was very disappointing but that happens," Arum said as quoted by RingTV.com. "I thought he was winning the fight when he got knocked out. But he got knocked out and he didn't look very good. It's nuts, the lack of discipline. It's the lack of discipline. He has gone back so far and maybe he can put it together and come back because coming out of the 2012 Olympics, he had the most talent of any of them. When I asked Lomachenko, who was the best, he said Verdejo by far."
Of course it's nothing new seeing a "sure thing" fall by the wayside, unable to live up to his promise – the name of Francisco Bojado springs to mind – but this just goes to show how nothing is ever handed to a fighter, no matter how gifted he is.