Bob Arum says it's possible we could see Oscar Valdez vs. Shakur Stevenson next now, depending on if both fighters want the match. Stevenson (15-0, 8 KOs) has already made it known this weekend on social media that he wants to face Valdez (29-0, 23 KOs) next, and he wants the fight as well.
Arum wants the decision to be made by Valdez and Shakur, but it's unknown if he's attempting to persuade Stevenson to face the winner of the Jamel Herring vs. Carl Frampton fight first.
That was the original plan that Arum had for Stevenson. It will make a fight between Stevenson and Valdez a bigger event if both guys have world titles at 130.
Valdez defeated WBC super featherweight champion Miguel Berchelt (37-2, 33 KOs) by a 10th round knockout last Saturday night in 'The Bubble' at the MGM Grand in Las Vegas, Nevada.
After the fight, Valdez said, "I heard Shakur Stevenson wants to fight. Let's do it."
Is it in Arum's best interest to let Valdez and Stevenson fight it out right now? We just saw what Valdez did to Berchelt last Saturday, and he may not ever be the same after the way he was exposed. It's not just the question of whether Berchelt can physically come back from the fight.
What's equally important is whether the boxing public will be interested in seeing Berchelt fight again. Berchelt has gone from being perceived as the #1 fighter at 130 to being past his prime guy.
Valdez vs. Stevenson possible
"That was a terrific performance by Oscar. He turned pro, and he's done great fights for us, and he's now a great talent, and it was wonderful to see the way he performed," said Bob Arum to Barbershop Conversations about Oscar Valdez's win over Miguel Berchelt.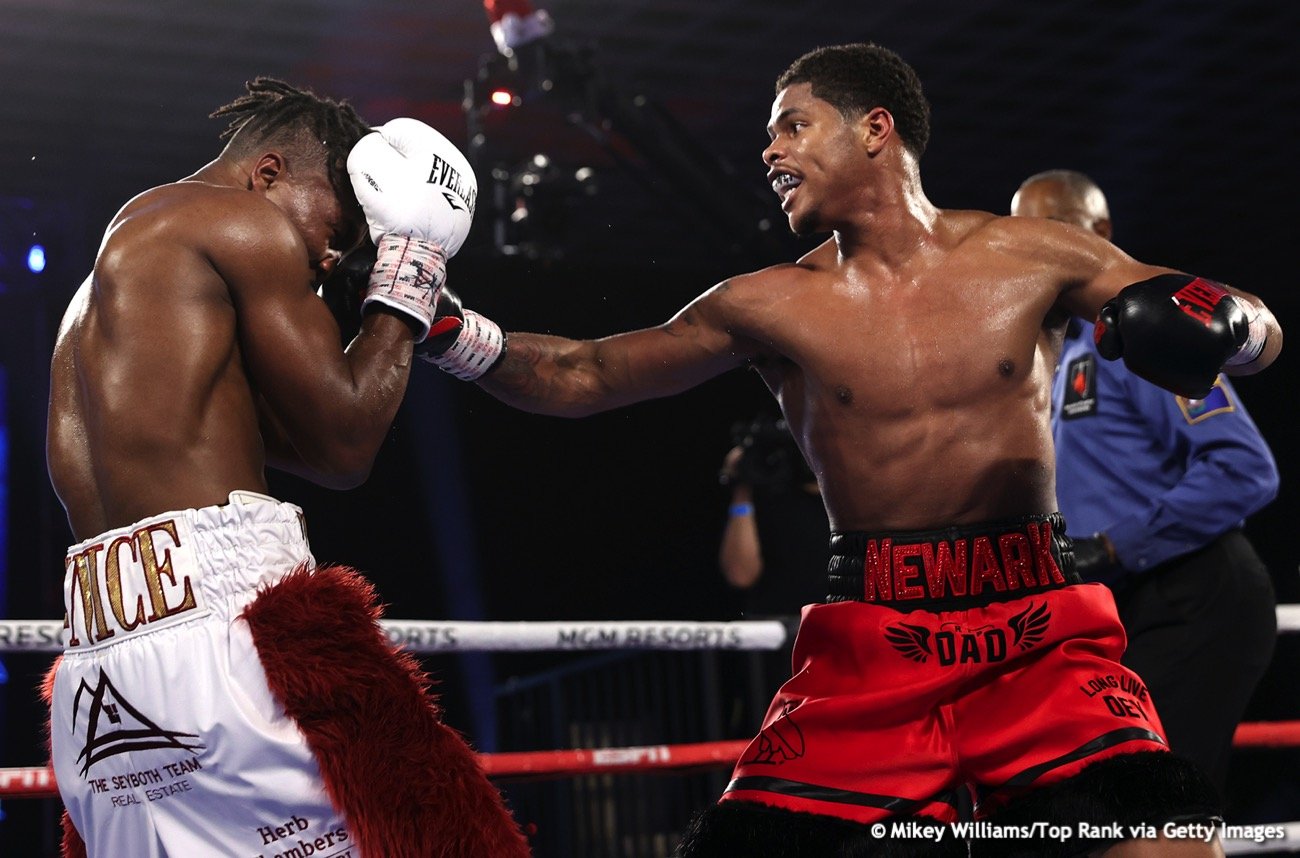 "It just shows these new great trainers [Eddy Reynoso], and the ability to improve the fighters they work with is really wonderful. Eddy Reynoso has become one of the great trainers of our time. The new trainers are equal if not better than the trainers we had before.
"He [Valdez] had the intelligence and the fortitude to take his skills to beat a guy [Berchelt] who clearly had all the physical advantages. That's wonderful, and it's a testament to the kid in how he performed and the trainer for this fight. You've got to give a lot of credit to Eddy.
"The way I conduct my business is I put it up to the fighters and their trainers, particularly if they know what they're doing. So I wouldn't tell Shakur who to fight," said Arum when asked when we'll see Oscar Valdez and Shakur Stevenson fight.
"I may make suggestions, and I wouldn't tell Oscar. They will make the right decisions, and when they decide that they want to do the fight.
"At some point, it will happen. Maybe the next fight, or maybe down the road, we'll see a great, great fight.
"That's what the public wants. Thanks to the way that ESPN has been doing these fights, we understand the inner working and the strategy of these fighters," said Arum.
Well, judging by the way Arum sounds a little standoffish about the Valdez vs. Stevenson match-up, it doesn't sound like he's excited about making it.
When Arum is excited about making a fight, he goes after it right away and starts talking about it immediately.
In this case, Arum is saying that he's leaving it up to Shakur and Valdez, even though Oscar said last Saturday night that he wants the fight.
It's quite understandable why Arum wouldn't want to make the fight between Valdez and Stevenson now. Stevenson, 23, is a fighter that Arum thinks can turn into a superstar someday.
But the problem is, Stevenson has very little pop in his punches, and his hand speed is similar to Berchelt's. In other words, Stevenson isn't fast.
His specialty is defense. He jumps back each time his opponents attempt to throw anything at him, but he's vulnerable against fighters with good offensive skills, as we saw with him getting beaten by Cuban Robeisy Ramirez in the 2016 Olympics
Spectators needed for events
"We can't continue to operate without spectators because the gate revenue is such an important part of the promotion," Arum said when asked him much money he lost last Saturday night on the Berchelt vs. Valdez event.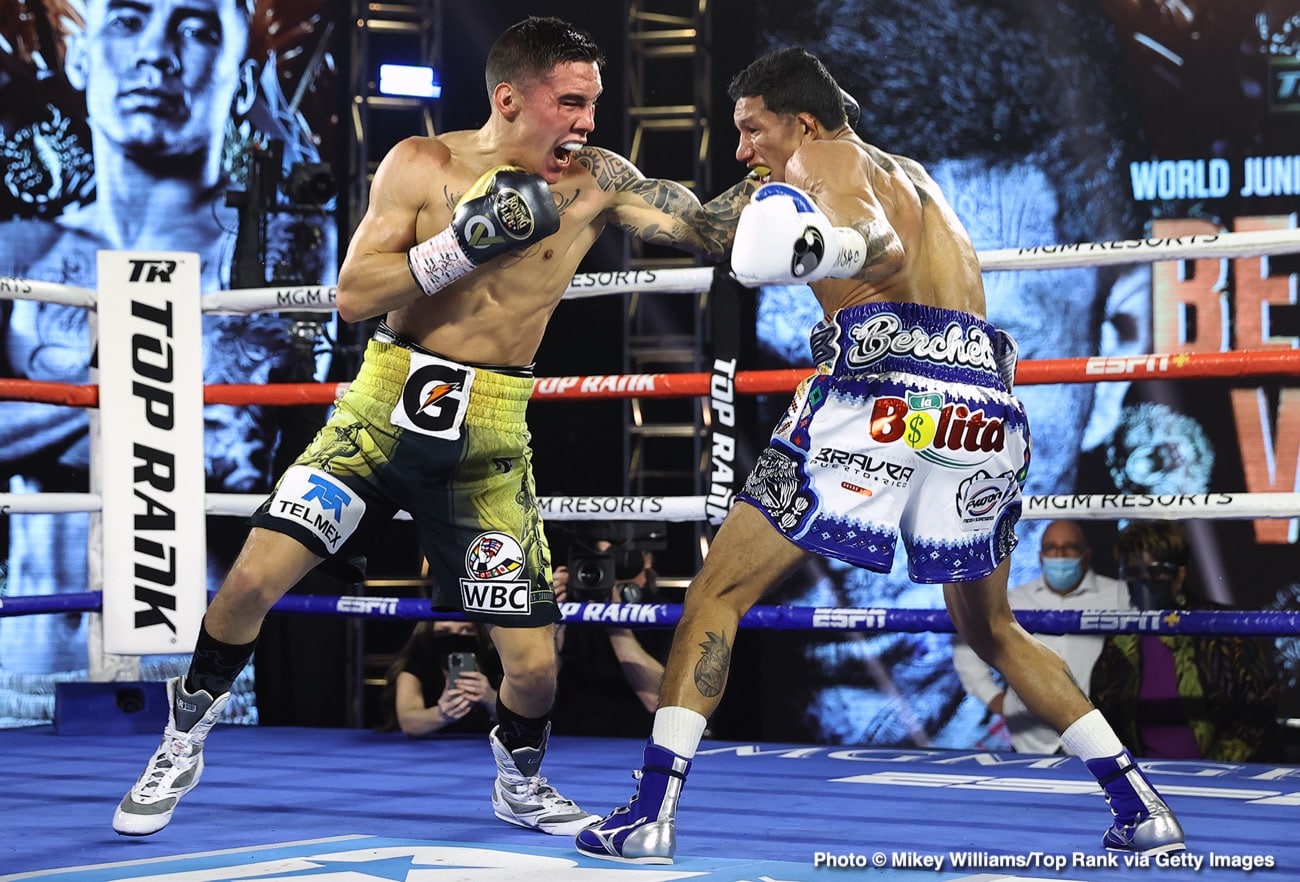 "I'm very proud of what we did in 'The Bubble,' but it was costing me between 500 and 600,000 per show in addition to the cost of the fighter's purses, and there was no revenue against those expenses.
"If this fight between Oscar and Berchelt had been with fans, we would have sold out the Staples Center or the MGM Grand, and that revenue from ticket sales would have exceeded our costs.
"I'm talking about the below line costs other than the fighter's purses. That's what we have to have. Now with the pandemic seeming to ease and people being vaccinated, we are going to go on the road now until Nevada allows spectators.
"We'll be doing fights wherever we can do them safely with spectators. We're going to Florida in April and Oklahoma for another fight. Texas, they've done it with limited spectators.
"In May, we're planning on doing [Jose] Ramirez and Josh Taylor in a 140-pound unification match; we'll be doing it with spectators.
"We have to have that revenue from gates to sustain what we're trying to do," Arum said.
If Arum is going to do any of the bigger fights like Valdez vs. Stevenson, he's going to need crowds back.
Placing the fight in front of a limited-sized crowd in Texas or Miami doesn't make sense right now.
It would be a better idea for Arum to wait until the pandemic is over in 2022 before making the Valdez-Stevenson match.
Teofimo vs. Kambosos purse bid on Tuesday
"It's Tuesday, and we put our bid in," said Arum about the purse bid this Tuesday for the Teofimo Lopez vs. George Kambosos Jr fight.
"Hopefully, we win the bid, and we're able to Teofimo with Kambosos in Madison Square Garden in June if we're successful with the bid, and hopefully that'll happen.
But we have to be financially responsible, and we can only bid what makes sense for everybody.
When we get full operations with spectators if we do pay-per-view revenue and with closed circuit, which no one has been able to do. I see us getting back to normal slowly but surely as we get into the spring and summer.
"We have a contract with Teofimo for three and half years. So if Hearn bids on the fight, it's a one-off for him because Teofimo wins the fight.
"So let's say Eddie puts money on the fight putting Teofimo and Kambosos, which is not a major fight on, what is he accomplishing because Teofimo comes right back to ESPN should Eddie win the purse bid if Eddie bids.
"If Eddie, for example, had a fight with one of his fighters that were under contract with Matchroom, and we bid, it would be the same thing.
"It would be sort of foolish because we would do the purse bid and get the fight, but where would we go from there? You always got to think about how you build it.
Teofimo is not a free agent, so why would Eddie want to bid the fight? And it's not a major fight. Let's be honest about it.
Kambosos is a good kid and will give a good performance, but again, it's a 25 to 1 fight.
"Our job is to program for ESPN, and we wouldn't put a purse bid in for one of Eddie's fighters because what are we building?" said Arum.
It's going to be interesting to see if Top Rank loses the purse bid for the Teofimo Lopez vs. George Kambosos Jr fight. If they lose it to Eddie Hearn's Matchroom Boxing company, Arum won't be pleased.
Instead of the Teofimo-Kambosos Jr clash taking place on ESPN, it would be shown on DAZN. It also unclear whether this would be a future thing for Teofimo to do in not agreeing to terms presented to him, forcing all of his fights to go the purse bid route.