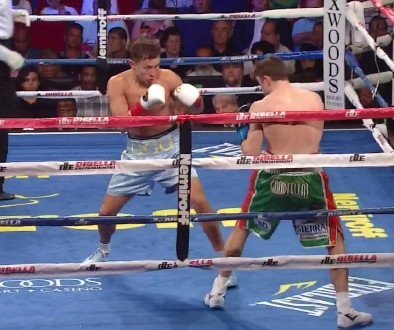 WBA middleweight champion Gennady Golovkin's 3rd round destruction of the UK's Matthew Macklin last Saturday night has Eddie Hearn, the promoter for IBF/WBA super middleweight champion Carl Froch, highly interested in staging a fight between Froch and Golovkin in 2014.
Hearn thinks he can put the fight together by mid-year in 2014 if everything goes right. There wouldn't be a catch-weight it seems, as Hearn wants Golovkin to come up to 168 for the fight.
Hearn said to Sky Sports, "Golovkin is a freak of nature; he's a beast. According to HBO he'd be willing to step up to super middleweight and a fight with Carl Froch would be just epic. Froch, granite chin, Golovkin one of the biggest pound-for-pound punchers in the world…Froch will quite willingly step up and ideally that is a fight that could happen in the middle of 2014."
I don't like this fight for Froch. He looked pretty mediocre last May in beating Mikkel Kessler by a 12 round decision. Had Kessler fought with a little more motivation in getting past Froch's jab in the first four rounds, he'd have won that fight. I think Golovkin would be a nightmare for Froch. The British fighter may have a granite chin like Hearn says, but the problem is he'll be taking shots to the midsection and that's a whole different story. I doubt Froch has a granite midsection. He hasn't been really tested to the body during his career the way that Golovkin will be testing him, and I think Froch will fail that test. Besides that, Froch's chin isn't granite. Andre Dirrell staggered him, as did Kessler in their first fight. Jermain Taylor dropped Froch, and Taylor doesn't have Golovkin's power. I think Froch ha a good chin but it's hardly a granite chin.
Golovkin wouldn't stand on the outside looking as paralyzed as Kessler was in watching Froch throw air jabs. Golovkin would dart past Froch's slow jabs and nail him with big shots inside of his reach. Froch is good when his opponents are on the outside where he can get maximum leverage on his shots, but once then get inside of his reach, he has no answers.
Froch just tends to hold and club them with shots sometimes landing on the back of his opponents' heads. That's not an inside game, and Golovkin will be able to land the same kind of body shots that he landed against Macklin and Grzegorz Proksa.
Before we can start thinking about a Froch-Golovkin fight, Hearn wants to make a third fight between Froch and Kessler for the end of the year. The fight made a lot of money for both fighters, and Hearn wants to try and strike while the iron is still hot with another fight. I'm not sure that a third Froch-Kessler fight will do anywhere close to the same business. Froch clearly beat Kessler without controversy, but I guess Hearn still thinks it'll do well enough to make the fight a success.
The other options aren't nearly as good for Froch. Hearn wants to match Froch against George Groves, James DeGale and eventually Andre Ward at some point. Groves and DeGale are potentially dangerous fights for Froch because those guys are young and they have enough talent to beat Froch if they fight the perfect fight.