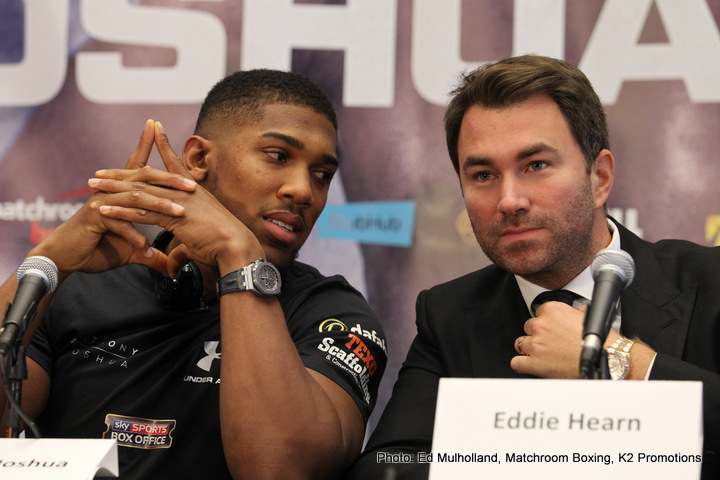 According to Eddie Hearn, former heavyweight king Wladimir Klitschko does not wish to return to the UK for a rematch with Anthony Joshua. Klitschko, still to make up his mind on the rematch, officially at least, Wladimir wants the fight to take place "abroad," Hearn told The Mirror; not in London or Cardiff.
Klitschko, Hearn says, wants the return fight to be "a big event," and Las Vegas and Nigeria are the two frontrunners to land the sequel to the April 29 classic – if it goes ahead at all.
If it doesn't, and if 41 year old Klitschko decides he's had enough and retires, Joshua has his next challenger, date and venue all planned.
"Vegas is the frontrunner [for the Klitschko return, should it happen]," Hearn said yesterday. "The next two weeks will settle it. I believe Klitschko will do it if it's abroad. He enjoyed it last time and he wants it to be a big event. It could be Vegas, it could be Nigeria. If we don't fight him, it will be Pulev on October 28 in Cardiff."
So, we can look forward to another big Joshua fight/event in a big stadium whether the unbeaten WBA/IBF champ gets it on with Klitschko for a second time or not. Of course, a defence against Pulev, Joshua's IBF mandatory, is not as big or attractive a fight as a Klitschko rematch, but AJ is so hugely popular in the UK that he would likely sell out the Principality Stadium in Cardiff, Wales with a defence against the capable Bulgarian who has been beaten only by a near-peak Klitschko.
As for Wladimir, if he does face AJ again in a country other than the UK, will it matter? Can Klitschko beat the younger, faster, fresher man wherever the rematch takes place (if it does so)?
Klitschko had better make his mind up and soon, because Joshua has said he will get on with his career with or without the former champ. Klitschko may well have made his mind up already, and is waiting to make his official announcement. Does the future Hall of Famer really want to roll the dice one more time?