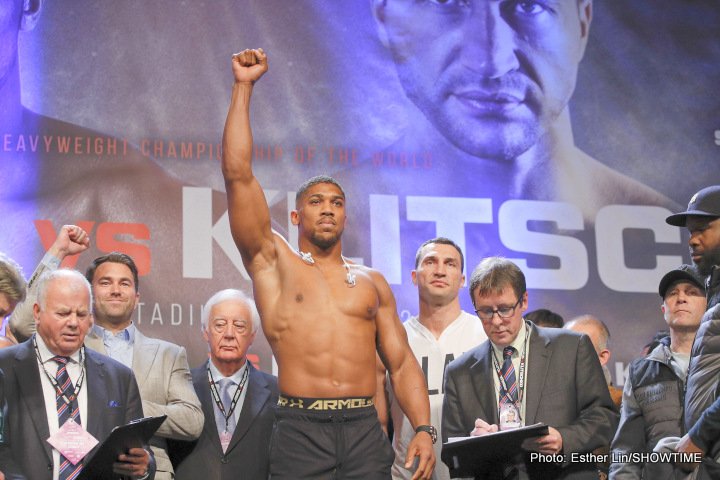 Promoter Eddie Hearn is thinking big and looking long-term with regards to his shining star, IBF/WBA heavyweight champ Anthony Joshua. While Hearn has already stated how he feels it will be Wladimir Klitschko in a rematch for AJ next, the plan is for the 27 year old Londoner who has caught the eye of everyone from Mike Tyson to George Foreman to "go through everybody."
Hearn, in speaking with Sky Sports, said Joshua aims to unify the belts by taking on and defeating WBC champ Deontay Wilder and WBO ruler Joseph Parker, and then he wants a rematch with fellow Brit Dillian Whyte.
"He wants to fight Joseph Parker, he wants to fight Deontay Wilder," Hearn said of Joshua. "But the plan with Anthony Joshua is not two or tree fights, it's eight to ten years. We've got to go through everybody. We're urging all the heavyweights to keep going, to call him out. Dillian Whyte is a fight that Anthony wants to see again. Hopefully we can get Dillian Whyte a shot at the championship before [the rematch]. We've got to line these guys up, third, fourth, fifth fight."
Hearn added how it is almost certainly going to be hard for Joshua to keep all the belts should he manage to win them, what with boxing politics and the possibility of unattractive fights ordered. But the good news for the fans is there is no shortage of big fights for Joshua. Joshua against Wilder is the fight everyone wants to see, while any unification is always a big deal.
As for Whyte, he tested a still-raw Joshua back in December of 2015, giving AJ his toughest fight before the thrilling rumble with Klitschko pushed Joshua hard. If AJ can get past that return next (Wladimir has said he will make his decision, on whether or not to retire, in two weeks), the likes of Wilder, Parker and Whyte will be waiting. As will the fans.
Joshua has said before how he aims to reign as champion for ten long years. It's still early days, and anything can happen in a heavyweight fight, but Joshua and his promoter deserve credit for thinking big.