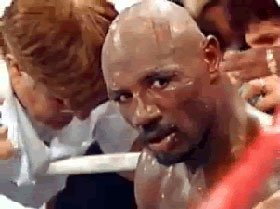 It's just over three decades old (31 years ago today to be exact) but no fight has surpassed the epic three-round war between Marvelous Marvin Hagler and Thomas "Hitman" Hearns since it took place in Las Vegas in 1985 – certainly no middleweight fight has topped "The War." With seemingly reckless abandon, the two greats, who were at their peak at the time of the showdown, launched into one another. Fans, experts and even the commentators could barely do anything but watch in awe as the magnificent warfare unfolded.
No fan who saw the fight live – either in the arena or at home on TV – will ever forget the sheer savagery and excitement of the eight minutes that, as one writer wrote at the time, were packed with 15-rounds worth of action. Hagler won, scoring what he today says was the highlight of his long and illustrious career. But was this fight so great, so special it deserved a sequel? What would have happened had the two legends fought again, in, say, the following year or the year after that?
Maybe Hagler-Hearns is so special in large part because it was never tarnished by a poor rematch taking place (not that it is any way easy to imagine these two warriors putting on a poor fight at any time!) – the April 1985 battle stands alone and fans are left to only wonder what would have happened if the two had met again. For his part, Hearns wanted a second go at Hagler; hoping for and believing he'd be granted one right up until Hagler quit the sport after his controversial points loss to common opponent Sugar Ray Leonard.
It never happened, but Hearns – in speaking with trade paper Boxing News' website on the anniversary of his most famous fight – says he would have again gone for the KO if he had fought Hagler a second time. Would Hearns – who rebounded from his loss to Hagler with a crushing 1st-round KO of the highly touted James Schuler – have had any chance of gaining revenge over Marvelous had he fought him the same way he fought the first fight? Hearns tells Boxing News he would have "used my boxing skills more" in a rematch, but that he would have still "tried to lay him out."
Would a second fight have been as great, or almost as great, as the first incredible fight then?
"That was my instinct back then, my mindset, to get the KO," Hearns said. "I'd still have tried to lay him out. I always wanted a rematch and even now, I tell Marvin, 'let's do it one more time!'"
Had Hearns boxed and moved, using his height and reach advantages, as well as his speed advantage (Tommy had very fast hands and feet don't forget) maybe, just maybe, he'd have been able to frustrate Hagler and outbox him over 12-rounds (as they would likely have boxed in 1986 or '87). But if Tommy had once again decided to get stuck right in with Hagler and gone to war with him in an attempt to "lay him out," it's likely Hagler – though he had slowed down a little by the summer of 1986, after his war with Hearns and the subsequent gruelling fight with John Mugabi – would have stopped Hearns again.
This is all speculation, of course, and fans can make arguments for either guy winning had they rumbled again. But we are and always will be grateful we have that three-round slugfest to cherish and look back on all these years later. This special fight didn't need a rematch, or a rubber-match, to make it one of the most important and unforgettable chapters in boxing history.
Fans will never stop talking about this fight. Ever.