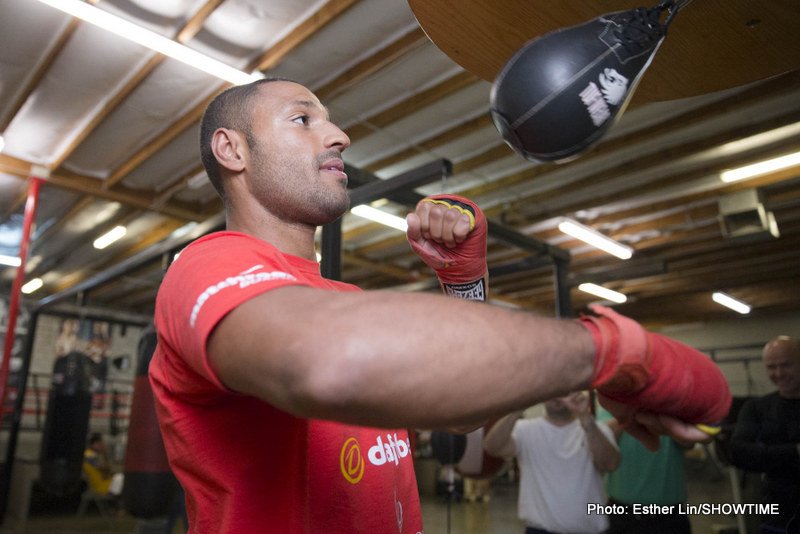 Few people are giving Kell Brook (32-0, 22 KOs) much of a chance of beating undefeated IBF welterweight champion Shawn Porter (24-0-1, 15 KOs) in their fight on Saturday at the StubHub Center in Carson, California.
George Groves, a fellow Brit, believes that Brook has it in him to pull off the upset and bring Porter's IBF strap back to the UK. Groves sparred with Porter a decade ago when both fighters were teenagers and he sees him as essentially the same fighter now as he was back then.
Groves feels that Porter's aggression can be stopped by hitting him with a lot of jabs to keep him from charging in on his opponents.
"He is going to jump in. He covers ground really quickly and he throws shots from all angles, so you have to catch him on the way in. If you can slow him down and control him with the jab, you can beat him," Groves said via Skysports.com.
The 5'11 1/2″ Groves must have had a considerable size advantage over 5'7" Porter when they were sparring with one another 10 years ago. With a size advantage like the one that Groves had over Porter, it's not surprising that he was able to keep him from coming forward. We're talking about two fighters that are a wide gap apart in size. It would be like asking Groves to get in the ring with a cruiserweight like Marco Huck and then wondering why Groves was getting hit with so many jabs.
"Kell has got that and is going to have to have his wits about him the whole time, but I think Kell can win it. I certainly wish him well and he can do it, so if I have to give a prediction, I'll go Kell on points."
Brook, 5'9″, doesn't have a great jab, and that's going to make it difficult for him to do what Groves did against Porter. Brook's arms also pretty short, and that's going to hurt him as well, because his 2 inch height advantage might not play to his favor. Porter is the better inside fighter of the two, and you can expect him get the better of Brook each time he gets in close.