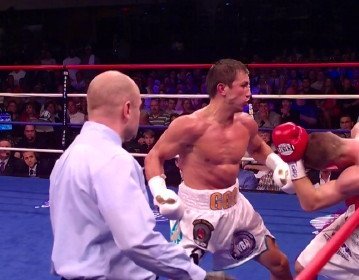 By Rob Smith: WBA World middleweight champion Gennady Golovkin (24-0, 21 KO's) is now in a great position to get some big fights whether it be at junior middleweight, middleweight or super middleweight, after Golovkin made easy work in beating #3 WBA Grzegorz Proksa (28-2, 21 KO's) by a beautiful 5th round knockout on Saturday night at the Turning Stone Resort & Casino in Verona, New York. Before the fight, which was televised on HBO, a lot of casual boxing fans in the U.S didn't have a clue who Golovkin was, but they can't say that now after witnessing his impressive three knockdown performance in stopping Proksa.
Golovkin says he's willing to fight the top names at 154, 160 and 168. This means that Golovkin isn't limited to just waiting on guys like Sergio Martinez or Julio Cesar Chavez Jr. to finally face him. He can go after the top guys at 154 like Miguel Cotto and Saul Alvarez, or go after the big names at super middleweight such as Carl Froch, Lucian Bute, Andre Ward and Mikkel Kessler.
It definitely helps that Golovkin has the ability to fight in three divisions at any given time to get the biggest fights available because in this boxing climate today with promoters protecting their fighters from dangerous opposition, it could prove near impossible for Golovkin to get any really important fights if he stays strictly in one division. Golovkin needs to be able to chase down fights in at least three divisions at a time if he wants to become a star in a short period of time.
Once Golovkin picks up more popularity, it likely won't be as difficult for him to get the bigger names to fight him. However, he won't have a build in fanbase like Chavez Jr. or Carl Froch, because he's fighting out of the U.S after moving there from Europe. But that still won't keep him from becoming a popular fighter if he can knock off some of the big names at 154, 160 and 168.