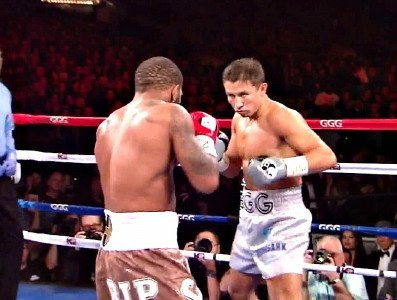 In a surprisingly one-sided fight, WBA middleweight champion Gennady Golovkin (28-0, 25 KO's) defeated Curtis Stevens (25-4, 18 KO's) an 8th round TKO tonight at Madison Square Garden, in New York, New York. Stevens took a ton of punishment to the head in the 8th round from Golovkin.
After the round was over, Stevens' corner chose to have the fight stopped rather than letting him come out for the 9th and get finished off. There was no way that Stevens was going to be able to come back and have a chance to win the fight because he was little more than a short punching bag for Golovkin. Stevens was taking a lot of big shots in the 8th.
It's a credit to Stevens that he was able to take those kinds of shots without going down for the count.
Stevens was knocked down in the 2nd round from two hard left hooks by Golovkin. It was a miracle that Stevens was able to get up from the knockdown. He made it to his feet, but he was totally defensive until the last part of the 3rd round when he was able to hit Golovkin with a couple of hard shots.
Golovkin picked Stevens apart with pinpoint shots in rounds 4 through 7, and getting very little back in return from Stevens. It was difficult for Golovkin to go to the body of Stevens without putting himself at risk of getting hit. However, in rounds 7 and 8, Golovkin seemed to hurt Stevens with some hard body shots that had him backing up along the ropes. The body shots were definitely the ones that took the air out of Stevens in those rounds because he visibly reacted to them by backing up.
When asked after the fight by HBO's Max Kellerman who he wants to fight next, Golovkin said Sergio Martinez or Peter Quillin. It's more likely that Golovkin will end up defending his title against Britain's Martin Murray unless Golovkin decides to go up in weight to face someone like Carl Froch or down in weight to 154 to fight one of the top fighters in that division like Miguel Cotto or Saul "Canelo" Alvarez.
—
In heavyweight action unbeaten Mike Perez (20-0, 12 KO's) picked up a huge victory by defeating Russian Magomed Abdusalamov (18-1, 18 KO's) by a 10 round unanimous decision. Abdusalamov was fighting with a badly swollen left jaw from the 3rd round on, and it's unclear whether that affected his performance or not. Abdusalamov looked tired by the 4th round when he was unable to stop the Cuban Perez. Abdusalamov tried hard and landed some huge shots, but Perez showed great punch resistance, and he also did a nice job of using head movement to avoid many of the biggest punches from Abdusalamov.
While Abdusalamov was constantly looking for one huge shot to end the fight, Perez focused on throwing a lot of punches just to make contact and to upset the rhythm of Abdusalamov. It worked because Perez was often able to hit Abdusalamov with shots that would stop him in his tracks before he could throw one of his big uppercuts or straight left hand bombs.
Abdusalamov was a swollen mess by the 6th round from Perez's shots. Abdusalamov would have been better off if he had focused on using his jab and staying on the outside to avoid Perez's high volume punching because he gave the fight away by staying close and looking for a KO. Abdusalamov didn't throw many punches at Perez's body and that too was a mistake because that was the one area where Abdusalamov would have been able to connect with a high percentage of his shots. He had big problems connecting to the head of Perez due to his head movement.
—
Ola Afolabi (20-3-4, 9 KO's) defeated Lukasz Janik (26-2, 14 KO's) by a 12 round majority decision to win the vacant IBO cruiserweight title. It was a really ugly fight to watch due to the referee letting Janik clinch all night long. The referee arguably should have taken off points from Janik for the constant holding it seemed to really disrupt the rhythm of the fight. Janik suffered cuts over both eyes, and didn't show much in the way of power. The judges scored it 114-114, 117-111, 115-113. I don't see how Janik could have won enough rounds to make it 114-114 with him holding as much as he did.
Afolabi hurt Janik in the 4th round with a hard body shot that had Janik holding on.
—
Other action on the card:
Joel Diaz Jr. UD 6 Bryne Green
Isa Akbarbayev UD 4 Brian Clookey