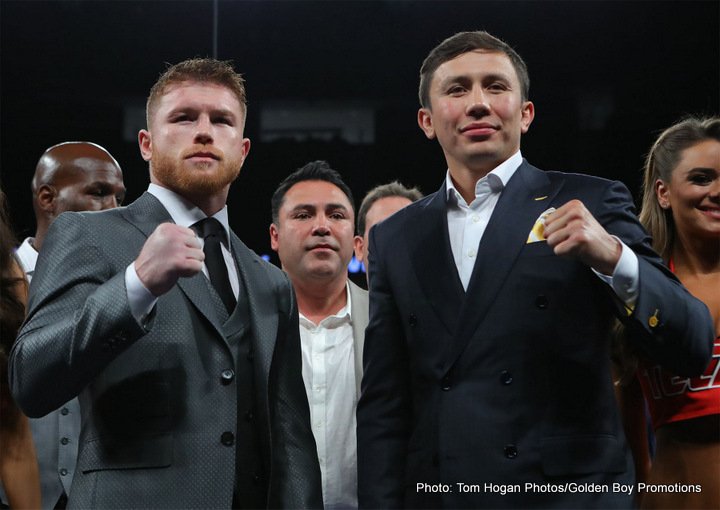 It appears that the oddsmakers weren't impressed enough with Saul "Canelo" Alvarez's recent win over Julio Cesar Chavez Jr. to pick him to beat IBF/IBO/WBA/WBC middleweight champion Gennady "GGG" Golovkin (37-0, 33 KOs) in their fight on September 16. Golovkin is the betting favorite going into the fight by the lines -175 to Canelo's +145.
Canelo' s recent wins over Chavez., Liam Smith, Amir Khan and James Kirkland weren't against good enough opposition to tell us how he'll do against Golovkin. Those were fighters that seemed to be hand-picked for Canelo. They weren't guys that came into the fight with a better than average chance of beating him. We didn't see Canelo fighting Jermall Charlo, Jermell Charlo, Demetrius Andrade or Danny Jacobs.
We saw Canelo fighting guys that were more or less made to order for him. The fighters that Canelo has fought recently are fighters that many of the top contenders from the 154 pound division would have beaten with the same ease or perhaps even better than he did. That's why it's impossible to know how well Canelo will do against Golovkin, because the level of opposition he's been facing lately has been very average.
Chavez Jr. was a glorified punching bag against Canelo. There are a lot of boxing fans that feel that the fight was a disappointment. They thought were going to see a Mexican war between Canelo and Chavez Jr. Instead of seeing that, they saw a very thin looking Chavez Jr. taking a real bad beating from Canelo. Chavez Jr. looked so weak. He didn't look well.
This is a gamble on Canelo's promoters to put him in with Golovkin, because he still he seems very dangerous at 35. Some boxing fans think that Golovkin has faded enough for Canelo to beat him. They point out that Golovkin barely beat Danny Jacobs in his last fight. If you look at that fight, Golovkin didn't go after Jacobs the way that he had his opponents. He boxed him and got the better of him in most of the rounds. Jacobs came on a little at the end, but he was hurt by Golovkin in the 10th and he didn't do much in the 12th.
The scores could have been a little wider in favor of Golovkin than they were because the judges gave rounds to Jacobs in which Golovkin was clearly getting the better of the action.
It's not all that surprising that Canelo is the underdog in the fight. He's smaller than Golovkin, and he hasn't beaten anyone of high quality since his questionable win over Erislandy Lara in 2014. That win by Canelo had a lot of boxing fans shaking their heads in doubt about the judging for that affair, because Lara did a number on Canelo in that fight and made him look bad. Not much has changed with Canelo other than him being matched against a handful of vulnerable fighters and an aging Miguel Cotto. There's really nothing that stands out in Canelo's recent fights that would suggest that he's improved enough since his loss to Floyd Mayweather Jr. for him to beat a big puncher like Golovkin.