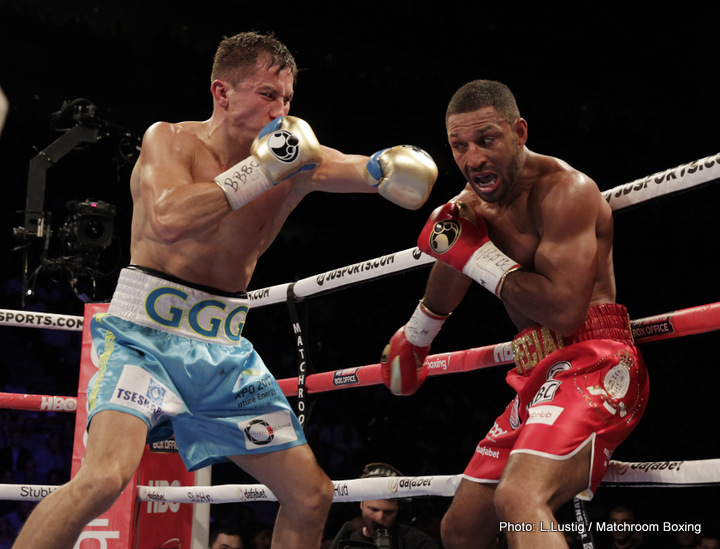 If ever a national anthem was suited to a fighter it is the Kazakh anthem that booms out before a Gennady Golovkin fight. It conjurs up the image of a column of tanks coming over the hill, guns blazing as they sweep all before them. The fighter known as GGG has a style redolent of said column of tanks on the offensive – merciless, relentless, and unstoppable.
Kell Brook did everything he could to withstand the middlewight world champion's assault, but apart from a tremendous second round he spent the fight backpedaling like a man trying but failing to ward off a swarm of angry bees. GGG is every bit as fearsome and machine-like as his astonishing KO percentage suggests, a fighter who combines ferocious intensity with the ability to generate truly frightening torque behind his shots.
Even though Brook peppered his opponent with the kind of fast and accurate combinations Golovkin hadn't encountered since he fought Willie Monroe, there was an inevitability about the result from as early as the opening salvoes of the first round, when the bigger man maneuvered Brook onto the ropes and rocked him with a thunderous left hook upstairs. It was probably this punch that fractured Brook's right eye socket, the injury which forced Dominic Ingle to throw in the towel towards the end of the fifth to prevent his fighter taking anymore punishment. Ingle's compassion outside the ring in doing so matched Brook's courage inside, despite the boos that greeted his intervention inside the arena to prove that ignorance truly is bliss.
https://www.youtube.com/watch?v=MkeBdm8sMkY
From the moment this fight was announced we knew that Brook's chance of climbing the mountain that lay in front of him in the shape of being able to move up two weight classes to challenge the most fearsome fighter and puncher on the planet would come down to his ability to hurt the Kazakh with his shots while being deal with GGG's incoming. Despite GGG's dismissal of Brook's power in his post-fight interviews, the IBF welterweight world champion certainly rocked the Kazkh momentarily in a second round that has to count as one of the most superb comebacks ever staged by a fighter given the torrid time Brook endured in the first round, previously described. It even allowed us to believe that, yes, maybe we were about to witness one of the most outstanding achievements in the ring boxing has ever produced, up there with a young Cassius Clay impetuously taking on and defeating Sonny Liston in Miami to shake up the world and claim his first world title in 1964; up there with Sugar Ray Leonard's comeback after three years out of the ring to bamboozle Mavellous Marvin Hagler in 1987; and up there, of course, with Ken Buchanan's epic performance to take the world lightweight title from Panama's Ismael Laguna over fifteen brutal rounds in the crippling heat of Puerto Rico in 1970.
But ultimately the simple but iron logic implicit in the mantra that a good big man will always beat a good smaller man prevailed. Golovkin simply had too much artillery for Brook to cope with, and though clearly upset with his trainer Dominic Ingle's decision to end the fight, in time he will surely come round to accepting that his trainer did the right thing at the right time.
Many fans, and not a few commentators, trainers and other fighters, had from the outset dismissed the fight as a mismatch due to the weight difference involved. But any criticism in this regard should not fall on the shoulders of Brook, Golovkin, or their respective teams. It should fall on the shoulders of the so-called elite fighters in and around their respective weight divisions who have steadfastly refused to take on the challenge posed by both men in the ring. It reflects the inherent weakness of the business-side of the sport, especially when compared to MMA, the fact that in too many instances fighters and their managers and promoters have sought to over-protect their assets rather than risk them. There is no shame in losing in the ring, none whatsoever, so why this consistent reluctance to risk defeat for the sake of both the sport and your own reputation as an athlete willing to test yourself against the very best?
That being said, the courage required to stand in front of the steam train that is Gennady 'GGG' Golovkin is of the most uncommon kind, which is why the plaudits that have fallen on Kell Brook in both the run-up and aftermath of the fight are more than justified. He risked all in order to win all and his failure to succeed, given the manner of his performance, has increased rather than diminished his stature. Clearly he will not be fighting at welterweight again, which immediately opens up the tantalising prospect of future fights against the likes of Canelo Alvarez, Miguel Cotto, and Britain's Liam Smith.
As for Golovkin, he says that he wants Billy Joe Saunders' WBO middleweight belt in order to unify the title. There is also the possibility of finally making a fight against Chris Eubank Jr happen. However it has to be said, after watching him take apart a previously undefeated Kell Brook, that neither Saunders nor Eubank Jr will be entitled to feel confident of doing what 36 others have thus far failed to when it comes to put a dent in the Kazakh's armour.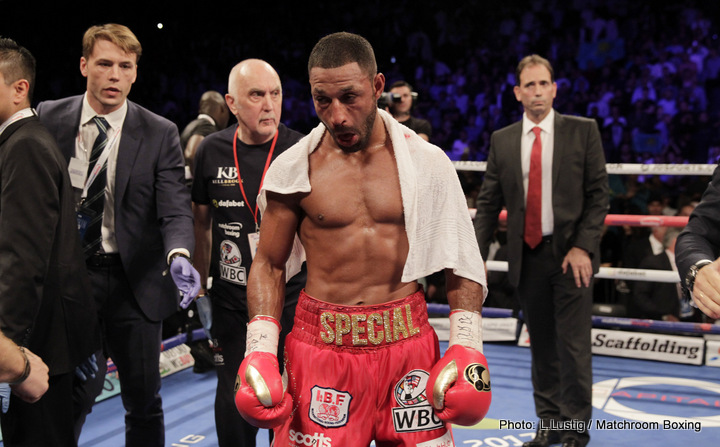 Sheffield's Kell Brook proved against GGG that in boxing courage and skill isn't everything. Size really does matter.