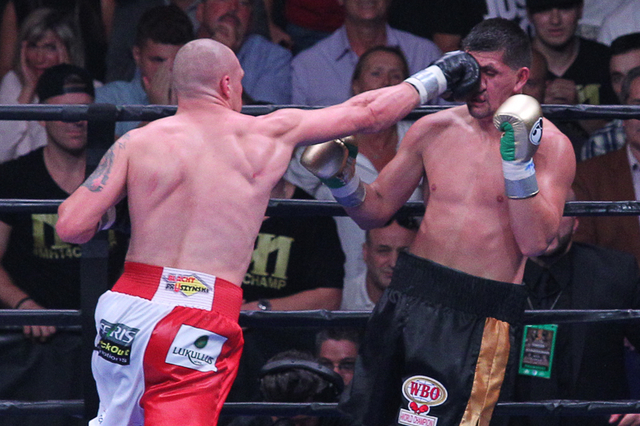 (Photo credit: Ed Diller/DiBella Entertainment) In heavyweight action between two aging smaller heavyweights, 39-year-old Steve "USS" Cunningham (28-7-1, 13 KOs) and 46-year-old former 175lb champion Antonio Tarver (31-6-1, 22 KOs) fought to a 12 round draw tonight at the Prudential Center in Newark, New Jersey. The fight televised on Premier Boxing Champions on Spike TV in the United States.
It was a tossup fight that really could have gone either way. The judges scored it 115-113 for Cunningham, 115-114 for Tarver and 114-114 even. It was a winnable fight for either of these guys, but a draw was definitely fair. If the judges had given the fight to Tarver, they would have had to ignore the fact that he was doing almost nothing in every round of the fight.
Tarver was just looking to land hard left hands to steal rounds but without consistently working. Tarver looked like he didn't have the energy to fight hard for more than one of every round. He looked very lackadaisical in the ring. Cunningham was the busier guy, but he didn't have any power on his shots and he was letting Tarver tie him up rather than fighting through the clinches. Cunningham would attack and fight well, but then he'd stop punching and let Tarver steal the rounds with his sneaky left hands.
Neither of these guys looked like true heavyweights. Tarver looked like a flabby cruiserweight, and Cunningham just looked like a cruiserweight after he made weight and rehydrated four pounds. I don't think either of these guys belong in the heavyweight division.
Unless one of the heavyweight champions feel like throwing Tarver a bone by just giving him a title shot for old times sake, I don't think he's ever going to get a crack at a title. Tarver doesn't throw enough punches, and if he fights a real heavyweight with talent rather a cruiserweight like Cunningham, I think he'll lose badly.
—
In a far better fight on the card, Krzysztof Glowacki (25-0, 16 KOs) stayed unbeaten with an 11th round KO of WBO cruiserweight champion Marco Huck (38-3-1, 26 KOs). Glowacki knocked Huck down twice in the 11th round to get the knockout. Huck was hurt initially by a hard combination from the southpaw Glowacki to get knocked down in the 11th. Huck got to back to his feet but was badly hurt. When the action restarted, Glowacki hit Huck with five hard left hands to the head to knock him down through the ropes. The referee then stopped the fight at 2:39 of the round.
In the 6th round, Huck knocked Glowacki down with a left to the head. It was more of a flash knockdown because Glowacki got back to his feet and was able to control the action the remainder of the round.
Glowacki was hurt by a head-butt in the 8th round. It opened up a small cut over his right eye. Huck was able to take advantage of dominating the round.
Glowacki will now likely take two voluntary title defenses before having to face unbeaten Olesandr Usyk. I can't see a good outcome for Glowacki against Usyk. I think Glowacki's going to get knocked out by Usyk, but at least he'll be able to get in a couple of voluntary defenses before losing his title. Had Huck kept his WBO title, I think he'd be the one losing to Usyk instead of Glowacki. Usyk is simply on another level.
—
Other action on the card:
Luis Rosa TD 6 Giovanni Caro
Kamil Laszczyk UD 8 Oscauris Frias
Jarrett Hurd TKO 7 Jeff Lentz
Mikkel LesPierre UD 6 Kevin Womack Jr