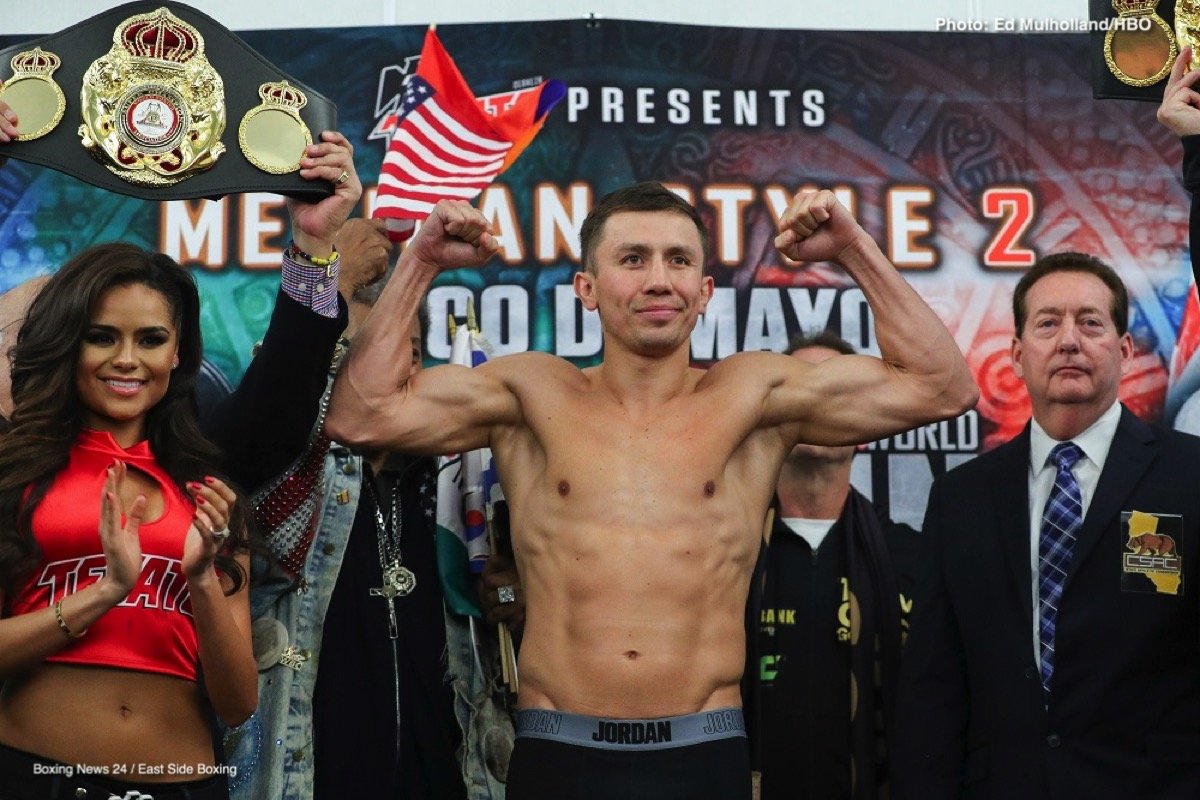 ….but is there any debate over who is the greater fighter?
(Photo: Ed Mulholland / HBO) As fight fans are aware, world middleweight king Gennady Golovkin will equal the world record of consecutive world title retentions at 160 pounds if he comes through against Vanes Martirosyan tonight in Carson, California. The record currently stands at an incredible 20 successful defences at middleweight and the holder of the record is Philly legend and all-time great Bernard Hopkins.
Earlier this week, his game face clearly on, Triple-G raised some eyebrows when he stated how (paraphrasing) "my record is much bigger and stronger" than that of the legendary B-Hop. Most fans disagree, but should they?
Let's take a look at some of Hopkins' biggest and best wins that came when he was busy retaining his world middleweight crown, and let's also take a look at Triple G's best whilst doing the same: Hopkins Vs. Golovkin.
Hopkins, who won the IBF middleweight belt in 1995 by beating Segundo Mercado (after being held to a draw by Mercado in a previous fight that same year), has amongst his highlights wins over: (chronological order) Glen Johnson (for the longest time Hopkins was the only man to have ever stopped the seriously tough Johnson), Keith Holmes, Felix Trinidad (arguably Hopkins' finest hour), William Joppy and (in a huge fight) Oscar De La Hoya.
Hopkins' long reign was controversially ended by Jermain Taylor, with plenty of people feeling the decision that went Taylor's way shouldn't have.
Golovkin, who won the WBA middleweight title in 2010 by beating Nilson Julio Tapia, has amongst his highlights wins over: Matthew Macklin, Daniel Geale, Martin Murray, David Lemieux, Kell Brook and Danny Jacobs – with the draw with Canelo Alvarez (and most fans feeling this was really a win, or at least should have been).
It's easy to see Hopkins has a far more impressive resume, with two wins over Hall of Famers (Trinidad and De La Hoya – both stoppage wins) and wins over very good fighters in Johnson and Holmes. GGG by comparison has no standout win and no win over a Hall of Fame fighter (of course there is the possibility a fighter who has been beaten by Golovkin goes on to achieve much more in the coming years and then earns a place in The Hall of Fame). Golovkin's biggest fight, his biggest name and his biggest result is the draw with Canelo.
Of course, GGG is not done yet and he could, in theory, add a couple, maybe even a few, big wins over big names to his record before he's finished. Still, Hopkins, a very special fighter, simply has to be looked at as a greater fighter than the current middleweight boss.
There really is no comparison – opposition-wise.