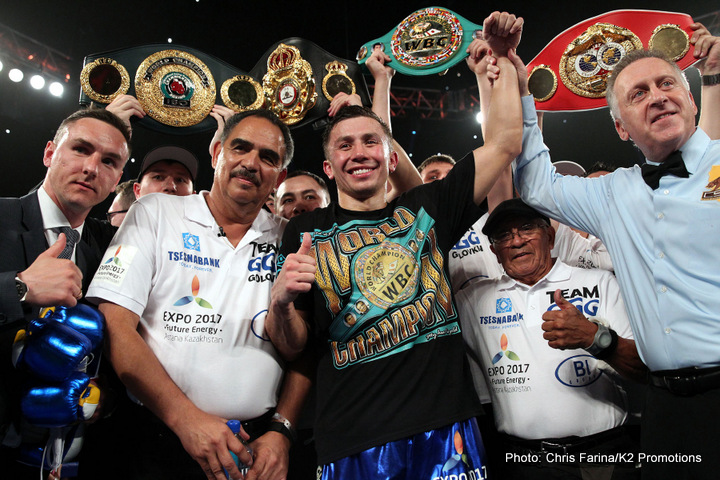 With middleweight star Gennady Golovkin in search of a big name back up in case the Canelo Alvarez fight doesn't get made later this year (and many people have their doubts) and with unbeaten welterweight champ Kell Brook craving a big fight of his own, there is a chance – a small one, but a chance all the same – the two talented fighters could solve their problems and fight one another.
Golovkin's number-one choice of next foe remains Alvarez, but there is no guarantee the fight we all want to see will come off (and maybe Amir Khan will upset Canelo and ruin the fight's chances of happening, certainly this year). But as a Plan-B, Brook, the reigning IBF welterweight champion, wouldn't be at all bad. And after the shock announcement of the Canelo-Khan catch-weight fight earlier this year, there are seemingly less and less limitations when it comes to unlikely match-ups getting made. Could we see another catch-weight combination with GGG and "The Special One" coming together?
Speaking with Sky Sports yesterday, Golovkin's promoter Tom Loeffler said the fight could happen if a weight can be agreed on.
"If Kell is really serious, it would be something to discuss," he said. "He's at 147 and Gennady is at 160 so the only question we have is about the weight, nothing else. A lot of great welterweights have fought at middleweight – a classic example is Sugar Ray Leonard, who moved up to 160 to beat Marvin Hagler. We have a lot of respect for Brook. Kell clearly can make welterweight so if he ever moved up to middleweight to challenge Gennady, that would be a big statement. Kell is the type of fighter I would give the most respect to."
Interestingly, Amir Khan has also recently pointed to the Leonard-Hagler fight, as proof that a great welterweight can indeed move up in weight and shock a middleweight. But is Brook (or Khan for that matter) a great welterweight? Brook is certainly talented, big for the weight (big enough to make a successful move up a division, or maybe even two) and powerful, but the win over Shawn Porter aside, the Sheffield man has not yet tested his skills against the best. Still, if the big fights at welterweight continue to elude him, maybe he will move up to challenge the man many have dubbed the most feared fighter in the world today.
"If Kell is serious," Loeffler said. According to his promoter Eddie Hearn, Brook is indeed serious in wanting to fight GGG. Don't be too shocked if this one gets made; maybe even taking place in the UK.