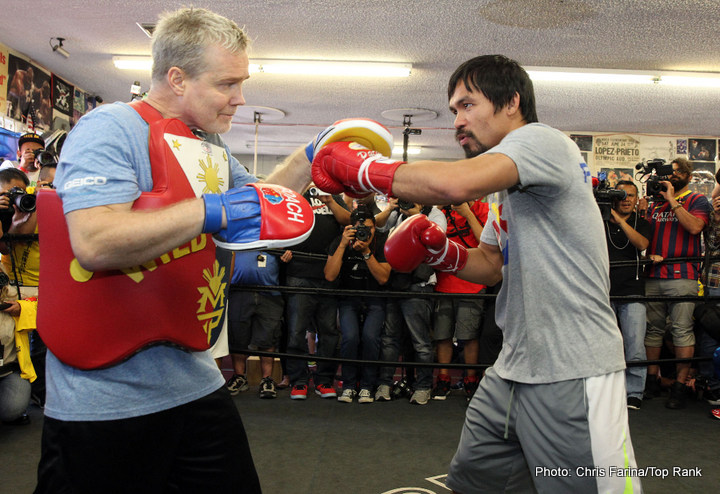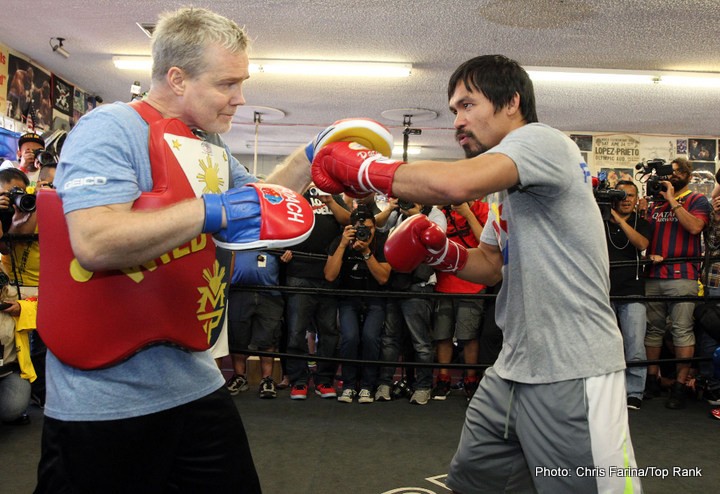 Ahead of the proposed "Fight Of The Century" on May 2nd at the MGM Grand, Manny Pacquiao's trainer Freddie Roach has told respected British fight journalist Gareth A. Davies of The Telegraph, that were it not for his dedication to the sport as a whole, and in particular to training Filipino wizard Pacquiao, he could be a dead man already.
Roach, who has suffered with Parkinson's for 23 years, explained the medication he takes daily to combat it often induces suicidal thought.
"I have a neurologist and I told him that sometimes I think about killing myself. He asked me why and I said it's sometimes difficult dealing with all this shit"
Roach goes on to explain that he is on the same medications as actor Robin William's, whose own Parkinson's was made public after he took his own life.
He says;
"The medicine helps, in a bad way. You go off to training camp and you're in this little hotel room for several weeks, and some days you just feel like jumping out the window. Though I think that would hurt too much if I landed wrong."
Back tracking, he immediately follows with;
" I'm just killing time, I'm not going to hurt myself. I have to convince my neurologist I'm not that sort of person."
I don't know what to make of these statements, but the illness suffered by Roach has been the subject of much scrutiny. Britain's Amir Khan cited it as a crucial reason for leaving him and Antonio Margarito and Brandon Rios were famously videoed cruelly mocking the tremors the disease induces.
Roach talks about how the gym, and his dedication to the sport is what helps him through any tough times;
"I don't get sick too often, but when I do I go to the gym and it goes away. Sometimes with Parkinson's you think, why the fuck did they pick me? But, you know, that's part of life. Some of the medications do cause depression and so forth and some mornings I'll think bad thoughts. But then I go to the gym, go to work and everything bad goes away."
Summing up how the gym life is what keeps him happy, perhaps it is best to conclude with a few more of Roach's own words; which sum up his dedication to preparing Manny for the task of ending Mayweather's unbeaten 47 fight run on May 2nd
"I never have a day off. My girlfriend's going to leave me. I'm in the gym every day. It's a part of life. I like what I do. Instead of taking a proper vacation. I take vacation right here."
Twitter @undilutedpoison