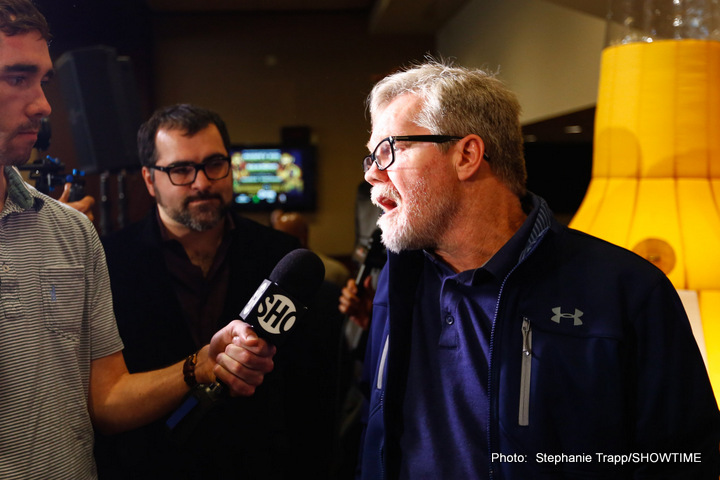 Great trainer Freddie Roach insists his most famous fighter, Manny Pacquiao, is not finished yet but concedes how the end is "close" for the all-time great. Speaking with Sky Sports, Roach revealed how he has received offers to face Terence Crawford "and some other guys," but that the fight he wants Pac Man to take is the return with Jeff Horn.
As fans know, this rematch will not happen this year as was the original plan, with Pacquiao deciding he wants until next year to fully prepare for the return bout. Roach says this fight will likely take place next year (no word yet on whether or not Manny is still set on not going back to Australia, the scene of the first fight, back in July) and that he would like to see Pacquiao call it a day afterwards.
"I do want him to take the rematch with Jeff Horn," Roach said when speaking with Sky Sports. "That would be, I think, the best fight for him at this point and it looks like that might happen next year, early next year. We've got offers to fight (Terence) Crawford and some other guys. He's close to the end yes, but he's not finished yet. He is still very dedicated, he works really hard and he puts 100-percent into training every day when we're getting ready for a fight. I would like to see him retire after that (Horn rematch) fight because being a senator and a professional boxer is way too much."
Horn, meanwhile, is looking for a suitable opponent to make his first WBO welterweight title defence against, as he wants to remain active and fight in November. We have no idea what would happen if Horn were to lose this fight – would the sequel with Pac Man still take place? As for Pacquiao-Terence Crawford, though that fight would prove very interesting, it seems there would be only one winner at this late stage in Manny's career.
Roach is doing the smart thing in going for the Horn rematch. That would seem to be the perfect way for Pacquiao to go out: with a revenge win that would see him become champion once again. But can Pac Man actually defeat Horn? Hopefully we will find out next year.