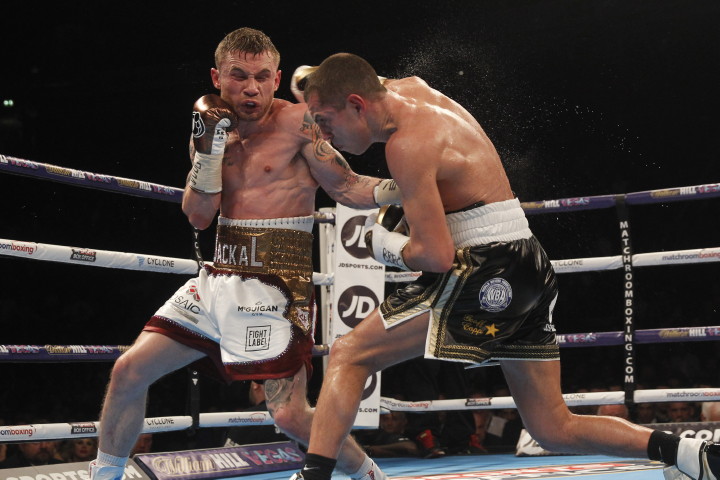 (Photo credit: Matchroom Boxing) Unbeaten Irishman Carl Frampton is already looking towards his next fight and, disappointingly for avoided Cuban master Guillermo Rigondeaux, it doesn't look at this early stage as though it will be against "Rigo."
Frampton, who broke Scott Quigg's jaw during the 12-round split decision win in Manchester, spoke with Sky Sports after his victory and "The Jackal" had plenty of things to say:
"I knew it was going to be a boring fight but you can't really say that when it's on pay-per-view," Frampton said in a comment that is sure to anger fans who shelled out close to £20 to see last night's expected thriller. "We thought that would be the way it went, he would move. He was giving me rounds and I was having to do very little. It opened up a wee bit at the end but I couldn't believe one of the judges gave it to him. I felt I won the fight comfortably. I'm happy to have the rematch if the public demands it but there are other options. The [Leo] Santa Cruz fight is very appealing to me. I think Santa Cruz could do super-bantamweight still and I would only go to featherweight for a big name and a world title. There are options at this weight and at the next weight."
First things first. What to make of Frampton saying he "knew" the fight with Quigg "would be boring!" How does that make you, a fan who paid good money to see last night's fight -widely expected to be a modern day classic – feel? Frampton, you could argue, is at least being honest. But with a statement like this, it seems there is no way the public will "demand" a return fight between he and Quigg.
So on to the next fight then. Frampton didn't mention one fighter's name as a possible next foe: that of Guillermo Rigondeaux, but his manager, Barry McGuigan did briefly mention "Rigo," stating, quite amazingly, how he doesn't feel Frampton would gain anything from fighting the almost criminally avoided Cuban southpaw.
"We're on board with Al Haymon and Santa Cruz is an obvious fight," McGuigan said. "We would like to go to America, maybe the east coast this time. Scott Quigg fought bravely but that [a rematch] isn't an attractive fight for us and we would like to go up to the next level and Santa Cruz is very appealing. I don't think Rigo is an attractive fight because he backs off, fights off the back foot and we gain nothing from fighting him. We could fight someone like Lee Selby or Gary Russell at 124-pounds, but Santa Cruz is the money fight."
So it appears from what McGuigan had to say that Frampton will fight just about anyone apart from Guillermo – the man who is ranked by just about everyone in the world as the best super-bantamweight in the world. Disappointing stuff from Team-Frampton, or simply smart tactics in looking to continue to avoid a fighter they know deep down they cannot beat?
Frampton against Santa Cruz (who last night retained his WBA featherweight belt with a 5th-round TKO over Kiko Martinez) would likely be a good action fight, probably a better spectacle than last night's fight. And Rigondeaux against Frampton might also result in a dull fight for some, but the best should fight the best, right? Sadly it doesn't look like this will happen in the 122-pound weight class any time soon.