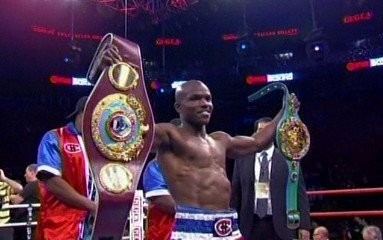 Timothy "Desert Storm" Bradley (31-0, 12 KOs)
Why Tune In?
He's undefeated. He's fought big names such as Manny Pacquiao, Juan Manuel Marquez, Ruslan Provodnikov, Joel Cassamayor, Devon Alexander, Lamont Peterson, Nate Campbell, Kendall Holt, and Junior Witter. Guess what? He hasn't given that "0" up in the loss column yet. There's something about this kid that just won't take no for an answer. Desert Storm is an appropriate nickname for Bradley, not just because of fights like his war with Provodnikov- but his sheer will to go out and protect his "0", by not going out to protect his "0". You follow me? None of the names mentioned above are a walk in the park. For a guy with little power, he doesn't fight like it. Witness how he dogged Devon Alexander and basically took his heart and made him quit. Timmy has earned his way to Top 3 status Pound 4 Pound in my book.
Coming Up
A rematch with Manny Pacquiao on April 12th in Las Vegas. This is as evenly matched a fight you can make. Vegas odds opened with Manny at a less than 2-to-1 favorite.
If Bradley wins
The world is his! Unfortunately that world won't include a showdown with Floyd Money Mayweather unless this boxing Cold War ends. I think Bradley gives trouble to anyone he fights, including Mayweather. A battle between these two undefeated welterweights who aren't really welterweights would be classic. I'd favor Mayweather slightly in that one as I believe Bradley would come to party.
If Bradley loses
It's hard to tell where Timothy Bradley would go after a loss. Outside of a Pacquiao rubber match or a Marquez rematch, where does he go? If Manny wins convincingly in April, nobody is going to demand the trilogy. There won't be demand for a rematch with Marquez either. Provodnikov moved back to light welterweight after his fight with Bradley. I'm sure fans would like to see that rematch, but The Bobfather may have other plans for Provo. Timmy is in a tough spot if he loses because the cream of the crop at welterweight are Mayweather and Golden Boy fighters like Maidana, Guerrero (for now), Porter, Thurman, Alexander, Malignaggi, Broner, Collazo, Judah, and (soon to be) Garcia, Matthysse, Peterson, and Khan. One name near the top not affiliated with Golden Boy is Kell Brook. Bradley may have to repeat history and fight overseas as he did with Witter if he wants a big purse in line with recent bouts. Stay tuned in…
Keith "One Time" Thurman
Why Tune In?
The question is why not? Here is a guy who once called out "ALL OF BOXING". Keith Thurman is the true definition of an action fighter. He gets better each time out and I loved the way he closed out 2013 in his interview after stopping Jesus Soto Karass. When asked who he wanted to fight next, Thurman replied, "I like whatever the fans like, baby. I'm here to entertain! I'm here to give fans the BEST… FIGHTS in the welterweight division that there is! Keith "One Time" Thurman is gonna bring it ALL the time!"
Need I say more? He's fought 22 men and only two made it to the final bell. He's only 25 and is ready to take on all comers.
Coming Up
Thurman recently won the interim WBA World welterweight title. I've heard names from Shawn Porter to Robert Guerrero to Luis Collazo to Adrien Broner to Marcos Maidana as Thurman's next opponent. All I'll say is some guys have it the easy way and then guys like Thurman who earn it the hard way. It'll be interesting to see what happens. I'd pencil in Collazo as an early favorite after his dismantling of boxing's clown prince, Victor Ortiz.
If Thurman wins
If Keith Thurman wins his next fight, the Mayweather chants will begin. Not only will they come from the Thurman camp, but fans will think that Keith has warranted a September 2014 or May 2015 date with the Pound 4 Pound king.
If Thurman loses
If Keith loses, something tells me he won't just be written off as a "One Time" wonder. Did you catch that joke? Anyway, I could see Keith wanting to get right back in there with either a rematch or a fight against a world class guy. No tune-ups against a faded veteran or laundry worker. Let's get right back in there and go at it- against a titleholder or someone of equal talent in his prime, no less. Keith Thurman strikes me as that type of guy and that's why he's must -see-TV. If all else fails, there'll always be entertainment during his post-fight interviews. Win or lose. That I can guarantee. Keep watching…
Gennady Golovkin (29-0, 26 KOs)
Why Tune In?
Must I really answer this? Matt Macklin stopped with a body shot. I think he might have just started walking again. Nobuhiro Ishida knocked out of the ring in Monte Carlo. No joke here, I thought Ishida was dead! Gabe Rosado's cut has opened up in every bout since Golovkin busted him up. By the end of 2015, Gennady Golovkin will fall into one of two categories. He will be viewed as an urban legend that got exposed once he fought guys in the top 5 of his weight class. I would say top 10, but he defeated Matt Macklin who is currently world #9 ranked. Or by 2015 he'll be top 3 on everyone's Pound 4 Pound list. That's why you must tune in. How is this going to play out? There are numerous fans that have already labeled him the #1 middleweight in the world. They feel he would destroy World #1 Sergio Martinez. They've already fast forwarded to a showdown with Andre Ward.
Coming Up
Gennady Golovkin has an April 26th date locked in for Madison Square Garden. While names like James Kirkland and Daniel Geale were thrown into the mix, it looks like it could be Andy Lee who gets the call. This could be a setup for a future fight. Andy Lee is a southpaw. Sergio Martinez is a southpaw. I'm just saying…
Golovkin called out Sergio Martinez and Martinez responded by saying he'd fight Golovkin after he knocks Miguel Cotto out in June. I've never known either man to back down, though I'm wise enough to know it ain't done 'till both guys are in the ring. One fight I'd like to see more than one with Martinez is a fight with Peter Quillin. Oh that's right. The Cold War. The Cold War isn't just between Golden Boy and Top Rank. Quillin is a Showtime guy and Golovkin (with neither Top Rank nor Golden Boy) is an HBO guy. Geale won his fight last night in Australia and said he'd take on Golovkin. Then he made confusing statements about PPV dates not being available in the past, thus preventing the fight. I'm not buying it. Look dude, April 26th is open in New York. Golovkin has the date, the venue, and the available network. It 'tis or it 'taint. What are you going to do Daniel?
If Golovkin wins
My guess is that he hopes to ink a deal to fight Martinez in New York. While Martinez has enjoyed decent crowds in New York and New Jersey, GGG has slowly become the King of New York… at least when Cotto is not in town. If he beats his April opponent and Martinez, he will put to rest all the naysayers… at least until next year.
If Golovkin loses
Speaking of the naysayers mentioned above, if Golovkin loses, EVERYBODY and their sister will tell you they told you so. "Golovkin was a protected hype job", they'll say. At age 32, 33 he still hadn't even beaten a guy in the top 5 of his weight class. As soon as he stepped up he lost. That's what I expect to hear from all the "experts" that'll come out of the woods. A loss at this point wouldn't ruin his career, but it would definitely kill the momentum. I mean Triple G has knocked out 16 straight opponents. SIXTEEN STRAIGHT! Oddly enough, the last guy to go the distance with him was Amar Amari, who had been stopped by 5 previous opponents and was 13-9-1 at the time. Hmm…
Adrien "The Problem" Broner (27-1, 22 KOs)
Why Tune In?
You should tune in because Broner is perhaps the most polarizing figure in boxing right now, if not in sports. You tune in to watch him win or watch him lose. No middle ground. You ever do a search on yahoo and the "smart search" tries to assume what you are looking for? Well a year ago, I'd type Adrien and the tab would assume I was looking for Adrien Brody as my first choice. Not anymore. Broner's name is the first assumption the smart search bar gives you. That is how much Broner's popularity has grown.
You can rest, assured that Adrien will do something or say something to spark some kind of sh-t with an opponent. Or an opponent's girlfriend. Or ex-girlfriend. Or… well you get my point. It's always something. Love it or hate it, you talk about it. Whether it is Facebook, Twitter, Blog Talk Radio, email, water cooler, wherever. If boxing is about entertainment, then Broner will always be near the top, pound 4 pound. As he floats around the 140 and 147 pound weight classes, his fights will also continue to be entertaining. No more walk down blowouts of guys who were much smaller on fight night. His opponents will now be hungrier than ever to knock Broner out. Yes, even the gatekeepers and laundry workers. They all have the Maidana blueprint to watch. As a result, more captivating fights than ever!
Coming Up
Well it might be Maidana (I'm beginning to doubt it). It could be Khan. How about Paulie? At least we know Paulie can't hurt Adrien. Right? Right?? Let's look at what else is at 147. People want Adrien to move to 140 but look at his frame during the weigh in. How much room is left to lose real weight? I'm not talking about that water stuff either. I think he can make 140 comfortably but watching the weigh in I'm not sure. Also, he rehydrated about 15 pounds or so on fight night against Maidana. You have to wonder. So at 147 there is Maidana, Khan, Paulie, Devon Alexander, Maidana, Brook, Porter, and Thurman. Pacquiao, Bradley, Marquez are Cold War casualties.
At 140 you have Garcia, Matthysse, Khan, Peterson, Alvarado, and maybe a Hank Lundy. Provodnikov is a Cold War casualty.
If Broner wins
If Adrien wins his next fight, it'll be huge for him. His confidence (no matter what percentage of it is false) will skyrocket. If it does, get ready for the same antics we've been used to seeing. Broner will tell the world he's back or that he never left in the first place. Maybe an excuse about being sick prior to his fight with Maidana will surface. His brand will be repackaged and sold to us, maybe this time as a pay-per-view headliner. Win again and Broner may never shut up.
If Broner loses
You know, Al Haymon must be verrrry careful with Broner's next choice of opponent. That journeyman or gatekeeper who has one good fight left in him is dangerous. He will come in with extreme confidence for two reasons. One is that he will have nothing to lose, so he'll go for what he knows and try to beat Broner with pure volume. Secondly, they'll look at the Maidana video and see the offensive and defensive holes in Adrien's game.
Let's face it. I think Broner lost to Daniel Ponce De Leon and Fernando Quintero. He definitely lost to Maidana. I gave him a 2-point win over Paulie, but others have argued that Broner has 4 losses at this point. Bottom line, Adrien needs a big bite to back up his bark right now. I can't stress enough that Team Broner and Team Haymon need to be verrrry careful who they select as Adrien's next opponent. Look for that person to press the action and test Broner early and often.
Fans, keep an eye out for these four fighters in 2014. We will revisit them in 2015 to see how things turned out for each of them.