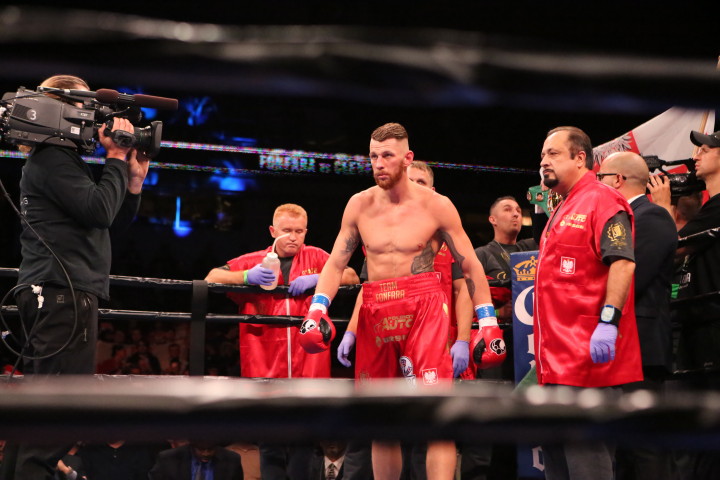 (Photo credit: David Earnisse/Premier Boxing Champions) Former WBO 175lb champion Nathan Cleverly (29-3, 15 KOs) fought as well as he could for the first six rounds tonight against #2 WBC, #5 IBF light heavyweight contender Andrzej Fonfara (28-3, 16 KOs), but he was eventually worn down by the hard hitting Polish fighter and beaten by a 12 round unanimous decision on Premier Boxing Champions on Spike TV from the UIC Pavilion, in Chicago, Illinois.
The judges scored the fight 115-113, 116-112 and 116-112. The fight would have been a winnable one for Cleverly if he hadn't faded in the second half of the contest. Just why Cleverly faded is the big question. His nose was injured in the 7th round, and it seemed to bother him in the last five rounds. However, Cleverly was already tiring after the 3rd, and there was nothing wrong with his nose at the time.
It looked more like he was bothered by the high pace of the fight and the heavy shots that Fonfara was hitting him with. Fonfara's punches lacked speed, but they were heavy punches and they definitely wore Cleverly down as the rounds went by.
***
The co-feature bout between WBA super flyweight champion Kohei Kono (31-8-1, 13 KOs) and Koki Kameda (33-2, 18 KOs) was tarnished by referee Celestino Ruiz, who twice penalized Kameda in the 3rd round for low blows. Ruiz also took a point away from Kono for pushing Kameda's head down in the 9th. In the 7th, Ruiz threatened to disqualify both fighters for fouling. There really wasn't a lot of fouling in the fight compared to some contests. Kono won the fight by a 12 round unanimous decision by the scores of 115-107, 116-108, and 113-111.
The referee appeared to blow a call in the 2nd round when Kameda dropped Kono with a body punch. What made things worse for Kameda is he was knocked down shortly after Kono got up.
If you take away the point deductions and the knockdown that Kameda didn't get credit for in the 2nd, he would have come close to winning the fight.