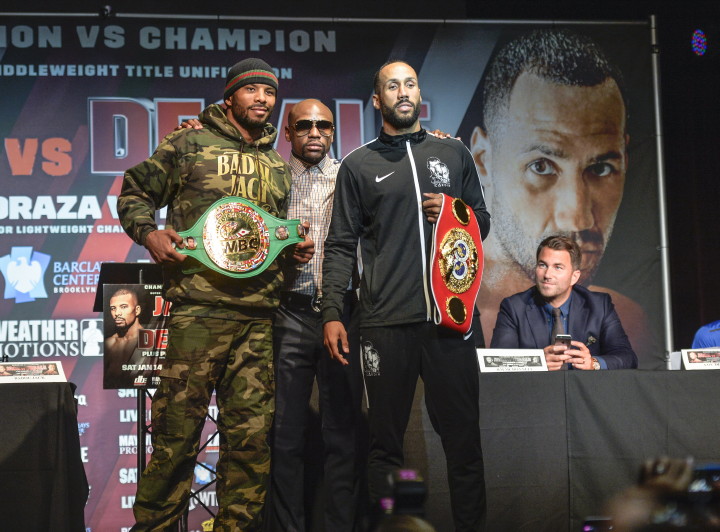 Although he has been "retired" for well over a year now (the speech marks are there simply because many people, Freddie Roach among them, seem to be convinced Floyd will fight again) Floyd Mayweather is almost constantly in the news.
Just this week the 39-year-old stated on ESPN's "First Take" how he wants the fight between he and Conor McGregor to happen, and yesterday "Money" confirmed how he will be a guest during President-elect Donald Trump's inauguration next week. When Floyd talks, people listen.
And as the co-promoter of tomorrow night's WBC/IBF super-middleweight unification clash between TMT's Badou Jack and Britain's James DeGale, Mayweather had plenty of good things to say about DeGale. Speaking with the media ahead of the fight in New York, Mayweather paid IBF champ DeGale a very high compliment – calling him the best fighter in the UK today.
"When I first saw DeGale I didn't know who he was," Mayweather said as quoted by The Sun. "I was like, 'Who is this?' In my opinion, he's the best fighter in the UK right now. But I want to thank the fans from the UK for supporting James DeGale. I hope they stay with him after Saturday night because we don't know what's gonna happen."
Indeed, many good judges see DeGale-Jack as a pick 'em or 50-50 fight. Mayweather has built DeGale up with his words of praise, but he is of course fully behind Jack. A tough fight for both men, a distance fight looks a good bet.
But is DeGale the best in the UK right now? Will he be deserving of the distinction if he beats Jack and becomes a two-belt holder tomorrow night? DeGale would be able to make an argument that he is number-one in the UK, but with superb fighters/champions like Carl Frampton, Kell Brook, Anthony Joshua and others, the level of competition is very high.
Still, if Floyd Mayweather says you're number-one, who is going to argue? Certainly not James DeGale!
Prediction: DeGale to win a very close one on the cards tomorrow.