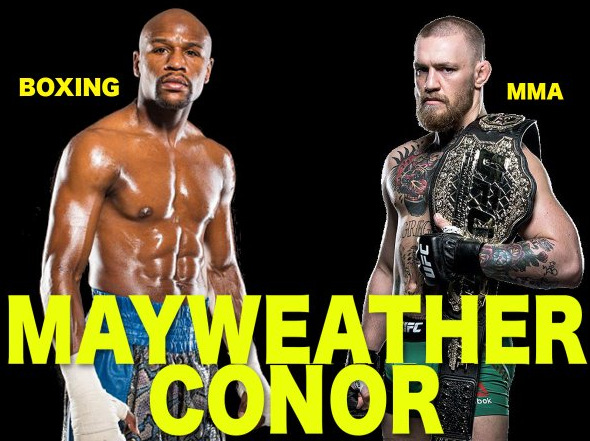 Talk of a possible Boxing Vs. MMA super-fight between Floyd Mayweather Junior and Conor McGregor refuses to go away, as seemingly unrealistic as it is that the fight actually takes place. Last night, in adding to the speculation that the fight might happen, Mayweaather uploaded a fight poster hyping the would-be fight – with images of himself and McGregor and the title: Mayweather Conor Live on Pay-Per-View. There is no date on the poster.
Mayweather has spoken of his expectations regarding the fight pulling him in a staggering $100 million, with the MMA star getting less than a tenth that amount. McGregor, speaking with ESPN yesterday, laughed at such talk.
"I hear the boy talking – and it was him that leaked the rumour – that he gets $100 million and I get $7 million – that's a pay-cut for me," McGregor said. "I don't take pay-cuts. I thought boxing was where the money was at. The $7 million is absolutely laughable. If he's getting $100 million, I'm also taking $100 million. I'm 27 years of age and I'm just about half way through a $100 million contract. At age 27 Floyd Mayweather was on Oscar De La Hoya's under-card, so compare that. Who doesn't want to conquer both worlds?"
The money issue is just one of the big obstacles in the way of this event; one some say would be terrible if it came off, others say would be fantastic. Would the fight be fought under boxing or MMA rules? Would UFC boss Dana White have to promote, or co-promote the fight for it to happen? Mayweather seems to want the fight, and that mind-boggling payday, but McGregor wants that huge sum also. There is no way the fight would attract sufficient fan attention to pull in over $200 million. So someone, be it Mayweather or McGregor, is going to have to take a pay-cut for this bout to become a reality.
Most boxing fans would rather see Floyd come back against one of the many great fighters there are at welterweight today. Or maybe it would be better if the 49-0 legend remained where he is, enjoying retirement.