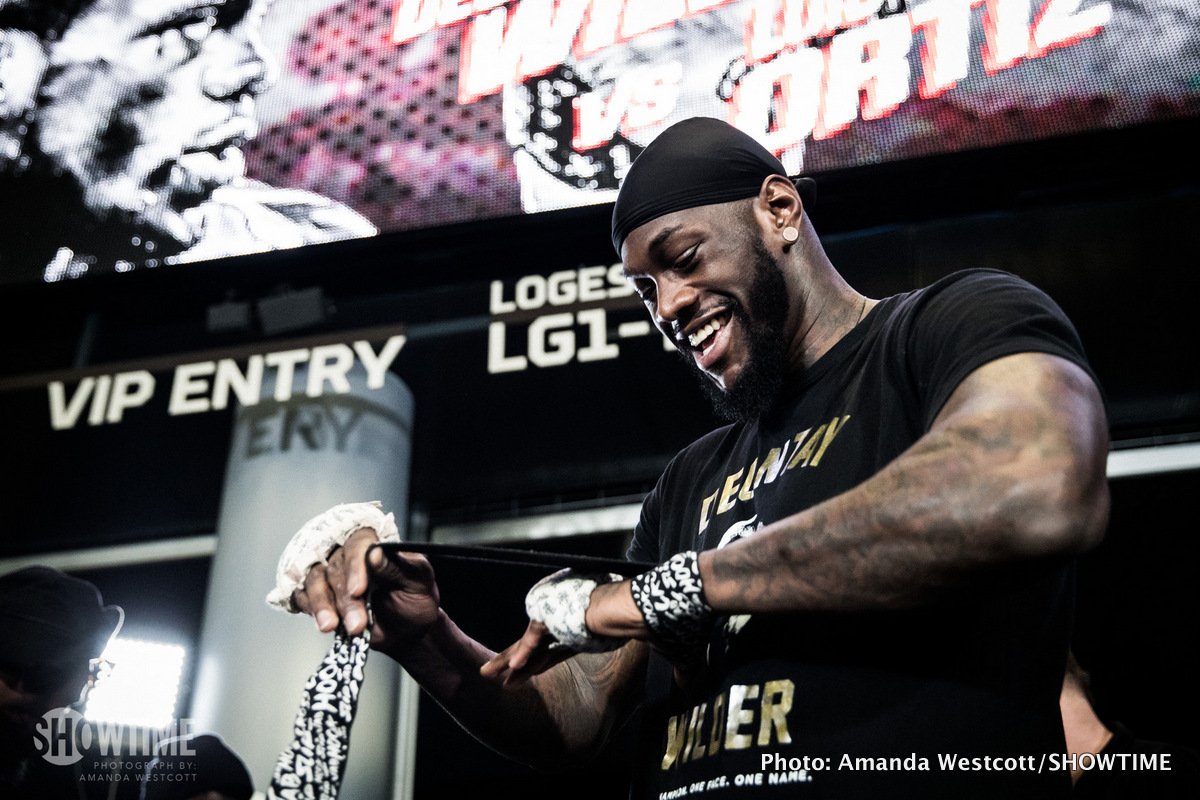 Five years on and we're still waiting for his return.
It was half a decade ago today when a pre-WBC heavyweight champion Deontay Wilder fought his one and only fight in the UK, against his one and only British opponent – so far anyway. The once highly touted Audley Harrison was the unfortunate victim in Sheffield in April of 2013, the 2000 Olympic gold medal winner talking a great fight going into the bout with Wilder that took place on the under-card of Amir Khan's close shave with Julio Diaz.
Blasted out in around a minute (1:10 of the opening round to be exact) Harrison saw his career come to an end. Those of us at ringside that night, seeing Wilder live and in the flesh for the first time, recognised bis rawness yet also his sheer size and brutal power. Five years on and not too much has changed. Wilder, then 28-0(28) and now 40-0(39) is as raw now as he was then; the reigning WBC champ having the exact same mindset as he had then: that of getting his opponent out of there as quickly and as brutally as he possibly can.
After he'd despatched "A-Force," Wilder called out Tyson Fury, adding how he would "love to come back [to the UK]." All this time later and we're still waiting for both. But there is a chance Wilder could return to the UK later this year for a much, much bigger fight than the one he took part in on the under-card slot in Sheffield. At least there is a chance Wilder could fight the second British opponent of his pro career in his next fight.
Talks are underway regarding that monstrous Wilder-Anthony Joshua fight (interestingly, AJ was yet to go pro back in April of 2013; not punching for pay until that October), and though it might take place in the US rather than in the UK, it's a great fight. Obviously we UK fight fans would prefer to see it go down in the UK – and what a huge return to these shores Wilder would be making if he did fight Joshua here, at Wembley perhaps – and Eddie Hearn has said that this is his preference.
We should know more after today's scheduled talks between Hearn and Shelly Finkel/Al Haymon. But Wilder had that star quality five years ago (albeit with that rawness) and he has arguably emerged today as the most exciting heavyweight on the planet. His power a God-given thing, Wilder maintains he is also the most dangerous heavyweight in the world today.
Audley Harrison would agree with that.