Share the post "First Annual "Gogue Awards" for the boxing year 2012 – Part III"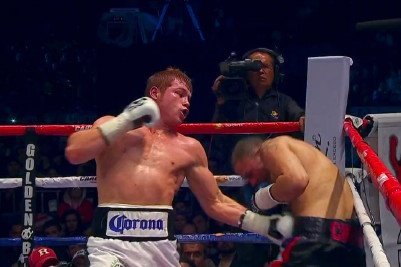 By Joseph Herron: After somewhat of an historic year in the world of boxing, expert fight strategist and prolific trainer James Gogue gives Eastsideboxing.com his exclusive insight into the best and worst of the sweet science during the year 2012.
Here's a recap of the categories and winners that were published in Part I and II of the first annual "Gogue Awards":
Fighter of the Year 2012 – Juan Manuel Marquez
Fight of the Year 2012 – Marquez KO6 Pacquiao, Dec 8th
Round of the Year 2012 – Rios vs. Alvarado, Round 5, Oct 13th
Upset of the Year 2012 – Lopez TKO9 Ortiz, June 23rd
KO of the Year 2012 – Marquez KO6 Pacquiao, Dec 8th
Worst Decision of the Year 2012 – Cloud SD12 Campillo, Feb 18th
Trainer of the Year 2012 – Robert Garcia, Oxnard, CA
Breakout Performance of the Year 2012 – Austin Trout UD12 Miguel Cotto, Dec 1st
Comeback Fighter of the Year 2012 – Carl "The Cobra" Froch
Prospect of the Year 2012 – Keith "One Time" Thurman
Gogue Award for Biggest Disappointment of the Year 2012 – PEDs in Boxing
"Most field experts who are familiar with sports medicine, insist that PEDs are rampant in every professional sport," states James Gogue. "Unfortunately, we discovered in 2012 that boxing is no exception."
"Two highly anticipated events in 2012 with Amir Khan and Lamont Peterson, and more recently Andre Berto and Victor Ortiz, were cancelled due to positive testing prior to both fights. The fight fans really missed out on seeing the conclusion of these two highly anticipated rematches, which were scheduled to be sequels of two 'Fight of the Year' candidates for 2011."
"Everyone within the industry, including the boxing fans, is sickened by the abuse that seems to consistently plague our sport. Standardized testing has to be implemented for every major fight card and punishment must be carried out by a neutral and centralized panel."
"There's no reason why the burden should be placed on the shoulders of the various promoters or sanctioning bodies to carry out this process. Promoters and sanctioning organizations have their own business agendas and should not be responsible for the handling of something as potentially damaging as positive test results."
"Unfortunately, State Commission standards have become antiquated and must be updated to detect PEDs properly and timely. Until the powerbrokers of boxing can come up with the funding and selection of a panel that supervises this process, expect to see more of the same in 2013."
"Super Bantamweight Champion Nonito Donaire should be recognized for being the only superstar of boxing who has volunteered for year round, random drug testing. It's the only way anyone can be certain that all fighters enter the ring on level circumstances."
"You can play baseball and basketball, but you can't play boxing. Lives are affected by excessive punishment in the ring. Our fighters should not be exposed to even greater risks due to the rampant use of PEDs within our great sport."
"The terrible PED issue within the fine sport of boxing wins the Gogue Award for the Biggest Disappointment of 2012."
Gogue Award for Most Overrated Fighter of the Year 2012 – Saul Alvarez
"This was an easy category to select a more than deserving winner. Although I do believe that Canelo Alvarez is the real deal and would be a very tough outing for any fighter in and around the Junior Middleweight division, he has yet to fight anyone in boxing that proves his dominance without a shadow of doubt."
"His promoter, Golden Boy Promotions, is giving the young WBC Champ the star treatment for being a big ticket seller. While it's important for a promoter to take care of their legitimate attractions, it's a hard sell to the fight public when said fighter has never accomplished anything in the ring that is deserving of Super Star status."
"Canelo's handlers are treating rival fighters within the Junior Middleweight division like they're not deserving of a big fight with the current WBC title holder which is absurd. Unless a fighter completely transcends belts and mandatory opponents, like Manny Pacquiao or Floyd Mayweather Jr, there's no reason to hold him to such an untouchable regard."
"Canelo is a special fighter who has the potential to become the torch bearer of boxing. But, until he defeats someone other than Alfonzo Gomez, Kermit Cintron, Matthew Hatton, Josesito Lopez, or Ryan Rhodes, let's not get too ahead of ourselves."
"Saul Canelo Alvarez wins the Gogue Award for the Most Overrated Fighter of 2012…by a landslide."
Gogue Award for Most Underrated Fighter of the Year 2012 – Brian Viloria
"Brian had a tremendous year in 2012 and has quietly flown under the radars of most fight fans and major networks."
"After knocking out Giovani Segura in December of 2011, the Hawaiian Punch avenged the virtual thorn in his side by knocking out Omar Nino Romero on May 13th in the Philippines, and unified the 112 pound weight division by taking out WBA Flyweight Champion Hernan "Tyson" Marquez last month."
"Because the major networks have traditionally shunned the Flyweight division, the highly anticipated unification bout with Marquez was not picked up by Showtime or HBO. Although the high action contest was more exciting than the majority of bouts shown this year on major network television, most fight fans were forced to read about it the next day on their favorite boxing websites."
"This is a very unfortunate quandary for a special and entertaining fighter like Brian Viloria. The former Olympian has redefined himself over the past several years and looked absolutely spectacular throughout his 2012 campaign. The Filipino-American seems to continually get better with each outing and should be considered for primetime HBO or Showtime boxing in 2013."
"But until Brian moves up to compete in the Bantamweight or Super Bantamweight divisions, it's going to be difficult to achieve the kind of stature he so greatly deserves."
"Brian Viloria easily wins the Gogue Award for the Most Underrated Fighter of 2012."
Gogue Award for Promoter of the Year 2012 – Golden Boy Promotions
"Although every promoter in boxing deserves a lot of recognition for making 2012 one of the most successful years the sport has seen in quite some time, one promoter made greater strides in 2012 than all others combined."
"Richard Schaefer, CEO of Golden Boy Promotions, was dubbed by Hall of Famer Don Chargin as the most brilliant business mind in boxing and the most shrewd business acumen since Howard Hughes. The former Swiss banker did much in 2012 to merit the praise of the six decade boxing great."
"Schaefer and Golden Boy proved their dominance by creating business deals that ensured more television dates than any other active promoter in the world. With fight cards on HBO, Showtime, Telefutura, Televisa, Fox Deportes, and Fox Sports Net, the relatively young promotional group blew away their closest rival with over 30 more live events in 2012."
"Richard's ability to bring corporate sponsorship back to the sport of boxing has also been unrivaled. Earlier this month, CBS showcased the first fight card on American daytime public television since January 20th, 1997. None of this would have been possible without the brilliant business insight of Richard Schaefer."
"Golden Boy Promotions also has more signed fighters than any other promoter in the world and has created more individual bouts showcasing these talented pugilists than most rival promoters' efforts combined."
"Within the next several years, fight fans could experience a Golden Boy Promotions monopoly among fight cards on every major network if Richard Schaefer has his druthers."
"For unparalleled activity in the promotion of the sport through mainstream avenues, Golden Boy Promotions wins the Gogue Award for Promoter of the Year, 2012."
Gogue Award for Boxing Ambassador of the Year 2012 – Don Chargin
"Don Chargin is the last of the Boxing Mohicans. The lifelong boxing proponent promoted his first fight card in 1951 at the age of 23. Today, the Hall of Fame matchmaker and promoter continues to produce quality fight cards well into his sixth decade of service to the sport of boxing."
"He still loves to attend his live events and continues to amaze fight fans with his unrivaled stories of boxing's past. He remains as a special consultant to Golden Boy Promotions and is a current advisor to many young managers, matchmakers, and promoters. He is a true architect of boxing and continuously works toward improving the sport."
"Don has staged over 5,000 fights, over 250 title fights, and has helped cultivate over 30 world champions throughout his Hall of Fame career."
"What made Don so unique in this industry was his ability to nurture and produce world champions with local kids from the California area. Unlike Top Rank or Golden Boy Promotions, Don Chargin didn't spend great amounts of money to sign or recruit the best global talent available."
"He cultivated local fighters and groomed them to become world champions. Fighters like Danny "Little Red" Lopez, Mando Ramos, Bobby Chacon, and Tony "The Tiger" Lopez were nurtured and cultivated by Don Chargin."
"In comparison, the only fighter Golden Boy Promotions has ever signed as an amateur and cultivated into a world champion has been Abner Mares."
"For his continuous efforts in promoting the sport of boxing, the Great Don Chargin wins the Gogue Award for Boxing Ambassador of the Year, 2012."
Share the post "First Annual "Gogue Awards" for the boxing year 2012 – Part III"