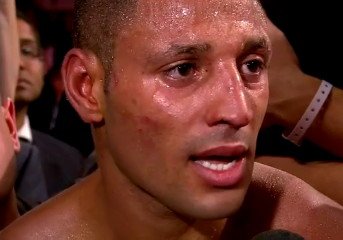 By Michael Collins: Unbeaten challenger Kell Brook (29-0, 19 KO's) feels really confident and eager to get inside the ring to challenge IBF welterweight champion Devon Alexander (24-1, 13 KO's) next year on February 23rd in their clash at the Joe Louis Arena in Detroit, Michigan.
Brook said on his twitter "I'm going to be so ready. Get ready! I'm bringing a world title back to Britain!"
It's not realistic that Brook will be bringing anything back to Britain other than a wounded ego after getting out-pointed or even possibly stopped by Alexander. You have to remember that Brook has faced such poor opposition his entire career and he finally was put in a little tough against Carson Jones last July, and he had major problems in that fight.
Jones gave Brook a real beating in the last seven rounds of that fight, and had him hurt in the 12th.
Brook thinks the reason why he struggled was because of his conditioning, but it looked more like the fact that Brook couldn't handle meeting resistance. He's so used to beating 3rd tier fodder that when he finally someone that had some decent skills, he was in trouble. Jones isn't a great fighter, and I don't think he would be able to hang with Alexander for more than six or seven rounds before he got taken out.
Brook has spent virtually his entire career fighting at home in Sheffield, and this is going to be new experience for him to be fighting someone good in another country. Brook did fight Luis Galarza last year in December in the U.S, but Galarza was a poor opponent and made to order for Brook just like the other weak opponents that Brook has faced in building up his resume.
Brook has a chance in this fight but it's going to be hard for him because he's just not had the experience needed for him to succeed. I don't know why but his promoters just didn't bring along the way he should have been. Maybe they saw something in him that made them reluctant to put him in with quality opposition. In looking at Brook stagger around the ring against Carson Jones, I think that would be a good explanation for why Brook has been spoon fed for so long.