Share the post "First Annual "Gogue Awards" for the boxing year 2012 – Part I"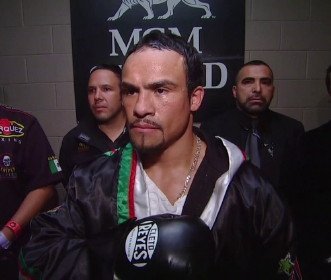 By Joseph Herron: After somewhat of an historic year in the world of boxing, expert fight strategist and prolific trainer James Gogue gives Eastsideboxing.com his exclusive insight into the best and worst of the sweet science during the year 2012.
Gogue Award for Fighter of the Year 2012 – Juan Manuel Marquez
"During 2012, we saw many fighters make a solid and convincing argument for "Fighter of the Year' honors," admits James Gogue. "Danny Garcia, Abner Mares, Nonito Donaire, Austin Trout, Wladimir Klitschko, Leo Santa Cruz, Adrien Broner…they all deserve recognition for their respective accomplishments in the ring throughout 2012."
"Although these fighters made great strides to further their clout within the industry, one fighter accomplished something that impacted the sport greater than any other individual achievement. That was Juan Manuel Marquez doing the unthinkable and knocking Manny Pacquiao unconscious. JMM finally gained that signature win on his resume that eluded the Mexican fight legend throughout his entire 17 year professional career."
"What Marquez accomplished on the biggest stage of boxing, was something that historically creates legends in the sport. He threw caution to the wind and sacrificed his body and reputation by standing in the line of fire for the opportunity to land that big right hand to the jaw of the eight division world champion and Filipino icon, Manny Pacquiao."
"With one big punch, he captured the imagination of the entire sporting world. For that singular achievement, Juan Manuel Marquez gets the Gogue Award for Fighter of the Year 2012."
Gogue Award for Fight of the Year 2012 – Marquez KO6 Pacquiao, Dec 8th
"The promoters and fighters of boxing did a brilliant job in bringing the avid fight fans great product and memorable events throughout 2012. We saw riveting matches that created lots of tremendous drama in the ring."
"Salido vs. Lopez II was an incredible fight that exceeded the expectations of most, Marco Huck vs. Ola Afolabi, Brandon Rios vs. Mike Alvarado, Lucas Matthysse vs. Ajose Olusegun, Robert Guerrero vs. Andre Berto, Tomasz Adamek vs. Travis Walker, Brian Viloria vs. Hernan Marquez, Mayweather vs. Cotto, and Martinez vs. Chavez Jr…all of these fights were valid FOTY candidates."
"But when trying to separate the special nature of all of these superb match-ups, one has to consider the stage, setting, and impact of the individual fight. Who were the participants and what impact did the outcome have on the landscape of boxing?"
"When you take those variables into consideration, one fight stands above the rest in terms of historic implications that will really affect the way we look at the sport and its fighters from this point forward. Manny Pacquiao vs. Juan Manuel Marquez IV really delivered in a big way on the grandest stage of boxing."
"When we consider how most PPV events have fallen short of expectation in recent memory, Pacquiao/Marquez really hit a home run and ended with a resounding bang. Mayweather/Cotto, Rios/Alvarado, and Martinez/Chavez were very close in terms of coming through with a great product when all eyes were on them, but nothing with the same impact as Pacquiao/Marquez."
"So Pacquiao/Marquez IV gets the Gogue Award for Fight of the Year 2012."
Gogue Award for Round of the Year 2012 – Rios vs. Alvarado, Round 5, Oct 13th
"This was one of the more difficult categories in which to choose a decisive winner. We saw some great action and drama in Salido/Lopez round 9, Pacquaio/Marquez round 5, Guerrero/Berto round 7, Viloria/Marquez round 5, Adamek/Walker round 2, and the incomparable Martinez/Chavez round 12."
"But when looking at the nature of the category, and trying to figure out what variables were going to decide my 2012 winner, I not only took into consideration the drama of the round, but the continuous action and willingness from both fighters to trade without caution or trepidation, as well as how competitive the action truly was."
"The very close winner of the 2012 Gogue Award for breathtaking round of the year was Brandon Rios vs. Mike Alvarado, round number five."
"Leading into the fight, both men wanted to be a part of something special like Gatti/Ward, or Marquez/Vasquez. Round five was cut from the same cloth. Both men showed great heart and toughness in dishing out and taking severe punishment. There was no back step from Rios or Alvarado and no sign of concession or competitive edge."
"The action was riveting and I couldn't really find a clear winner within the round. It was a brutal war of attrition in which both men made a solid case for winning the specific round with an incredible volume of punches from both men."
"Brandon Rios vs. Mike Alvarado, Round 5, takes the Gogue Award for Round of the Year 2012."
Gogue Award for Upset of the Year 2012 – Lopez TKO9 Ortiz, June 23rd
"In 2012, there really wasn't a candidate that came close to last year's shocking winner; Ishida TKO1 Kirkland. Although there weren't many that stood out in my mind, there were a few that rocked the boxing world and really impacted the careers of several fighters."
"Denis Grachev knocking out one of boxing's top prospects, Ismail Sillakh, was truly memorable earlier this year on ESPN's Friday Night Fights. Also, WBC Junior Welterweight Champion Danny Garcia knocking out Amir Khan was a shocker to a lot of fight fans, but Danny was an undefeated champion and should have been taken more seriously by everyone in boxing."
"Sonny Boy Jaro knocking out future Hall of Famer Pongsaklek Wonjongkam was a big shocker as well. Jaro was basically a club fighter who had ten losses on his resume and he took out probably one of the greatest fighters in the history of the division."
"But Josesito Lopez stopping Victor Ortiz on June 23rd in his first fight as a Welterweight was huge in 2012. Leading into the fight, Golden Boy Promotions announced that the winner of Lopez/Ortiz would gain the opportunity to face Saul Alvarez in a big event. Because no one thought Josesito Lopez stood a legitimate chance of defeating Vicious Victor Ortiz, the media starting reporting announcements of an upcoming fight between Canelo and Ortiz."
"Everyone started analyzing the potential match-up before the fight with Lopez and Ortiz ever took place. Lo and behold, the improbable happened. Josesito shocked the boxing world and broke Victor's jaw with one hard right hand which forced the former Welterweight Champion to retire on his throne."
"Josesito not only garnered a trip to fight Canelo Alvarez at Junior Middleweight, but also won the Gogue Award for Upset of the Year 2012."
Gogue Award for KO of the Year 2012 – Marquez KO6 Pacquiao, Dec 8th
"To most fight fans, this is quite possibly the most stunning and dramatic KO since Martinez/Williams II back in December of 2010. I know there were a lot of great one-punch knock-outs in 2012, but none really come close to this one."
"Definite honorable mentions go to Randall Bailey's sensational and brutal KO over Mike Jones in round 11, Mikkel Kessler's one punch KO to the chin of Allan Green in the fourth, Sonny Boy Jaro knocking out Wonjongkam in the 6th also deserves recognition, Adonis Stevenson taking the head off of Jesus Gonzalez in the first round of their mismatch, Lucas Matthysse stopping Humberto Soto in the fifth round was also impressive."
"But no knock-outs were more impactful to the entire sport than Marquez's brutal one-punch knock-out of future Hall of Famer Manny Pacquiao in the sixth round of their epic fourth battle."
"The Pac-Man was laid out by one punch and was out cold for several minutes. It was chilling. We definitely don't expect to see any of our elite level fighters cracked dramatically like that. It was an amazing feat and it deserves my Gogue Award for KO of the Year 2012."
Share the post "First Annual "Gogue Awards" for the boxing year 2012 – Part I"