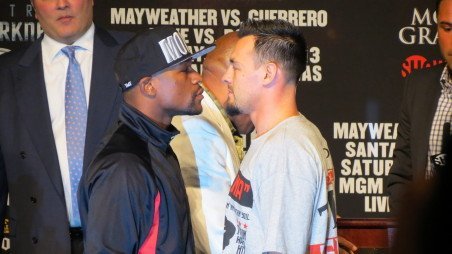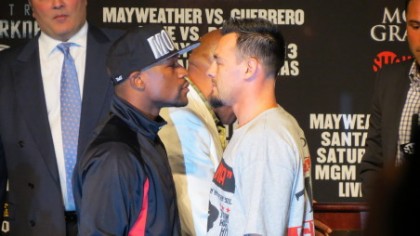 The final press conference for MAYDAY's headline fight took place this Wednesday 05/01/2013. Promoters, managers, trainers and fighter's took the opportunity to address the media as Saturday looms. Up until this point in the promotion of this event, both Mayweather and Guerrero have strayed away from press conference antics, scuffles and any other rough tactics to promote interest in the event.
It wasn't until the final press conference that we saw some verbal bashing and attacks from either camp. The verbal bashing, however, did not come from either Mayweather or Guerrero. It actually came from Ruben Guerrero, the trainer and father of Robert Guerrero.
When Ruben Guerrero took the stand, the scene was reminiscent of one of Angel Garcia's popular press conference speeches. Floyd Mayweather, Jr. showed maturity and character as he did not give in to the insults of Ruben Guerrero.
Fight week for MAYDAY continues with undercard fighter workouts and press conference, along with the official weigh in on Friday 05/03/2013. Here are some visuals and notable quotes from the press conference.
JOSE SULAIMAN
"I think of Floyd as one of the best 10 boxers in the sport. But if he thinks that it's going to be easy, he better know that the Mexicans have a heart of lions."
BOB SANTOS (Guerrero's Co-Manager)
"Just know this: May 4th. That "0" has got to go. Floyd Mayweather is going to suffer the first loss of his career. Robert's ready and he's going to get the job done. God bless."
RUBEN GARCIA (Father of Robert Guerrero)
"I am what I am. No matter what I am. I am the real deal. I don't talk shit, man. I back it up."
"We're going to beat up that woman beater! The one that beat up his wife, man. Beat up his wife in front of his kids."
"You guys like that shit? He must've learned that from his dad. Woman beater, baby. We're going to beat up that woman beater. See how he's going to like it."
"He's going to get it from a real man. Damn woman beaters!"
ROBERT GUERRERO
"Man, I'm ready. You guys talk about this being Floyd Mayweather's home. We're doing a home invasion."
"Richard, you were saying records were made to be broken. May 4th, Floyd Mayweather's record is going to get broken. He's going to have his first loss."
"You better believe that 'cause I'm ready to go. I'm excited for this fight. I've been working hard to be here. We're going to get it. Thank you, everybody."
LEONARD ELLERBE
"He single handedly but back boxing on his back."
"With boxing being a niche sport, we're soon to be a mainstream sport."
"All Floyd is doing is taking it to the next level."
FLOYD MAYWEATHER, JR.
"There's so many people I want to thank. I could be here all day thanking people. The main thing is about giving people what they're here to see: entertainment."
"Robert Guerrero has obviously done something right to get to this level."
"My dad has done a tremendous job. My uncle has done a tremendous job. Team Mayweather has done a tremendous job."
"That's what it's about in this sport: matching up the best with the best. "
"The only thing that I want to do, like I said before, is be the best that we can be."