Tomorrow afternoon Melbourne, Australia time, one of the biggest fight cards seen in Melbourne in recent years takes place at the Melbourne Exhibition & Convention Centre. Headlining the action is unbeaten Australian heavyweight Lucas 'Big Daddy' Browne (15-0, 14 KOs) who takes on current IBU heavyweight and former multiple division world champion James 'Lights Out' Toney (74-7-5, 45 KOs) for the World Boxing Foundation heavyweight title.
Today's press conference and weigh in saw Browne weigh in at 116.6 kgs (256.6 pounds) and Toney 113.6 kgs (249.9 pounds), fully clothed and with shoes on. At the press conference before the weigh in, Browne presented a very respectful individual, thankful for the opportunity to fight Toney and complimentary of his accomplishments. Toney, known for fiery press conferences and weigh-ins over the years, was calm, businesslike and keen to finish the formalities as quickly as possible.
In discussing his preparation for the fight, Browne informed ESB "'I've been training as a middleweight for this fight," referring to his speed and combination punching focus, and in taking on a defensive master in Toney, Browne states his approach is going to be more versatile "one thing I've always done was concentrating on using my right hand, I have a lot of power in my right hand, I need to use my left….my left hand is going to play a big part in this fight."
Toney, at 44 years of age heads into this fight as the outsider, at $2.40 with bookmaker tomwaterhouse.com.au with Browne a $1.55 favourite. Since his brief stint in the UFC in 2010, on the global scene, Toney has had one fight of note, that being his cruiserweight bout with Denis Lebedev in Russia in 2011, which he lost via 12 round unanimous decision, where he suffered a serious knee injury early in the bout. His most recent fight in April 2012 saw his capture the IBU heavyweight title over Bobby Gunn via fifth round technical decision.
As far as a contest is concerned, whatever is said about Toney's age or relevance on the world scale, he does present a tough challenge for the relatively untested Browne, who has yet to make his mark on the world scene. Significantly taller than the 5'10 Toney, Browne at 6'4 cuts an imposing figure with knockout power to boot. The question is will he be able to outsmart Toney in the ring with tactical nous to set up a knockout opportunity?
Toney, now 10 years into his career as a heavyweight, has fought a number of notable big punchers in the division over the years, including Samuel Peter and Hasim Rahman and has never been knocked down at this weight. In addition, Toney has been able to negotiate power and maintain his defensive wizardry despite being the shorter and smaller framed fighter, which has seen him defeat a number of quality opponents in the division.
As trainer John Arthur told ESB of Toney: "A lot of people criticise him, saying he's old he can't move, his technique is off, we'll see Sunday…Everybody will see Sunday." On Sunday, all questions on Toney and Browne, for different reasons, will be answered.
The main support bout of Australian Solomon Haumono (20-1-2, 18 KOs) and American Kevin Johnson (28-3-1, 13 KOs) presents another exciting heavyweight contest. Although Haumono debuted back in July 2000, he has only fought 23 times as a professional, which is partly due to his status as a two sport professional, having competed in rugby league prior to commencing his boxing career and then subsequently returning back to rugby between 2003 and 2006
His stop start boxing career hasn't seen him pass more than credible domestic fighter status. The bout with Johnson presents an opportunity to change this image and Johnson will be the toughest challenge of his career to date. What is promising with Haumono is his ring activity over the past 12 months where since last May he has fought 3 times for 2 wins and a draw. This renewed focus in the sport should see Haumono fight close to his potential in what will be clearly the biggest victory of his career to date should he be successful.
Johnson, who fought Vitali Klitschko in December 2009 for the WBC heavyweight title, losing via unanimous decision, has since yet to replicate this status as heavyweight title challenger. The fight with Haumono will be Johnson's sixth consecutive fight outside the US since April 2012, which was also his first visit to Australia. On that occasion, Johnson fought leading Australian heavyweight Alex Leapai and won by ninth round TKO. It must be said, three of those five fights in the past 12 months came on the one night, as Johnson reached the final of the UK Prizefighter heavyweight tournament last June. His most recent bout in December saw him lose via wide unanimous decision to UK heavyweight contender Tyson Fury in England.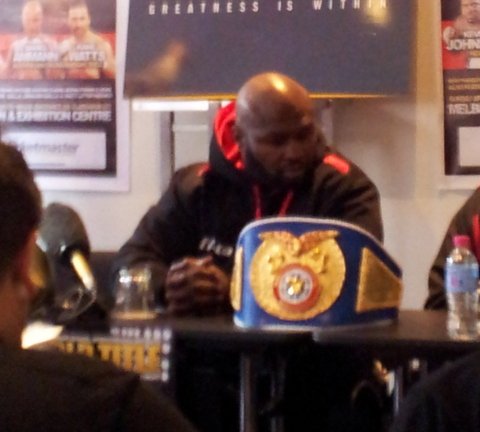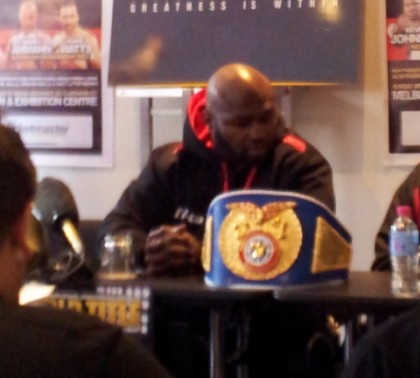 Speaking to trainer Yahya McClain ahead of tomorrow's fight, he says Johnson has shed his previous image of being a fighter who just uses the jab to being more powerful in the ring, McClain states this with the end goal being a rematch with Vitali Klitschko "he wants to fight Klitschko again, he's ready now, he's punching hard, people thought he just was a jabber, he's got power in both hands…he's punching harder, he's training harder, he's ready to fight."
Assuming he beats Haumono tomorrow, McClain states that next up "the dream fight of course would be Povetkin, we would love that. After this fight, we would fight him the next day."
As for who will win this bout, Haumono will have to show that he is capable of competing with the world class, something he has always looked likely to do, but now has the opportunity to show this in the ring. Johnson, will go into the bout as favourite and expected to come out on top, but with Haumono possessing a 90% knockout ratio from his 20 wins, cannot afford to take the Australian lightly.
Promoter Brian Armatruda is hoping to see the winners of these two heavyweight bouts tomorrow fight each other after this promotion in a few months time "This is the biggest heavyweight card, ever, put on in Australia. We've got number 1, number 2 in Australia and we've got two internationals who have fought the best in the world" where "the winners will fight each other" in three months time.
Mick Gatto, who has played role in the promotion of the event and will be promoting his first event in November this year states "we want to promote heavyweight fights going forward and bring the best in the world here, we want to put Australia on the map as far as boxing is concerned."
The event will be live streamed through epicentre.tv from 9PM Pacific Daylight Time (Los Angeles, USA) which can be bought at $14.95.
Tickets are still available for the fight at www.ticketmaster.com.au with tickets at $99.95. Promoter of the event is Brian Armatruda and Barry Michael Sports in association with Mick Gatto.