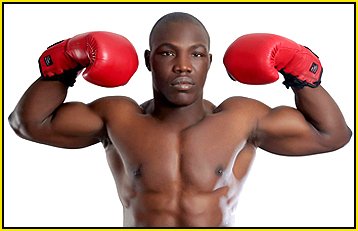 Back in November of 2015, in an explosive and thoroughly entertaining slugfest, Nigerian cruiserweight Olanrewaju Durodola upset unbeaten Russian KO King Dmitry Kudryashov inside two rounds. Now the two are set for a rematch on May 20, once again in Russia with the WBC silver strap on the line.
Durodola, 25-3(23) lost to recently crowned WBO champ Mairis Breidis in his next fight after the big win over Kudryashov, but he has bounced back, winning his last three, all by KO. Known as "God's Power," the 36 year old, in kindly giving ESB some of his time, said he has had better preparation ahead of his second fight with Kudryashov, 20-1(20).
Q:This is a very interesting and potentially exciting rematch. How has training been going?
Olanrewaju Durodola: "I'm training very hard for this fight. I know I need to do more work than I did before the first fight. I just want him [Kudryashov] to know that there are no King Kongs in boxing. He was the unbeaten fighter last time, but he was not the strongest. He made a mistake in fighting me."
Q: Do you think you will stop him again?
O.D: "If the opportunity comes, I will stop him again. He is a good fighter and I know he is ready for me this time. I have to fight smart. What happened the first time, I believe there is a good chance it will happen again. This fight is a must-win fight for me, whether I win by KO or by decision. I know I have to win. It's a must-win fight for him too – but of course only one of us can win."
Q:The first fight was great action, crammed into just two rounds..
O.D: "Yes, I knew he would come out very fast, attacking me. I used my guard, I used my speed and talent. I knew he was a big puncher, and is a big puncher, but again I am ready for that. I need to beat him again to earn a [world title] shot."
This fight, one that could top another great bill in Russia, has practically zero chance of going the distance!