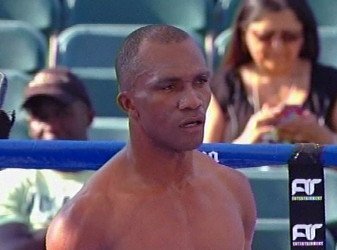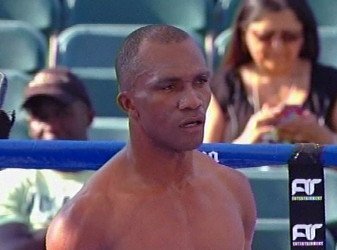 by Dan Emicus:
How did you get into boxing?
I started boxing when I was 13 years old. I hurt my knee when I was playing soccer and swapped over to boxing. I went to a boxing Academy in Cameroon and the winners were getting prizes. I started winning, I started getting prizes and haven't stopped since!
You were born in Cameroon, yet relocated to Australia by the time you embarked on your professional career. Was this due to boxing not being as popular in Cameroon, or is there more to it than that?
Boxing is popular in Cameroon, but only in the amateur system. Not professional boxing. The Government looks after the amateur program very well. From equipment and money to spend, through to the prizes I mentioned. When it's time to turn professional there is nothing though, no opportunities.
How disappointed were you to miss out on participating in the Super 6 Tournament? Also, what did you think of the format?
For me it was a huge disappointment. From winning the IBO championship and The Contender series at super middleweight, as well as based off my performances in the United States and in the United Kingdom. I feel it wasn't technically all the very best in the world, just the best American and European fighters. People know how good I am, and wanted to know why I didn't get in initially. But I have since accepted it and have moved on.
What was it like being a part of The Contender Series 3? Considering how much of a window of opportunity it represented, were you surprised that the show was taken off the air in 2008?
For me it was such an enriching experience. Meeting Sugar Ray Leonard was huge, and meeting and working with Pepe and Buddy McGirt. It was a huge opportunity and put me on the map around the world when I was winning in devastating fashion in a very exciting final. The show was broadcast in all the corners of the world. You can't describe the feeling. It was great and I am eternally grateful for it. Taking the show off in 2008 was very disappointing for many people. The Contender encouraged people to chase their dreams and fight for titles, that you can get great opportunities. When it was taken off it was very sad.
You're no stranger to being ducked. What do you feel is the reason for being avoided as much as you have been throughout your career?
Punching power. Everyone around the world knows how hard I punch and how tough I am and how good I am. That alone is a reason why people don't take the chance. With the money involved, people are never forced so they don't take the chance.
For some of your big fights you've met your opponent on their home turf! Are you un-phased being the "away fighter"? What is it like fighting in front of a big crowd that hope to see you lose?
From where I came from, you cannot choose where you fight. You don't get that choice of venue but you can choose to fight to the best of your ability. All that matters to me is making the people happy and to let them remember the fight because I put on a great performance.
You've expressed light heavyweight ambitions on numerous occasions. Do you still see yourself moving up if ever the right fight were to come along at 175?
Yes, I would love to open a new chapter at 175. To show the world how good I am and fight the best at 175. I look forward to that.
Not too long ago, you were trying to get a fight with Danny Green. What made you target him? If it did happen, would you have been comfortable fighting at cruiserweight?
I will fight him at super middle, light heavy, cruiser or heavyweight. Danny is a good fighter but he needs to step up and tell the Australian public he wants to fight me. Australia wants to see that fight. It would be a great fight between two big punchers. Let's set a date and time, Danny and get in the ring and rumble.
What is it like to be working with Kevin Cunningham once again?
Kevin is a great trainer and great man. He has turned many fighters into world champions. I am blessed and happy to be working with him again.
What are your thoughts on the Super Middleweight division at present?
I think the super middleweight division is one of the most compelling divisions in boxing at the moment. Like in the 80s at welter and middleweight with Hagler, Hearns, Sugar Ray, and Roberto Duran. There are a lot of European and American stars in the division that I am coming to fight and defeat.
You outclassed Dyah Davis last time out. How did you rate your performance on the night?
My performance was very pleasing. The preparation for that fight was great. I performed very well and the response from the crowd was that my fight was one of the most exciting of the night. It's always my goal to have exciting fights and finish with big knockouts, so I was very pleased.
Nikola Sjekloca is up next in a WBC title final eliminator. With due consideration of the fact that you are his biggest test to date, what kind of fight are you expecting?
He has a perfect record. Coming into the fight, he will bring a winning mentality, having been undefeated his entire career. I look to break him down and finish in spectacular fashion at whatever point in the fight.
Should you win your upcoming eliminator, it puts you on a direct collision course with Andre Ward. Do you relish a rematch? Do you see it being a different kind of fight to your first meeting?
I want a rematch very much…very, very much! I want the rematch to prove people wrong and show I won the first fight and in the rematch I can defeat him and prove my worth as a champion at 168. Many people in the world want to see this fight happen again.
A fairly popular topic of debate throughout the boxing community has been about who would have won between Andrew Ward and a prime Joe Calzaghe. Given that you've shared the ring with both, you have a unique perspective. Stylistically, who do you feel would have come out on top?
They are coming from different eras, Joe was a great champion, undefeated and secured his legacy. Andre is still building his legacy and active in his career. I think Andre is doing great. I cannot pick between the two of them given the differences.
Do you still feel that there are plenty of chapters left in the Sakio Bika story? Are you still feeling strong both physically and mentally?
I have maintained the same routine since I began as a professional. My body is feeling great and I am very hungry to fight great fights in the super middle weight division and beyond. There are many chapters left in my story.
Favourite moment in your career to date, and your least favourite moment?
Winning The Contender was the best moment in my career. You can't describe the feeling. The fight was a war and very entertaining fight for spectators. It was made an ESPN classic. It boosted my profile all around the world. It is a feeling I will never forget. I am proud of my achievement and take that with me everywhere I go. My least favourite moment was when I fought Marcus Beyer in Germany for the WBC super middle weight championship of the world. I was winning every round of the fight in dominant fashion and he gets a cut, then the fight is stopped and ruled a technical draw. I had the belt in my hands and they took it away from me.
What kind of legacy do you want to leave? When you eventually hang up your gloves, what do you hope people will think about and remember whenever your name is mentioned?
I want to leave a legacy, first to Cameroon, in Africa, that so long as you train hard, prepare properly and fight hard you can do whatever you want. To Australia and the young Australians that anything is possible. Follow your goals and your dreams. I have always trained and fought as hard as possible and I never give up. That is what I want to be remembered for.
Message to fans or final words?
I want to thank everyone all around the world for their ongoing support since the beginning of my career. I want to say thank you and keep supporting me and keep your belief in me. This is the beginning of a new chapter in Sakio Bika's story, of winning big championships in big fights in 2013.