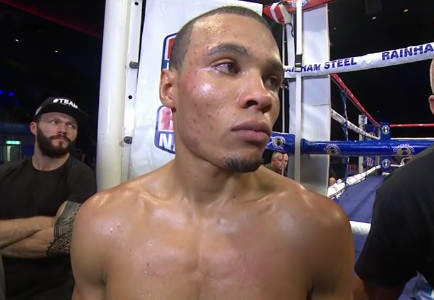 WBA Interim titlist, Chris Eubank Jr, has vowed to 'punish' Irish middleweight rival, Gary 'Spike' O'Sullivan when the two meet on December 12th in London.
Eubank didn't even get out of first gear last night in Sheffield, where he absolutely destroyed the hopelessly out-gunned and overmatched Tony Jeter inside 2 pathetically one sided rounds – after which the Brighton fighter was greeted by boos from the frustrated Arena crowd.
It wasn't Eubank's fault he was left to carry a card left gaping by a series of unfortunate incidents – most notably IBF welterweight champion, Kell Brook pulling from his scheduled fight with Diego Chaves – and in the immediate aftermath both he and his father, now wishing to be known simply as "English," attempted to rescue the situation by promising to dole out some punishment to O'Sullivan.
"I'm ready for Spike O'Sullivan,"Jr. said ringside Saturday. "He's been talking a lot of mess and it's time for some punishment.
"Please back up these words because I'm going to be going in there like an animal and I hope you're ready for it."
The two contenders have been engaged in a war of words over social media for some time, and share one thing in common in that their sole blemishes came to the same man; Billy Joe Saunders.
O'Sullivan was soundly beaten on points by the Hatfield southpaw in July 2013, while Eubank dropped a split decision last November after initially also being outboxed. He then came on stronger in the 2nd half of the fight and continues to insist a rematch would be different.
"English," wasn't beyond again chiming in with the lofty 'Golovkin' boasts, promising that while December's fight with O'Sullivan will be a "barn-stormer," it's merely a stepping stone towards an eventual showdown with the Kazakh.
"We have big ambitions and they are Gennady Golovkin," he also said last night. "We will go through these guys, and in the next fight, [junior] will show more of what he can do."
Twitter @undilutedpoison