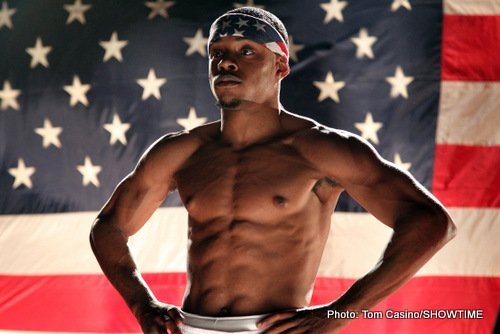 After his impressive 3rd round stoppage victory over late replacement Phil Lo Greco on last weekend's Broner v Porter undercard, Errol Spence Jr earned himself yet more new fans, home and abroad. The 2012 US Olympian was composed, methodical and ruthless in his attack against the Canadian fighter, who had previously extended Shawn Porter the distance 2 years ago.
After an aggressive start from Lo Greco, Spence maintained clinical poise and accuracy to gradually break his man down, finally forcing referee Robert Byrd to stop the action as the Texan fighter unloaded on the ropes.
Following the fight, 147 lb prospect Spence, expressed disappointment at the late change of opponent, yet still insisted he is ready to step up in class, telling fighthubtv that the performance in front of a terrestrial television audience was something of a "coming out" party for him.
He said;
"I feel I put on a great show. I showed a lot of poise. I showed a lot of power, strength and smartness. I felt like it was my coming out party and I did what I had to do."
"I thought it was gonna last longer. I thought I was gonna get an opponent, Roberto Garcia, but Much respect to Phil. He took it on 3 days notice and I did what I had to do and stopped him."
"I was disappointed that I had to fight an opponent on 3 days notice, you know. I would rather have my opponent prepared and then get in there and then destroy him – and then look good but it is what it is."
After improving to 17-0 with 14 early on Saturday night, already talk has started surrounding possible bouts with WBA (reg) champion Keith Thurman or former IBF champion Shawn Porter.
Addressing whether such a jump is too much, too soon or not, Spence said;
"I would like to fight these guys in my very next fight but if it doesn't happen then we'll have to fight later on. We're all at 147 so we'll have to meet up eventually."
"I don't feel it's too early. (To fight them next) If you look at the past and guys like Evander Holyfield, all these ex-Olympians, they were like 13, 14-0 and getting world titles, so? If you look at the past I mean it's not too early for an Olympian to fight for a world title. It was going on in since the 70's, 80's, 60's, 90's. It's been going on so why can't it happen now?"
Twitter @Undilutedpoison