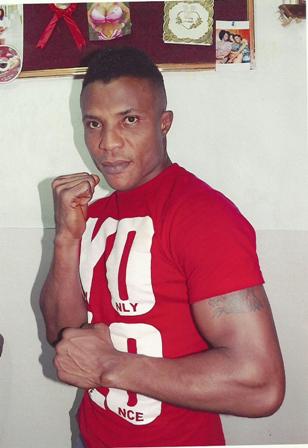 Ghana based Nigerian pugilist, Isaac Ekpo has been awarded mandatory status by the Commonwealth Boxing Council (CBC) for their Super Middleweight championship.
The title has become vacant following the failure of Ghana's Charles Adamu The Crusader to annex it last Saturday after a unanimous decision loss to hitherto champion, Rocky Fielding who was stripped of the belt even before he faced Adamu for failing to make the weight.
According to the CBC bulletin released on 16th March 2014, the Board of Directors of the CBC voted unanimously for the former world title contender to be next in line to battle for the 168 lbs Commonwealth championship.
Ekpo who fought for the WBO world title against Robert Stieglitz in Germany on October 19 last year and is a stable mate of Charles Adamu has welcomed the news as the perfect opportunity to re-launch his career.
Eastsideboxing.com caught up with the Nigerian at the Attoh Quashie gym where he trains in Accra under the tutelage of Coach Godwin Djanie Kotey Alloway, the same man who trains Joshua Clottey and Ekpo spoke about how he feels about his just announced mandatory status.
"I would like to sit down with CEO of Landmark Promotions, Anthony Kermah to know what is next direction for my career," Ekpo said.
"This is definitely the working of God because I did not even think about it. This is how Jesus wants to give me glory and I know it's the beginning of my return to the top," the Nigerian added.
The former WBO Interim Africa Super Middleweight champion continued: "I thank the CBC for recognising my efforts in the game and making me mandatory challenger. If I win the Commonwealth title, for sure I will be looking for another world championship."