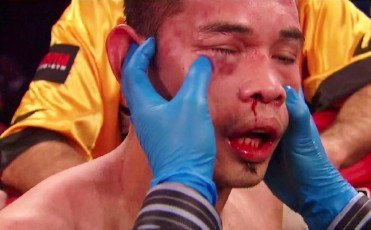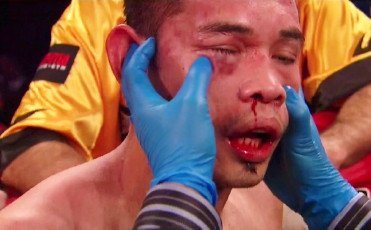 Bob Arum is looking to match Nonito Donaire (31-2, 20 KO's) against Vic Darchinyan (39-5-1, 28 KO's) in a fight that'll take place in November, according to Dan Rafael. Why Arum is interested in making this match after all these years is anyone's guess.
It's likely that he sees Darchinyan as one of the few recognizable names that he can put with Donaire. It's also a fight that is a winnable one for Donaire, and he clearly needs a victory after getting soundly beaten by WBA super bantamweight champion Guillermo Rigondeaux last April.
Donaire said he wants a rematch with Rigondeaux, but it looks like Arum is going in the direction of an easier fight. Donaire already beat Darchinyan by a 5th round TKO in 2007, and there doesn't seem to be real reason for a rematch to take place at this point. It's late in the game for the 37-year-old Darchinyan, and he's lost two out of his last four fights.
A better match-up would be to put Donaire in with the guys that recently beat Darchinyan, Abner Mares, Anselmo Moreno or Shinsuke Yamanaka. But none of those fights are likely to happen. Like I said, Darchinyan is a very winnable fight for Donaire, and he definitely needs a win right now after the way that Rigondeaux beat him.
The Donaire-Darchinyan fight will take place at 122 rather than at 126. Arum reportedly wants Donaire to stay at super bantamweight a little while longer.
Casual boxing fans might like the Donaire vs. Darchinyan match-up. They've heard of Darchinyan's name and might have seen him when he took part in Showtime's bantamweight tournament.
The fans are probably not aware that Darchinyan is nearing 40, and has beaten a number of times in the last three years. They might not know that Darchinyan was badly staggered in his last fight against little known Javier Gallo (18-7-1, 10 KO's), and looked nothing like the fighter he once was years ago.
The Donaire vs. Darchinyan fight is a good one for Donaire as a tune-up bout, but not as far as being a competitive match-up. Donaire should be fighting the likes of Rigondeaux, Moreno, Mares, Daniel Ponce De Leon, Chris John or Evgeny Gradovich at this point in his career, not facing guys that he should have fought 6 years ago instead of waiting this long to stage the rematch.
Some boxing fans will probably love the idea of Donaire facing Darchinyan again, and those are the people Arum is aiming this fight at. He must be thinking the casual fans will love this fight because I can't imagine hardcore fans being excited to see Donaire face a past his best Darchinyan, especially when Donaire already easily beat Darchinyan when he was still in his prime.