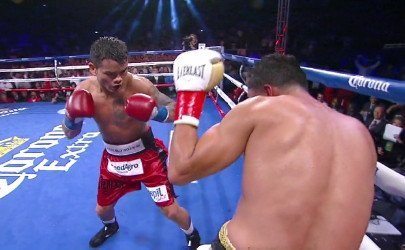 After Amir Khan had won his bout against Marcos Maidana via a 12 round unanimous decision in 2010, many boxing fans demanded a rematch. Towards the end of the fight Maidana seemed to have hurt Khan, and was certainly comfortable coming forward. There was an entire community of boxing fans convinced that in a proposed rematch, Maidana would have sent Khan to the canvas.
Back then, it would have been impressive and shocking to most boxing fans, but today, after Danny Garcia had shown that Khan's chin is not made of granite, it would simply pave the way for the critics to claim that they had known that Khan was an average fighter all along.
Beating Molina and Diaz, while adds two victories to Khan's record, is still not enough to get a fight against an elite champion, Mayweather Jr. for example. So who could Khan face as his next opponent?
How about Marcos Maidana?
Maidana would be coming off of 3 K.O. victories, and would certainly be fired up if the opportunity had presented itself. Neither fighter is likely to find a better opponent and a higher paycheck than against each other in a rematch.
I don't know about you, but I would definitely watch those two face each other yet again. Maidana is a beast who can not only take a punch, but can keep coming forward for twelve rounds. right now Khan is walking a thin line due to his lackluster performance against Diaz. This would be a good way for either fighter to jump up the ladder, getting much closer to a blockbuster fight against someone with an elite name and the ability to write a bigger paycheck.
More @ http://cgboxing.blogspot.com/
https://www.facebook.com/VitaliFightPress